Abernethy Family Crest, Coat of Arms and Name History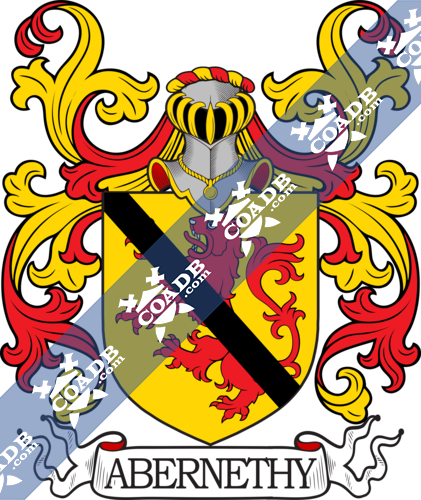 Abernethy Coat of Arms Gallery
Don't know which Coat of Arms is yours?
We can do a genealogical research. Find out the exact history of your family!
Learn More
Abernethy Origin:
Scotland
Origins of Abernethy:
This popular Scottish tribe surname has an unclear etymology. It would seem that the name is geographical from the Monastery of Abernethy in Strathearn. However, it was considered that the source might be professional. In old times families would give status for maintaining and improving parish lands and property. It was a form of over-occupation known in Gaelic areas as the 'Erenagh,' which means a lay King, in the situation in Abernethy, a monk, whose family held the office from generation to generation. What is known is that the first named ancestor, was the monk of Abernethy, and he became famous by his son called 'Orm.' Whether this was a derived name for a monk is open to debate as 'Orm' converts at 'The Serpent.' Nevertheless, he listed as Orm de Abernethy, a style which is pointed out as the land owning position. Originally, Orm de Abernethy was held in high regard, on one occasion at least he supported a document between the King of Scotland, William the Lyon, near the year 1167. A subsequent offspring was Sir Hugh de Abernethy who swore loyalty to the 'republican' government of Scotland in 1296. It was known as 'The Interregnum,' and conquered by Robert the Bruce in 1306.
Variations:
More common variations are: Aberneathy, Abernethay, Abernethey, Abrnethy, Abernaethy, Abernthy, Aberneth, Abernathy, Aberenthy, Aberanthy.
Scotland:
The surname Abernethy first appeared in Perthshire, an ancient division in the new Conference Area of Perth and Kinross, existed in central Scotland at Abernethy, a Church that " acquires its name from Aber, important in Gaelic, combined with Nethy, the 'end of Nethy' which is detailed of the situation of the church, near the entrance of that river into the Spey."
The very first recording spelling of the family was shown to be that of Hugh Abernethy, dated about 1150, in the "Abbot of Culdee Monastery of Abernethy." It was during the time of King Malcolm IV of Scotland, dated 1153-1165.
Ireland:
Many of the people with surname Abernethy had moved to Ireland during the 17th century.
United States of America:
Individuals with the surname Abernethy settled in the United States in two different centuries respectively in the 18th, and 19th. Some of the individuals with the name Abernethy who landed in the United States in the 18th century included William Abernethy arrived in Connecticut in 1718.
The following century saw much more Abernethy surnames come. Some of the population with the name Abernethy who arrived in the United States in the 19th century included William Abernethy landed in America in 1804. William Abernethy came to America in 1804. William Abernethy arrived in New York in 1812. Abel Abernethy landed in New York in 1812. William Abernethy landed in New York in 1818.
Australia:
People with the surname Abernethy who settled in Australia in the 19th century included Elizabeth Abernethy arrived in South Australia in 1858 aboard the ship "Melbourne."
Here is the population distribution of the last name Abernethy: United States 3,420; England 903; Canada 714; New Zealand 667; Australia 546; Scotland 387; Northern Ireland 334; South Africa 292; Ireland 44; United Arab Emirates 38
Notable People:
Bob Abernethy (born 1927), is an American television scholar.
Bruce Abernethy (born 1962), is an Australian rules footballer.
Charles Laban Abernethy (1872–1955), was an American leader.
George Abernethy (1807–1877), was an American leader.
Glen Abernethy (born 1971), is an American leader.
James Abernethy (1814–1896), was a British civil engineer.
Jim Abernethy (born 1902), was an Australian rules football player.
Moira Abernethy (born 1939), was a South African swimmer.
Robert Abernethy (born 1971), is an Australian swimmer and artist.
Rod Abernethy was an American video game music composer and musician.
Roy Abernethy (1906–1977), was an American businessperson.
Thomas Abernethy (1903–1998), was an American leader.
John Cameron, Lord Abernethy (born 1938), was a politician of the College of Justice of Scotland.
Blazons & Genealogy Notes
1) (of that Ilk, co. Fife; Alexander Abernethy, dominus de eodem, temp. Robert I. left three daus, his coheirs: Margaret, wife of John Stewart, Earl of Angus; Helen, m. to Norman Lindsay, of Crawford; and Mary, m. to Andrew Lesly, of Rothes). Or, a lion ramp. gu. surmounted of a ribbon sa.
2) (Auchindoich). Motto—In Christo salus. Quarterly, as Lord Saltoun, within a bordure engr. az. Crest—A parrot ppr.