Abry Family Crest, Coat of Arms and Name History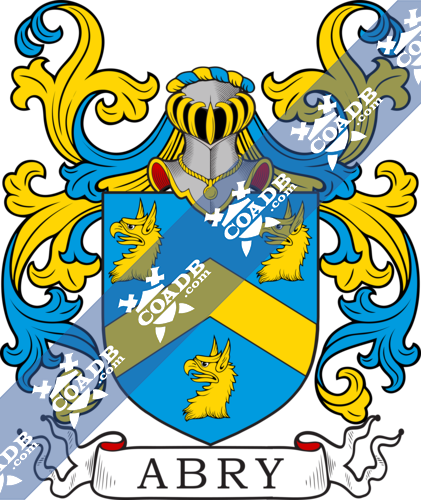 Abry Coat of Arms Gallery
Don't know which Coat of Arms is yours?
We can do a genealogical research. Find out the exact history of your family!
Learn More
Abry Origin:
England, France
Origins of Abry:
This interesting and long-established surname has two different possible origins, each with its own history and origin. Firstly, Abrey may be of Old French origin, and a variant of the more common Aubrey, itself acquiring from either of two Old French specific names. The first, "Aubri, Auberi", acquires from the Old German "Alberic", a combination of the components "alb", elf, and "ric", power, and the second, "Albree, Aubree", acquires ultimately from the Old Germanic female given name "Albrada", elf-counsel. Both names were initially brought into England by the Normans after the Invasion of 1066, and early records contain Walterus Filius (son of) Alberi, listed in the Domesday Book of 1086 for Suffolk, and Aubri Bunt, recorded in the 1273 Hundred Rolls of Cambridgeshire. The surname, first listed in the late 13th Century, was re-introduced into Britain by French Huguenot refugees fleeing religious oppression in their own country during the 16th and 17th Centuries. In August 1655, Fransois Aubry was named at the French Huguenot Parish, Threadneedle Street, London. The second possibility is that Abrey is a French home name for a person living in a simple dwelling, from the Old French "abri," shelter, cover. In April 1587, the christening of Ydatte Abry took place at Loromontzey, Meurthe-et-Moselle, France, and in 1598, Edward Abrey noted in the Oxford University Register.
Variations:
More common variations are: Abrey, Abery Aubry, Eabry, Abray, Abury, Abary, Awbry, Abrory, Abory.
England:
The surname Abry first appeared in Lincolnshire, where they held a family seat from old times.
The very first recording spelling of the family was shown to be that of Robert Aubrey, dated about 1273, in the "Hundred Rolls of Berkshire." It was during the time of King Edward I who was known to be the "The Hammer of the Scots," dated 1272 – 1307. The origin of surnames during this period became a necessity with the introduction of personal taxation. It came to be known as Poll Tax in England. Surnames all over the country began to develop, with unique and shocking spelling variations of the original one.
Ireland:
Many of the people with surname Abry had moved to Ireland during the 17th century.
United States of America:
Some of the people with the name Abry who arrived in the United States in the 17th century included John Abry, who came to Virginia in 1638.
Here is the population distribution of the last name Abry: France 980; Oman 217; United States 192; Germany 134; Brazil 79; Belgium 37; Norway 26; England 16; Canada 12; Russia 4
Notable People:
Léon-Eugène-Auguste Abry (1857, Antwerp – 1905, Antwerp) was a Belgian artist who specialized in military scenes.
Jonas Abry was born in May 1975 in New York City, New York, USA as Jonas Pate Abry. He is an actor, known for Running on Empty (1988) and Slaves of New York (1989). He was the son of a General in the Belgian Army. The family frequently moved, from post to post. His father passed away when he was fourteen, and he had some difficulty adjusting from military life to normal middleclass society.
Blazons & Genealogy Notes
(Glamorgan). Az. a chev. betw. three griffins' heads erased or.