Acheson Family Crest, Coat of Arms and Name History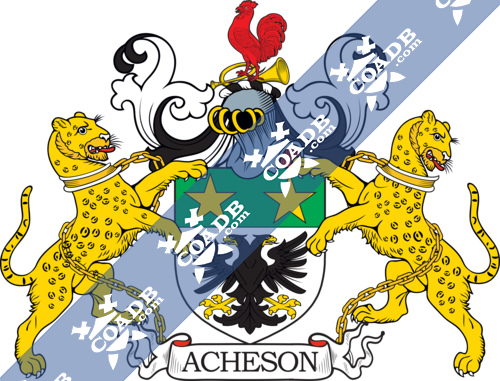 Acheson Coat of Arms Gallery
Don't know which Coat of Arms is yours?
We can do a genealogical research. Find out the exact history of your family!
Learn More
Acheson Origin:
Scotland
Origins of Acheson:
This popular surname is known as being of Anglo-Scottish sources, though via Norman invasions. It has appeared in spelling forms such as Atkinson, Aitchison, Acheson, Aicheson, and Aitcheson. It is a nickname form of the old male given name Atkin or Adkin, itself a double shortened form of the Hebrew name 'Adam,' which means 'red earth.' Adam (as a baptismal name) was first noted in the English Domesday Book of 1086, which showed that it was an introduction after the 1066 conquest. However, afterwards it became slightly more famous creating more shortened forms like Adcock and Atcock, with a similar meaning. Old examples are Adekin filius Turst (Adekin the son of Turst) in the 1191 Pipe Rolls of Norfolk, and John Adekyn in the 1296 Records of Crowland Abbey, Cambridgeshire. William Atkyns recorded in the Subsidy Rolls of Worcestershire, dated 1327, and John Atkinson recorded in the Assessments relating to the feudal lists of the district of Westmorland in 1402. More examples are those of James Aitchesoun, administrator of the Scottish Mint in 1553, and Marc Aichesone or Acheson of Achesounes hevin (now Morrisons Haven), in 1609. A very interesting recording is that of John Atkinson at the age of 24 yrs, who moved from London on the ship "Bonaventure," destined for Virginia, in January 1634. He was one of the old settlers in the New World colonies.
Variations:
More common variations are: Achieson, Yacheson, Acheason, Achison, Echeson, Achesan, Achoson, Aichison, Yachison.
Scotland:
The surname Acheson first appeared in Berwickshire an old district of Scotland, a new part of the Scottish Borders Conference Area, located in the eastern part of the Borders Region of Scotland, where one of the first lists of the name was Johannes Filius Ade was a "custurnar" of North Berwick in 1384 and after that find as John Atkynsoun in 1387.
The very first recording spelling of the family was shown to be that of John Atkynsoun, dated about 1387, in the "Records of North Berwick," Scotland. It was during the time of King Robert II of Scotland, dated 1371-1390. The origin of surnames during this period became a necessity with the introduction of personal taxation. It came to be known as Poll Tax in England. Surnames all over the country began to develop, with unique and shocking spelling varieties of the original one.
Ireland:
Many of the people with surname Acheson had moved to Ireland during the 17th century.
United States of America:
Individuals with the surname Acheson landed in the United States in two different centuries respectively in the 17th and 19th. Some of the people with the name Acheson who arrived in the United States in the 17th century included Susan Acheson, who landed in Maryland in 1663. Thomasin Acheson arrived in Maryland in 1668.
The following century saw many more Acheson surnames come. Some of the people with the surname Acheson who arrived in the United States in the 19th century included Nanny Acheson landed in New York, NY in 1804. David Acheson In and Daniel Acheson Sr., both arrived in Philadelphia, Pennsylvania in the same year 1816. Thomas Acheson who settled in Philadelphia, Pennsylvania in 1798 followed by Joseph in 1828 and George in 1832. Samuel H Acheson, who arrived in Allegany (Allegheny) Division, Pennsylvania in 1856
Australia:
Some of the individuals with the surname Acheson who landed in Australia in the 19th century included Thomas Acheson arrived in South Australia in 1856 aboard the ship "Fitzjames."
Here is the population distribution of the last name Acheson: United States 2,725; Canada 1,087; Northern Ireland 644; England 554; South Africa 274; Australia 273; Ireland 229; Scotland 125; New Zealand 73; Switzerland 36.
Notable People:
Archibald Acheson, 1st Viscount Gosford (1718–1790), was an Irish administrator and leader.
Archibald Acheson, 2nd Earl of Gosford (1776–1849), was a British leader.
Sir Arthur Acheson, 5th Baronet (1688–1748), was an Irish leader.
Dean Acheson (1893–1971), was an American statesman and advocate.
Sir Donald Acheson (1926–2010), was a British specialist.
Edward Goodrich Acheson (1856–1931), was an American chemist and creator.
Ernest F. Acheson (1855–1917), was an American politician and newspaper editor.
Blazons & Genealogy Notes
(Earl of Gosford). Motto—Vigilantibus. Ar. an eagle displ. with two heads sa. beaked and membered or, on a chief vert two mullets of the third. Crest—A cock gu. standing on a trumpet or. Supporters—Two leopards ppr. the sinister reguard. both collared and chained or.