Ackles Family Crest, Coat of Arms and Name History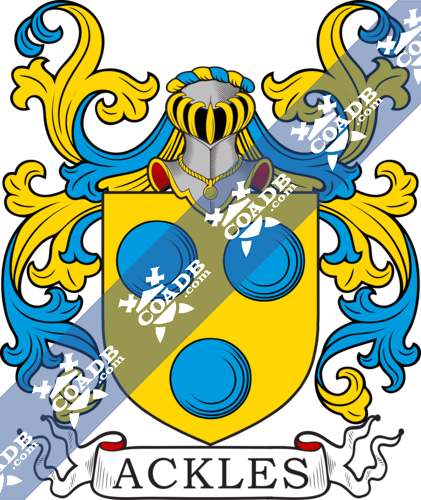 Ackles Coat of Arms Gallery
Don't know which Coat of Arms is yours?
We can do a genealogical research. Find out the exact history of your family!
Learn More
Origins of Ackles:
The old history of the Ackles name starts with the old Anglo-Saxon tribes of Britain. The name acquired from when the family lived in Eccles which was in both Norfolk and a church near Manchester. Until quite recently, the English language has lacked a definite system of spelling rules. Consequently, Anglo-Saxon surnames were characterized by a multitude of spelling variations. Changes in Anglo-Saxon names were influenced by the evolution of the English language, as it incorporated components of French, Latin, and other languages. Although old authors and church officials noted names as they sounded, so it is common to find one person related to by many different spellings of his surname, even the most educated people varied the spelling of their names. Variations of the name Ackles include Eccles, Ecles, Eckles, Eyckles, Accles, Ackles and much more.
Variations: More common variations are: Eackles, Ackless, Ackleus, Acklies, Yackles, Acklees, Acles, Akles, Ackls, Eackeles.
England:
The surname Ackles first appeared in Lancashire where they held a family seat from very early times. Some say well before the Norman Invasion and the arrival of Duke William at Hastings in 1066 AD.
Ireland: Many of the people with surname Ackles had moved to Ireland during the 17th century.
United States of America: Some of the people with the surname Ackles who arrived in the United States in the 19th century included Henry Ackles, who landed in Baltimore, Maryland in the year 1833.
Here is the population distribution of the last name Ackles: United States 824; Brazil 223; Canada 162; Norway 26; Indonesia 6; Australia 4; Malaysia 3; Mexico 2; China 2; Kenya 2.
Notable People:
Robert Ackles (September 1938 – July 2008) was a Canadian Football League executive for the BC Lions. He was inducted into the Canadian Football Hall of Fame in 2002. Bob Ackles was born in Sarnia, Ontario and joined the BC Lions as a water boy in their founding year, 1953, at the age of 15. He worked his way through the ranks of the organization becoming the director of football improvement in 1966, assistant general manager in 1971 and, from 1975 until 1986 general manager. After that, he spent time in the National Football League, most notably six years as Vice President of Player Personnel for the Dallas Cowboys, and was instrumental in the development of the XFL.
David Thomas Ackles (February 1937 – March 1999) was an American singer-songwriter, pianist, and child actor. He was noted for four albums between 1968 and 1973.
George Edward Ackles (born July 1967) is an old American professional basketball player. He was selected in the 1991 NBA draft as the 29th overall pick after a very successful collegiate job at UNLV. He never played a game in the NBA, however, but still managed to carve out a professional job spanning from 1991 to 2002 with stops in leagues all over the world.
Jensen Ross Ackles (born March 1978) is an American actor and director. He is known for his roles in television as Eric Brady in Days of Our Lives, which earned him many Daytime Emmy Award nominations, as well as Alec/X5-494 in Dark Angel and Jason Teague in Smallville. He also starred as the lead in the box office success My Bloody Valentine 3D.
Jill Ackles is an American television soap opera director. She has directed for soap operas such as Days of Our Lives, All My Children, and One Life to Live. She occasionally draws doodles for Doodle Day. Jill was selected for a Daytime Emmy Award for Outstanding Drama Series Directing Team shared with fellow directors of All My Children in 1997.
Margie Ackles (born 1939) was an American figure skater, who competed in ice dance with Charles Phillips. The pair won the gold medal at the 1960 U.S. Figure Skating Championships. During her competitive job, Ackles lived in Los Angeles and worked as a secretary for an engineering firm. She and Phillips coached by William Kipp. She retired from skating after the 1960 season and was engaged to be married shortly afterward.
Blazons & Genealogy Notes
Or, three palets az.