Acosta Family Crest, Coat of Arms and Name History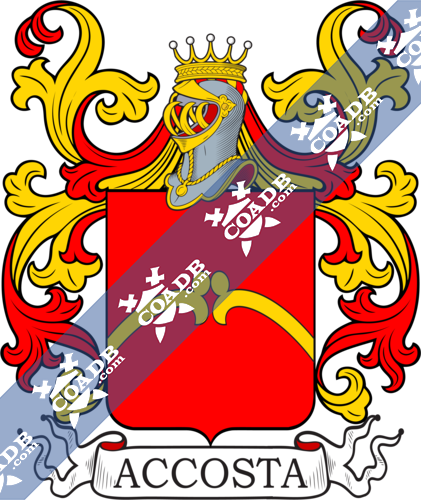 Acosta Coat of Arms Gallery
Don't know which Coat of Arms is yours?
We can do a genealogical research. Find out the exact history of your family!
Learn More
Meaning, Origin, Etymology
Acosta is a Spanish and Portuguese, Galician, Italian, and Jewish (Sephardic) surname. It is an altered form of Da Costa. Originally it was used to refer to a person who lived by the seashore or from the mountains (encostas) or denoting someone who lived on a slope or river bank or on the sea coast. In Portuguese da Costa and in Spanish de Acosta.[10] There are two theories for the origin of this Portuguese surname. The first attributes it to a 13th century religious emissary of Greek origin (Kosta). The second is toponymic, from the Costa Estate near Guimarães, in Northern Portugal.– mfariacastro [11] When of a Spanish surname Costa means 'uneven terrain'; in Portuguese it was used like 'junto a costa' meaning'closer to shore'. – dafc [11]
Spelling Variations
Acosta, Costa, Costas, da Costa, Cuesta, Coste, Cote, Descoteaux, de Costa
Popularity & Geographic Distribution
The last name Acosta ranks 217th in popularity in terms in the United Status as of the 2014 Census and approximately 2,216,000 people carry the Acosta surname. The name ranks particularly high in the following six states: California, Massachusetts, Florida, New York, New Jersey and Rhode Island. The surname is very frequent in Brazil, where it ranks 11th. It ranks highest in the following countries: Brazil (approx. 1,690,000), Portugal (approx. 151,000), Mozambique (approx. 63,000), Italy (approx. 49,000), United States (approx. 47,000), Argentina (approx. 34,000), Spain (approx. 30,000) and France (20,000). [11]
Early Bearers of Surname
Alvaro de Acosta, sixteenth century nobleman from Valladolid
Jose de Acosta, sixteenth century Spanish author and naturalist
Felix Acosta y Riaza, eighteenth century Cuban patriot
Pedro Costa, eighteenth century Spanish sculptor
Joaquin de Acosta, nineteenth century Colombian historian.
History, Genealogy & Ancestry
One of the earliest incidents in Acosta family history begins with Miguel Martinez Costa, who was christened in Spain on March 21, 1612. Bertrand Blanchard Acosta was a Spanish Civil War Aviator, and Mary Catherine Costa was christened in San Francisco, California in 1875. [7]
Jose de Acosta, S.J. (Spanish: 1540-1600) is called the Pliny of the New World because of his book Natural and Moral History of the Indies which provided the first detailed description of the geography and culture of Latin America, Aztec history and – of all things – the uses of coca. For his work on altitude sickness in the Andes he is listed as one of the pioneers of modern aeronautical medicine. Jose was far ahead of his time in the selection and description of his observations. Not satisfied, however, with mere descriptions, he tried to explain causes. Jose was one of the earliest geophysicists, having been among the first to observe, record and analyze earthquakes, volcanoes, tides, currents, magnetic declination's and meteorological phenomena. He denied the commonly held opinion that earthquakes and volcanoes originated from the same cause, and had an interesting explanation of the origin of the world's trade winds: he offered the earliest scientific explanation of the tropical trade winds. Jose traveled extensively through Peru, Bolivia, Chile and Mexico; he was the first European to systematize the geography of the New World.
Since Jose Acosta gave the first detailed description of the Mexican ideograms he can be legitimately called the first of the true Americanists. He learned enough of the indigenous cultures to write a trilingual catechism. Experts on American ethnology have praised Jose Acosta's insightful understanding of the origins of the Native Americans: that they came from Asia by way of a now-submerged land connection with Alaska, and the fact that they then switched from hunting to urban living and built the magnificent cities that the Spanish conquistadors found. A prominent ethnologist said: "It was an astonishing bit of scholarly deduction for the time, given the absence of knowledge about the existence of such a land bridge."[6]
Christopher Acosta was a Portuguese naturalist, who visited India to procure drugs, and afterwards practiced medicine at Burgos. He wrote a "Treatise on the Drugs and Plants of the East Indies," (1578). He died about 1580. [8]
Gabriel Acosta was a professor of theology at Coimbra, Portugal, wrote commentaries on the Scriptures. Gabriel died in 1616. [8]
Joaquin Acosta was a native of South America, a colonel of engineers in the service of New Granada,
published a "Historical Compendium of the Discovery and Settlement of New Granada" (1848) with a good map of that country. He died about 1862. [8]
Jose Acosta or d'Acosta was a Spanish Jesuit and writer, born at Medina del Campo about 1539. He went to South America as a missionary in 1571, returned in 1588, and published a work entitled "Natural and Moral History of the Indies" ("Historia Natural y Moral de las Indias," 1590) which was much esteemed, and translated into several languages. He became rector of the University of Salamanca, where he died in 1600. [8]
Uriel Acosta was a Portuguese, who educated as a Christian, converted to Judaism, and afterwards excommunicated by the Jew in consequence of his having written against the Mosaic Scriptures and the immortality of the soul. He is said to have killed himself in 1640, or according to some accounts in 1647. [8]
Early Immigrants
Erique de Acosta (1527)
Gonzalo de Acosta who was a conquistador who voyaged with Diego Garcia de Moguer and Sebastian Cabot to the Rio de la Plata in 1527.
Juan de Acosta to Florida in 1538.
Magdalena de Acosta to Peru in 1592.
Geronimo de Acosta and his wife Juana de Leon to Peru in 1593.
Juan de Acosta who assisted Pizarro in the conquest of Peru.
Rosa Acosta settled in New Orleans, LA in 1821
Fredrico Acosta settled in New Orleans, LA in 1826.
Notables
Agustín Acosta, Cuban baseball player
Alberto Acosta (born 1966), Argentine footballer
Alberto Martín Acosta Martinez (born 1977), Uruguayan footballer;
Alda Ribiero Acosta (contemporary), American terrorist in Uruguay
Allan Acosta, American engineer
Armando Acosta (contemporary), doom metal drummer, former member of the band Saint Vitus
Bertrand Blanchard Acosta (1895–1954), American aviator who flew in the Spanish Civil Wa
Carlos Acosta (contemporary), Cuban ballet dancer
Carmen Acosta, American Democrat politician, Alternate Delegate to Democratic National Convention from New York, 2004 [2]
Cecilio Acosta (1818-1881), Venezuelan writer
Corey Acosta (born 1991), American football placekicker
Cristóbal Acosta (1515–1580), Portuguese physician and natural historian
Ed Acosta (born 1944), Panamanian Major League Baseball pitcher
Eliades Acosta (born 1959), Cuban politician
Humberto Acosta-Rosario (1947–1968), Puerto Rican MIA in Vietnam;
Jim Acosta (born 1971), CNN senior White House correspondent
Joaquín Acosta (flourished 1800s), Colombian explorer and author
Joe Acosta (born 1950), Puerto Rican salsa piano player
José de Acosta (1540–1600), Spanish Jesuit missionary and historian to Latin America
José Julián Acosta (1825–1891), Puerto Rican journalist and abolitionist
Josephine Acosta Pasricha (1945—), Filipino Indologist and translator
Juan F. Acosta (1890–1968), Puerto Rican composer and music teacher
Julio Acosta García (1872–1954), President of Costa Rica 1920–1924
Lautaro Acosta (born 1988), Argentine footballer
Leopoldo Acosta (born 1962), Ecuadorian track and field athlete
Luis O. Acosta, American Democrat politician, Postmaster at Superior, Arizona, 1964-67 (acting, 1964-65); Guillermo Acosta, American Libertarian politician, Candidate for U.S. Representative from Texas 17th District, 2006
Lynette Acosta, American Democrat politician, Presidential Elector for Florida, 2012
Manuel da Costa (1541–1604), Portuguese Jesuit priest, teacher, and missionary Manny Acosta (born 1981) Panamian baseball player
Manuel Gregorio Acosta (1921–1989), Mexican-American painter
Marta Acosta, American fiction writer
Martha Acosta (contemporary), Peruvian politician and congresswoman
Mercedes de Acosta (1893–1968), Spanish-American poet, playwright, and designer
Nelson Acosta (1944—), Uruguayan football player and coach
Óscar Acosta (1933—), Honduran writer, critic, politician and diplomat
Oscar Zeta Acosta (1935–1974), American attorney, author, politician, and activist; Pablo Acosta Villarreal Mexican drug lord
Patricia Acosta, American Democrat politician, Delegate to Democratic National Convention from California, 2000, 2004
Pedro Acosta (born 1959), Venezuelan football (soccer) defender
R. Alexander Acosta (born 1969), American attorney and United States Secretary of Labor
R. Alexander Acosta, American Republican politician, Member, National Labor Relations Board, 2002-03
Raúl Acosta (born 1962), Colombian road cyclist
Raymond L. Acosta (b. 1925), American politician, U.S. District Judge for Puerto Rico, 1982-94
Rene Alexander "Alex" Acosta (b. 1969), American attorney, academic, and politician, 27th United States Secretary of Labor (2017-Present)
Robert Acosta, American Republican politician, Candidate for Virgin Islands legislature from St. Croix, 2002
Rodolfo Acosta (1920–1974), Mexican character actor
Rolando T. Acosta, American politician, Justice of New York Supreme Court 1st District; Elected 2002
Santiago Acosta (born 1979), Argentine flyweight boxer
Santos Acosta (1828–1901), President of Colombia 1876–1868
St. Elmo W. Acosta (flourished 1900s), American politician from Jacksonville, Florida
Teolindo Acosta (1937–2004), Venezuelan professional baseball player
Tomás Diez Acosta (born 1946), Cuban revolutionary, teacher, and author
Uriel da Costa (1585–1640), Portuguese philosopher and skeptic [9]
War of 1812 Veterans
Jose Acosta
Lorenzo Acosta
Baptiste Acosta
Ross Acosta
William Acosta
Christopher Acosta
Juan Acosta
Ignacio Acosta
Juan Indro Acosta
Jn Isadras Acosta[5]
Spanish-American War Veterans
George A. Acosta
Joseph S. Acosta
Juan Acosta
Caridad Acosta
Benigno Acosta
Emilio Acosta
Fernando Acosta[5]
Civil War Veterans
All U.S., Civil War Draft Registrations Records, 1863-1865 results for Acosta[4] (Name, Born if given, Residence, Race)
Louis Acosta b. 1821 lived in Ascension, Louisiana, White
Nicholas Acosta lived in New York, Black
Gustro Acosta b. abt 1819 lived in Louisiana, White
Polite Acosta b. abt. 1827, lived in Louisiana, White
Julian Acosta born abt. 1840, live in Louisiana, White
Andrew Acosta, born abt. 1845 lived in Louisiana, White
Francis Acosta, born about 1821, lived in Louisiana, White
Francois Acoste, born abt. 1824, lived in Louisiana, White
Nicholas Acosta, lived in New York, Race Unknown
All U.S., Union Soldiers Compiled Service Records, 1861-1865 results for Acosta[4] (Name, Birth Year, Enlistment Date, Enlistment Place, Military Unit)
Refugio Acosta, born abt. 1833, July 16, 1861, Santa Fe., Second Infantry
Francisco Acosta, born abt. 1836, October 28, 1863, La Mesilla, First Infantry (New Organization)
Estanislado Acosta, born abt. 1838, November 13, 1861, Albuquerque, New York, Second Infantry
All U.S. Confederate Soldiers Compiled Service Records, 1861-1865 for Acosta [4] (Name, Birth Year, Enlistment Date, Enlistment Place, Rank)
Arcodio Acosta, born abt. 1830, enlisted February 28, 1862 at St. John Bluff, Rank of Private
Juan Feliceana Acosta, born abt 1834, enlisted 1862
Domingo Acosta, born abt 1839, enlisted 1861
Andrew J. Acosta, born abt. 1841, enlisted December 1, 1861 at Femandina, Rank of Sergeant
Antoine Acosta, enlisted April 3, 1862 at Ascension Parish, Rank of Private
Augustin Acosta, enlisted April 17, 1862 at Assension Parish Louisiana, Rank of Private
D. Acosta, enlisted 1862; E I Acosta, enlisted 1865
Hypolite Acosta, enlisted September 13, 1862, Donaldsonville, Louisiana, Rank of Private
J.J. Acosta
John Acosta, enlisted 1863
John Acosta, enlisted October 20, 1863, Assumption, Rank of Private
Julian J. Acosta, enlisted May 12, 1862 at Camp Hunt, Rank of Private
Miguel Acosta, enlisted April 16, 1862 at New Orleans, Louisiana, Rank of Private N. Acosta, enlisted October 10, 1862, Rank of Private
N.B. Acosta, Rank of Private
Paul Acosta, enlisted 1863
Valentine Acosta, enlisted April 3, 1862 at Ascension Parish, Louisiana, Rank of Private
John Acosta, enlisted September 26, 1862 at Camp Pratt, Rank of Private
Sources
Passenger & Immigration Lists Index

The Political Graveyard Alphabetical Name Index

The General Armory of England, Scotland, Ireland & Wales

Ancestry.com

Fold3.com

Universal Pronouncing Dictionary of Biography and Mythology, Volume 1 By Joseph Thomas

wikipedia.com

Dictionary of American Family Names ©2013, Oxford University Press
Blazons & Genealogy Notes
1) Messine – De gueules à deux côtes humaines d'or mouv des flancs opposées. English: Gules two human rib bones or coming from the flanks opposing.
2) Portugal, Espagne – Écartelé au 1 d'or à une montagne mouv de la pointe sommée de roseaux feuillés le tout au naturel au 2 de gueules à un canard nageant dans une eau au naturel au 3 de gueules à une tour sommée d'une tourelle d'argent ouverte et ajourée d'azur posée sur une colline de sinople et une pomme de grenade ouverte au naturel posée devant la porte de la tour au 4 d'azur à cinq étoiles (8) d'argent 2 1 et 2. English: Quarterly 1st or with a mountain coming from the base surmounted by reeds leaved all proper 2nd gules with a duck naiant [swimming] in a river proper 3rd gules with a tower surmounted by a turret argent doorways and openings azure placed over a hill vert and a pomegranate open proper placed in front of the door of the tower 4th azure with five etoiles of 8 points argent 2 1 and 2.
3) Espagne – (Arm. français) – D'azur à la croix de gueules chargée d'un lis de jardin fleuri de six pièces d'argent à la bordure du dernier chargée de huit croissants d'or. English: Azure a cross gules charged with a lily [flower] flowered of six pieces argent a bordure of the last charged with eight crescents or.
4) Acosta-Telles – Portugal, France – (Arm. gén. de 1696) Blaise , marchand portugais – D'azur au pal d'or accosté de deux lis au naturel. English: Azure a pale or having to the sides two lilies proper.