Albany Family Crest, Coat of Arms and Name History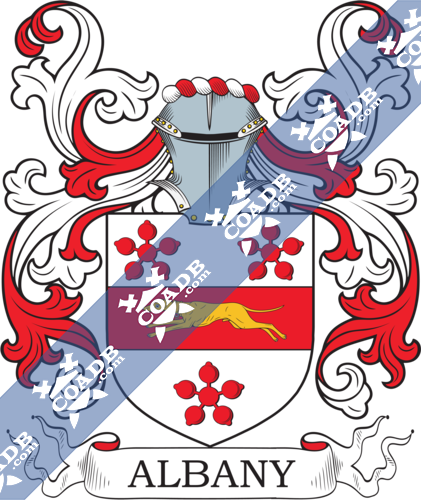 Albany Coat of Arms Gallery
Don't know which Coat of Arms is yours?
We can do a genealogical research. Find out the exact history of your family!
Learn More
Albany Origin:
England, France
Origins of Albany:
This old and well-known surname is of Old French origin, and is a geographical name from any of the different places in North France, like Aubigny or Aubigne (Brittany), named with the Gallo-Roman particular name "Albinius", a secondary of "albus", which means white, and the local addition of "-acum", which means settlement, hamlet. The name was first brought into England by supporters of William the Conqueror in the wake of the Norman Invasion of 1066 and is recognized for being first noted in the Domesday Book. William de Albini, "the butler d'Aubignie," accompanied William the Conqueror, and in the reign of Henry III (1216 – 1272), Godfrey Giffard, minister of Attleborough, Norfolk, granted by one Hugh de Albany. In 1272, William de Albania, or Albany, was noted in the Book of Fees for Nottinghamshire, and a Walter de Albenay listed in the Book of Fees for Lincolnshire, also in 1272. Another William de Albini or D'Aubigny appears in the 13th Century Lists of Norfolk. Robert Steward (1340 – 1420), minister of Scotland, created Duke of Albany in 1398. His name acquires from Albany, Albainn or Albin, an old name used in the northern parts of Scotland, resided by Picts, and named from the Celtic "alp," which means rock, cliff. In May 1551, William Albany and Thomasyne Buttell married at St. Pancras', London.
Variations:
More common variations are: Albainy, Albanay, Albaney, Alabany, Albaniy, Alban, Albny, Albannay, Albaniya, Albeainy
England:
The surname Albany first appeared in Shropshire where they held a family seat as Kings of the Castle. The Saxon command of English history declined after the Battle of Hastings in 1066. The language of the courts was French for the next three centuries, and the Norman atmosphere overcame. But Saxon surnames remained, and the family name first mentioned in the 13th century when they held lands in that shire.
The very first recording spelling of the family was shown to be that of Nigel de Albini, dated about 1086, in the "Domesday Book of Buckinghamshire." It was during the time of King William I who was known to be the "William the Conqueror," dated 1066 – 1087. The origin of surnames during this period became a necessity with the introduction of personal taxation. It came to be known as Poll Tax in England.
Ireland:
Many of the people with surname Albany had moved to Ireland during the 17th century.
United States of America:
Some of the individuals with the name Albany who arrived in the United States in the 19th century included William Albany at the age of 28, landed in Key West, Fla in 1844. W. Albany at the age of 21 who settled in Key West Florida in 1846. W Albany at the age of 21, arrived in Key West, Fla in 1846. Sarah Albany at the age of 48, arrived in Key West, Fla in 1848.
Here is the population distribution of the last name Albany: United States 692; South Africa 310; Australia 132; Brazil 111; France 86; Canada 75; England 32; New Zealand 24; Indonesia 16; Venezuela 3.
Notable People:
Robert Stewart, Duke of Albany (near the year 1340 –September 1420), a member of the Scottish royal house, gave services as regent (at least partially) to three different Scottish rulers (Robert II, Robert III, and James I). He also held the titles of Earl of Menteith (February 1361), Earl of Fife (1361; resigned in 1372), Earl of Buchan (1394; resigned in 1406) and Lord of Atholl (1403, for the duration of Robert III's life only), in addition to his 1398 creation as Duke of Albany. A terrible leader, Albany was widely observed as having caused the killing of his nephew, the Duke of Rothesay. James was held in jail in England for eighteen years, during which time Albany gave services as regent in Scotland, king in all but name.
Blazons & Genealogy Notes
1) (London, Shropshire, and Bedfordshire). Ar. on a fesse betw. three cinquefoils gu. a greyhound pass, of the field. (Another, courant or). Crest—Out of a ducal coronet gu. a demi dolphin hauriant or.
2) (Shropshire. Francis Albany, of Fernehill and Whittington, Esq., sheriff, 1595). Ar. on a fesse betw. three cinquefoils gu. a greyhound courant or.
3) Or, two chev. and a bordure gu.
4) Or, a lion ramp. az.
5) Gu. an eagle displ. within a bordure ar.