Amberg Family Crest, Coat of Arms and Name History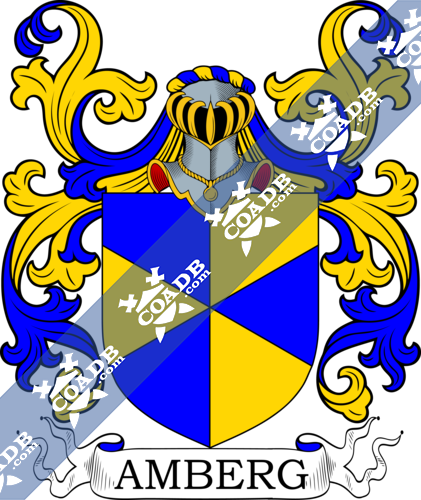 Amberg Coat of Arms Gallery
Don't know which Coat of Arms is yours?
We can do a genealogical research. Find out the exact history of your family!
Learn More
Amberg Origin:
Germany
Origins of Amberg:
This ancient German surname is geographical in origin. It acquires from the old phrase "amme Berg," or "amme der Berg" which means "one who is of the mountain," a source either to a mountaineer or to one who resided at a place on a mountain. There are many places in Germany, Switzerland, and Austria, called Berg, and it is equally possibly that the original name ancestors acquired from any one or all, of these places. Geographical Surnames were amongst the first to be formed, since it was logical to call a person by the name of any outstanding natural feature near to them, and nothing is much more outstanding than a "berg." Not surprisingly, probably the surname is one of the earliest to be noted anywhere in the world. The first known of these records is that of Johann amme Berge, in the documents of the town of Bartenheim, in the year 1270, while in 1361, Agnes an der Berge, noted at the famous town of Worms, both in Germany. Later records acquired from remaining German parish records contain as Georges Amberger, a witness at Necharkries, Wuertt, in May 1587, Andreas Amberg, of Coburg, Sachsen, in March 1704, and Leonard Amsberg, of Amern, Rheinland, in September 1783. Spelling variations of this family name consist of Lambert, Lamberre, Lambere, Lambaire, Lambair, Lambert, Lembert, Lemberre, Lembere, Lembaire, Lembair, Lemberc, Lanbert, Lanberre, Lanbere, Lanbaire, Lanbair, L'Ambert, Ambert, Lambert, Amberd, Amberde, Lamberd, Lamberde, Ambart and many more.
Variations:
More common variations are: Yamberg, Ambergo, Ambergh, Aemberga, Emberg, Imberg, Omberg, Amburg, Amborg, Ambrig
France:
The surname Amberg first appeared in Dauphiny (French: Dauphine' or Dauphiné Viennois), an old province in southeastern France, Where this distinguished family held a family seat from old times.
The prominent surname Amberg started in France, a country which has been a powerful presence in world matters for centuries. The earliest forms of hereditary surnames in France were the patronymic surnames, which acquired from the father's given name, and metronymic surnames, which acquired from the mother's given name. The patronyms acquired from a variety of given names that were of many different origins. The surname Amberg acquired from A Germanic personal name combination of the components "land," which means "land" or "territory," and "berht," which means bright" or "famous."
Ireland:
Many of the people with surname Amberg had moved to Ireland during the 17th century.
United States of America:
Individuals with the surname Amberg landed in the United States in two different centuries respectively in the 18th, and 19th. Some of the people with the name Amberg who arrived in the United States in the 17th century included Georg Amberg, who landed in America in 1781.
The following century saw more amberg surnames arrive. Some of the people with the surname Amberg who arrived in the United States in the 19th century included Anton Amberg, who came to Texas in 1845. Gg Amberg at the age of 29, arrived in New York. NY in 1855.
Here is the population distribution of the last name Amberg: United States 1,615; Germany 1,345; Switzerland 333; France 257; Sweden 145; Austria 131; Canada 73; Finland 60; England 32; Russia 25.
Blazons & Genealogy Notes
Gyronny of six az. and or.