Appleton Family Crest, Coat of Arms and Name History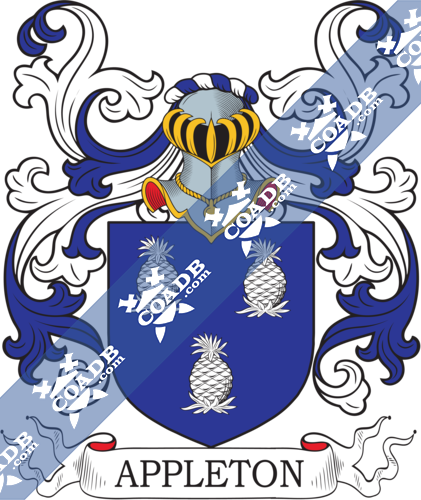 Appleton Coat of Arms Gallery
Don't know which Coat of Arms is yours?
We can do a genealogical research. Find out the exact history of your family!
Learn More
Appleton Origin:
England
Origins of Appleton:
The origin of this unique surname evolved originally from Anglo-Saxon origins and is a locational name from various places in England known to be "Appleton" in Cumberland, Lancashire, Yorkshire, Norfolk, Cheshire, Berkshire and Kent. And according to early recordings as "Apeltun" and "Epletune" in the Domesday document of the year 1086. However, most of these names of various places had evolved originally from the ancient Old English pre 7th Century "aeppeltun", which mean a garden, a combination of "aeppel," an apple, plus "tun," an enclosure or agreement. It developed irrespective of different formations of spellings. The surname first listed at the half end of the 12th Century, and according to the other early recordings included Thomas de Appleton, who came in the year 1196 Pipe Rolls of Yorkshire, and William de Appleton, who was a clergyman of Titchwell, Norfolk, in the year 1376. According to the Recordings from Registers of London Church included John Appleton married Elizabeth Mills on 2nd June 1561, at St. Dunstan in the East, and the naming of John, son of John Appleton, on 30th January in the year 1567, at St. Botolph without Aldgate. In 1622, one Richard Appleton, whose age was 19 years, arose on a list of early travelers into Elizabeth City, Virginia. Henry Appleton was a Navy Captain and Commander who gave services in the battle of Dutch in the year 1652.
Variations:
More common variations are: Appletown, Appeleton, Appletone, Apleton, Applton, O Appleton, Appelton, Appledon, Appliton, Oppleton.
England:
The origins of the surname Appleton were in Lancashire at Widness with Appleton, a city in the church and union of Prescot, hundred of West Derby. The Widness with Appleton sometimes held by the people but declined due to a very tragic cicumstances.
The very first recorded spelling of the family was shown to be that of Hemeri de Lepeltone, dated near the year 1182, in the "Red Book of Worcestershire." It was during the time of King Henry II who was known to be the "Builder of Churches," dated 1154 – 1189 and took place in "Pipe Rolls of Yorkshire." The origin of surnames during this period became a necessity with the introduction of personal taxation. It came to be known as Poll Tax in England. Surnames all over the country began to develop, with unique and shocking spelling varieties of the original one.
United States:
People with Appleton surname also settled in the United States in three different centuries respectively in the 17th and 18th and 19th. Individuals who settled in the 17th Century included Richard Appleton in Virginia in the year 1622. Richard Appleton and Samuel Appleton landed in Massachusetts in 1656. Josiah Appleton arrived in new Jersey in 1690.
The following century saw much more Appleton surnames arrive. People of Appleton, who came in the 18th century included Mary Appleton, and Francis Appleton settled in Maryland respectively in the year 1734 and 1774.
People of Appleton who arrived in the 19th century included John Appleton in South Caroline in the year 1822. E Appleton arrived in San Francisco, California in 1851.
Canada:
People of Appleton family who settled in Canada in the 18th century included Robert Appleton and Robert Appleton, at the age of 24, landed in Fort Cumberland, Nova Scotia in the year 1774. Samuel Appleton in Nova Scotia in 1750.
Australia:
Some of the Appleton family who settled ultimately in Australia in the 19th century included Joseph Appleton, English prisoner from Middlesex aboard the ship " Almorah" on April 1817. William Appleton aboard the ship " Bardaster" in the year 1839 in Adelaide, Australia. Henry Appleton, Margaret Appleton, and Priscilla Appleton arrived in Adelaide, Australia aboard the ship " Lady Lilford" in the year 1839.
New-Zealand:
The settlement of Appleton family also observed in places in New-Zealand in the 19th century. John Appleton, aged 44, Amelia Appleton, aged 40 and Edwin Appleton arrived in Wellington, New Zealand aboard the ship " Hindostan" in the year 1875.
Here is the population distribution of the last name Appleton: United States 7,045; England 7,631; Australia 1,747; Canada 1,389; South Africa 822; Ghana 399; Scotland 341; Germany 336; New Zealand 551; Liberia 1,377.
Notable People:
Charles Appleton (1841–1879), was an Oxford don and scholarly businessperson.
Charles Appleton (1844–1925), was an English casual participant cricket player.
Charles William Appleton (1874–1945), was a vice-president of Electric Company, judge and Assistant District Authority in New York City.
Blazons & Genealogy Notes
1) Az. three pine-apples erect ar.
2) (Little Brook). Ar. a fesse engr. (another, plain) sa. betw. three apples leaved and slipped ppr.
3) Vert on a fesse engr. ar. three apples gu.
4) (Little Waldingfield, co. Suffolk, now of the United States of America). Ar. a fess sa. betw. three apples gu. slipped and leaved vert. Crest—An elephant's head couped sa. tusked and eared or, round the trunk a serpent entering the mouth vert. Another Crest. Out of a ducal coronet or, three pine-apples vert the tops purfled gold.
5) Ar. a bear salient sa. on the shoulder a cinquefoil of the first.
6) (Lancashire). Ar. a bear pass. sa. muzzled or.
7) Ar. a fesse sa. betw. three pine-apples pendent slipped vert.
8) (Lancashire). Ar. three goats salient sa.