Ashfield Family Crest, Coat of Arms and Name History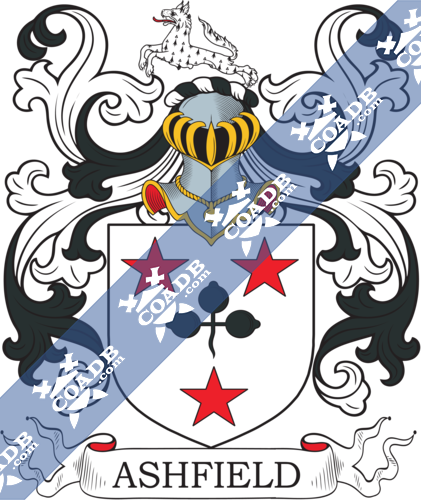 Ashfield Coat of Arms Gallery
Don't know which Coat of Arms is yours?
We can do a genealogical research. Find out the exact history of your family!
Learn More
Ashfield Origin:
England
Origins of Ashfield:
This surname is of old English origin and is geographical from many places so named, for example, in Shropshire, and two places in Suffolk. The origin is from the Old English pre 7th Century 'aesc', which means an ash tree, with 'feld,' which means open country, and the first documentation of the place in Shropshire shows as 'Assefeld,' in the Pipe Rolls of 1167. However, the two places in Suffolk have different origins, for example, Ashfield near Debenham first listed in the Domesday Book of 1086 as 'Assefelda,' and in the Feet of Fines of 1196 as 'Esfeld,' whereas Great Ashfield shows in the Domesday Book as 'Eascefelda.' In Alveley, Shropshire, there was an early record of the naming of Doryty Ashfield in March 1592, and in Little Saxham, Suffolk, the wedding of Marie Ashfield and Andrew Gilmin in June 1586.
Variations:
More common variations are: Aishfield, Ashfild, Asheffield, Ashfeild, Aishafild, Eschfield, Ashfold, Ashfelt.
England:
The surname Ashfield first appeared in Suffolk, at Ashfield, which dates back to the Domesday Book of 1086 when it was noted there as Assefelda. Great Ashfield, Suffolk was also recorded there as Eascefelda. Ashfield is the name of an old hamlet originally named Esfeld in 1216. It is now a local government district in western Nottinghamshire built in 1974. And today, Ashfield is a neighborhood in the Inner West of Sydney, in New South Wales, Australia. This latter local was founded shortly after the First Fleet appearance in 1788.
The very first recording spelling of the family was shown to be that of Margaret Ashfield, dated about 1569, near the Bury St. Edmunds, Denham. It was during the time of Queen Elizabeth I, who was known to be the "Good Queen Bess," dated 1558-1603. The origin of surnames during this period became a necessity with the introduction of personal taxation. It came to be known as Poll Tax in England.
Ireland:
Many of the people with surname Ashfield had moved to Ireland during the 17th century.
United States of America:
Individuals with the surname Ashfield landed in the United States in three different centuries respectively in the 17th, 18th, and 19th. Some of the people with the name Ashfield who arrived in the United States in the 17th century included James Ashfield settled in Virginia in 1636. John Ashfield settled in West New Jersey in 1664. William Ashfield, who arrived in Massachusetts in 1691.
People with the surname Ashfield who landed in the United States in the 18th century included Henry Ashfield settled in Maryland in 1776.
The following century saw more Ashfield surnames arrive. Some of the people with the surname Ashfield who arrived in the United States in the 19th century included James Ashfield, who arrived in New York in 1836. G Ashfield who landed in San Francisco, California in 1851.
Australia:
Some of the individuals with the surname Ashfield who landed in Australia in the 19th century included Andrew Ashfield at the age of 32, arrived in South Australia in 1854 aboard the ship "William Prowse."
Here is the population distribution of the last name Ashfield: England 1,334; United States 332; Canada 304; Australia 184; South Africa 146; Wales 56; Scotland 20; New Zealand 17; Czech Republic 3; Uruguay 3.
Notable People:
Edmund Ashfield (1576 – ca. 1620) was an English Romanist from Tattenhoe in Buckinghamshire. He was trained at St Mary Hall, Oxford. In 1599, he progressed to Edinburgh to meet James VI of Scotland. The resident English ambassador organized his kidnap and performance apparently in the belief that Ashfield was an agent of James VI and working to move to the English throne. In 1606, Ashfield was included in the rebuilding of Ashridge Priory for Sir Thomas Egerton.
Edmund Ashfield was a 17th-century English artist.
George Ashfield (1934-1985), was an English football player.
Kate Ashfield was a British actress.
Blazons & Genealogy Notes
1) (Buckinghamshire, Oxfordshire, and Warwickshire, confirmed by the Deputies of Camden, Clarenceux, to Humphrey Ash, third in descent from John Ash of Heythorp). Ar. a trefoil slipped sa. between three mullets gu. Crest—A wolf courant erm.
2) (Sir Robert Ashfield, knighted in Christchurch, Dublin, 24 Sept. 1598). Sa. a fess engr. betw. three fleurs- de-lis ar.
3) (Suffolk). Gu. a fesse indented counter-indented, two points at each end betw. three fleurs-de-lis ar.
4) (Sussex). Sa. a fesse engr. betw. two fleurs-de-lis ar. a crescent for diff.
5) (Yorkshire). Sa. a fesse betw. three fleurs-de-lis and a bordure ar.
6) (Oxfordshire). Barry wavy of six ar. and sa.
7) Or, on a mount vert a Magellan goose, body sa. head ar.