Atwater Family Crest, Coat of Arms and Name History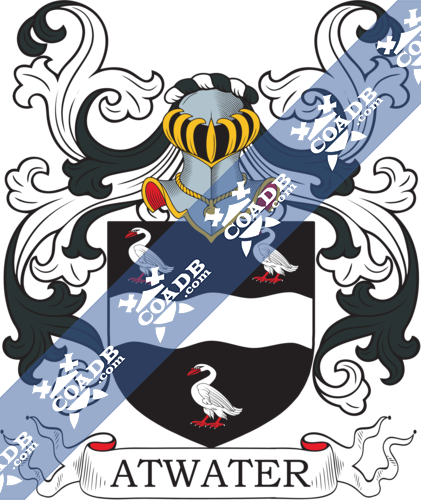 Atwater Coat of Arms Gallery
Don't know which Coat of Arms is yours?
We can do a genealogical research. Find out the exact history of your family!
Learn More
Atwater Origin:
England
Origin of Atwater:
Atwater is fascinating and simple surname which is listed in various spelling forms like Water, Wharter, Wauter, the nickname Waters, and in residential areas like Atwater and Attwater. This name is associated with England and holds two possible origins. The early and especially most acceptable origin has nothing to do with 'water.' It is a form of the male name "Wauter," the old utterance of Walter, itself coming from the Old German name "Waldhar" which means the rule of the army, pre 7th century. This name was brought by the Norman French into England and arose in the popular Domesday Book of 1086 as Walteri, at the same time Waterus de Cantelupo recognized in the Danelaw for the division of Lincolnshire, in 1135. Previous examples of the surname consist of John Watter of Warwickshire, in 1214 and Richard Wauters of Worcestershire, in 1275. The second available origin is residential and as Attwater represents someone who existed by 'waeter.' It may have been regional as in the different hamlets called Water in the divisions of Devon, Dorset, Hertfordshire, Lancashire, etc. It may have represented an area used for drinking water.
Variations:
Some common variations of this surname are: Attwater, Atwatter, Oatwater, Awtwater, Atwter, Atwatr, Atater, Attawater, Attwatter, Adwater.
England:
The surname Atwater first originated in Lincolnshire, where they held a family seat from ancient times, long before the Norman Invasion in 1066.
William Atewatr appears in the Curia Regis document for Hertfordshire in 1198. John Waters entered from London in the ship "Transport" bound for Virginia in July 1635, was one of the former colonists to the New England colonies of America. Surnames became an important requirement when governments introduced personal taxation. In England, this known as the Poll Tax. Throughout the centuries, surnames in every country have continued to "develop" often leading to different variants of the original spelling.
United States of America:
Individuals with the surname Atwater settled in the United States in two different centuries respectively in the 17th and 19th. Some of the people with the name Atwater who settled in the United States in the 17th century included David Atwater (1615-1692), who landed aboard the Hector coming in Boston in 1637, one of the first settlers of the New Haven Colon confirmed an independent person of the United Colonies. David Atwater landed in New Haven, Conn in 1638. Ann Atwater arrived in New Haven, CT in 1638. Joshua Atwater, who arrived in New Haven, Conn in 1645. Joshua Atwater settled in Connecticut in 1658.
Some of the people with the name Atwater who settled in the United States in the 19th century included Stephen Atwater at the age of 32, landed in New Haven, Conn in 1829. An Atwater landed in San Francisco, California in 1851. C A Atwater, who arrived in San Francisco, California in 1875.
Canada:
Some of the people with the name Atwater who settled in Canada in the 18th century included Mr. William Atwater, U.E., a faithful person of United Empire, who settled in Canada c. 1783.
Here is the population distribution of the last name Atwater: United States 5,081; England 2; Australia 4; Canada 183; Nigeria 3; Colombia 2; Panama 1; Puerto Rico 3; United Arab Emirates 23; Trinidad and Tobago 35.
Notable People:
Ann Atwater (born 1935), was an American advocate of civil rights.
Barry Atwater (1918–1978), was an American artist.
Caleb Atwater (1778–1867), was an American congressman, professor, and an archaeologist.
Dorence Atwater (1845–1910), was an American civil war knight famous for keeping the "Atwater List" of Union disasters.
Edwin Atwater (1808–1874), was a local leader in Montreal for the district of Saint-Antoine.
Harry Atwater was a professor of physics at California Institute of Technology.
Helen W. Atwater (1876–1947), was an American writer and home financial expert.
Isaac Atwater (1818-1906), was an American counselor.
Jeffrey Atwater (1958–), was an American politician.
Lee Atwater (1951–1991), was an American politician of a political planner.
Reuben Atwater was an American senator.
Tanya Atwater is a famous scholar of geological sciences at the University of California, Santa Barbara who studied plate tectonics.
William Atwater was a famous officer in the U.S. Army.
Blazons & Genealogy Notes
1) (Kent). Sa. a fesse voided (another, wavy) ar. betw. three swans ppr.
2) Vert a lion ramp. guard. with two bodies and one head or, within a bordure engr. ar.
3) Vert two lions sejant with two bodies and one head within a bordure engr. ar.
4) Barry wavy of six ar. and gu. three crevices (another, three dolphins) or, two and one.
5) Erm. on a chief gu. three roses or.