Banks Family Crest, Coat of Arms and Name History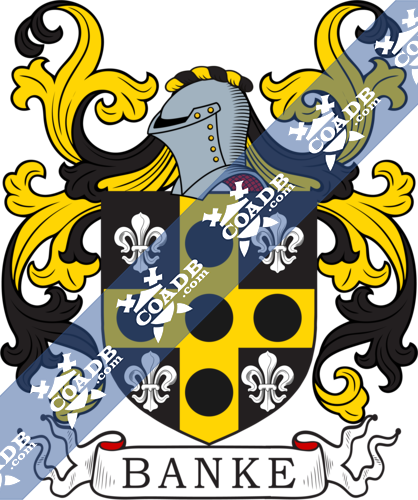 Banks Coat of Arms Gallery
Don't know which Coat of Arms is yours?
We can do a genealogical research. Find out the exact history of your family!
Learn More
Surname Name Meaning, Origin, and Etymology
The name Banks is derived from the Northern Middle English and means a ridge or hillside. The name may given to someone who lived on a hillside or by a riverbank.  In the Olde English, it means 'of the bank'. Anciently written as Atte-bank, it implies a bench, bank, or hillock, a place to sit whether indoors or out.
Spelling Variations
Common spelling variations of this last name include: Bank, Banks, Banke, Bankes, Banck, and Banker
Early Bearers of the Surname
The earliest bearers of the name include: Nicholaus del Bancke (1379), Adam del Bank (1379), Magota del Bancke (1379), Simon Bancke (1596)
Sir John Bankes, lord chief-justice of the Common Pleas in the time of Charles I, was born at Keswick, Cumberland, in 1589. In 1634, he was knighted when he became attorney-general. While he was loyal to the king, he had declared the conduct of parliamentary generals treasonous. The parliament declared him a traitor. They ordered his castle besieged (Corfe Castle in the Isle of Purbeck). However, his wife defended the castle even though she initially had only five men and never more than 40. He died Dec. 28, 1644 and is buried at Christ Church, Oxford.
Henry Bankes, Sir John's descendant, was a member of Parliament, first for the borough of Corfe Castle, and afterwards for Dorsetshire. Rigidly conservative, he served in the House from 1780 to 1830, but was better known as a scholar. He was born about 1757, and died 1835.
John Banks was an English play-writer, originally a lawyer, but he quit because he didn't care for it. He lived at the end of the 17th century and is buried in the church of St. James, Westminster.
Sir Joseph Banks was a distinguished naturalist. In 1764 he came into possession of his paternal fortune, and in 1766 was chosen a member of the Royal Society. He spent years of his life touring the world collecting botanical specimens in Newfoundland, Iceland, Scotland, and the South Seas.  In 1777 he was elected president of the Royal Society and remained so until his death. He donated his books and botanical collections to the British Museum. He was born at Westminster in 1743 and died in 1820.
Thomas Banks was a great sculptor from Great Britain. Though he won competitions in the Royal Academy in 1770, and the Academy sent him to Berne at their own expense, his work never really took off, even after spending 7 years in Rome. At age 49, he traveled to Russia where Empress Catherine acknowledged his accomplishments and even purchased a sculpture from him that was placed in a temple in her gardens. At last, returning to England, his work gained prominence with the public and he was able to remain employed until his death. He was born at Lambeth in 1735 and died in 1805.
History, Genealogy, and Ancestry
The first recorded spelling of the family name is Walter del Banck, 1297, in the "Subsidy Rolls of Yorkshire", during the reign of King Edward I. The name Matthew Banke appeared in the Subsidy Rolls of Suffolk, dated 1327. On June 21, 1546, Alse, daughter of John Banks, was baptized in St. Antholin's, Budge Row, London. John Banks of Devon was enrolled at Oxford University in 1597.
The famous "dancing horse" or performing horse, Marocco, was owned by William Banks (1588 – 1637), who bought his horse silver horseshoes. The horse was able to walk or two or three legs, play dead, count coins, distinguish colors and bow to the queen.
The works of Sir Edward Banks (1769 – 1835), an English builder, who was knighted 1822, include the London Bridge and the navy dockyard at Sheerness.
Early American and New World Settlers
Early settlers include John Banks, of Windsor, Connecticut. He married Mary, daughter of Charles Taintor, of Wethersfield. He served there as town clerk in 1643. In Fairfield, he served as representative 1651-1656, then a served as representative in Rye 1670-1673. His children were John, Samuel, Obadiah, Benjamin, Susanna, and Mary Taylor.
Miles Banks arrived in Virginia in 1620. Edward and Francis Banks arrived in Virginia in 1623 and Henry Banks in 1635.
Mottoes
The family mottoes include: 1) Bankes – Fide, sed cui vide – Trust, but in whom take care, 2) Banks – Nullius in verba – At the dictation of no man, and 3) Bancks – Vive ut semper vivas – So live that you may live for ever
Notables
Famous people with this last name include: 1) Anthony Louis Banks, Baron Stratford (1942-2006), a British Labour Party politician 2) Michael A. Banks (1951- ), an American science fiction writer who also documented the growth of online services and the internet 3) Bessie Banks (1938- ), an American soul singer 4) Calvin Douglas 'Doug' Banks Jr. (1958-2016) an American radio host of the Doug Banks Radio Show 5) George Emil Banks (1942- ), an American convicted murderer. He shot 13 people to death September 25, 1982, including his own five children, after telling co-workers that he was saving them from a coming race war. He was convicted of 12 counts of first-degree murder and sentenced to death. He killed more people in Pennsylvania than any other single mass murderer. After several appeals, as of 2012, He remains on death row in Pennsylvania 6) Nathaniel Prentice Banks (1816-1894), an American Civil War Union general, regularly criticized for the failures of his campaigns 7) Tyra Lynne Banks
(1973- ), an American supermodel. She was the African American woman to be featured on the cover of Sports Illustrated Swimsuit. She created the reality TV series 'America's Next Top Model' that ran for 22 seasons. She is one of four African Americans that have been ranked among the world's most influential people by Time magazine.
Blazons & Genealogy Notes
(Aylesford, co. Kent). Sa. on a cross ar. betw. four fleurs-de-lis or, five pheons az. Crest—On a mount vert a stag statant horned and unguled or, behind a tree ppr.
Sa. on a cross betw. three fleurs-de-lis or, five arches of the field within the arch on the centre point a fleur-de-lis of the last. Crest—On a mount vert a Corinthian column lying fesseways ppr. thereon a stork az. beaked and legged gu. the dexter claw resting on a fleur-de-lis or. Motto—Perseverando.
(London). Sa. on a cross or, betw. four fleurs-de-lis ar. five pellets. Crest—An armed arm ar. garnished or, out of clouds ppr. the hand holding a falchion ar. hilt and pomel or, on the falchion a chaplet vert.
(Yorkshire). Sa a cross betw. four fleurs-de-lis or, (another, ar). Crest—An eagle's head couped ar. Another Crest—A dragon ramp. ar. on a mount vert supporting a cross pattee or.
(George Banks, of Leeds,Esq.). Sa. on a cross three pellets in fesse; in the first and fourth quarters a fleur-de-lis, and in the second and third an eagle s head erased of the second. Crest—An eagle's head erased sa. betw. two fleurs-de-lis ar.
(Revesby Abbey, co. Lincoln, borne by the late Sir Joseph Bankes, Bart., and also, with the addition of "a canton or," by Meyrick Bankes, Esq., of Winstanley Hall, Lancaster). Sa. a cross or, betw. four fleurs-de-lis ar. Crest—On the stump of an oak tree couped, sprouting out new branches, a stork statant ar. beaked or, ducally gorged gu. Motto—Nullius in verba.
(London, Visit. 1568). Sa on a cross or, betw. four fleurs-de-lis ar. five ogresses.
(Corfe Castle, and Kingston Hall, co. Dorset). Sa. a cross engr. erm. betw. four fleurs-de-lis or. Crest—A Moor's head full faced, couped at the shoulders ppr. on the head a cap of maintenance gu. turned up erm. adorned with a crescent, issuant therefrom a fleur-de-lis or. Motto—Velle vult quod Deus.
(Winstanley, co. Lancaster). Sa. a cross or, betw. four fleurs-de-lis ar. a canton of the second. Crest—On the stump of a tree ppr. a stork ar. beaked and ducally gorged or.
(Collection of Molyneux, Uldter, 1597-1632). Az. a cross or, betw. four fleurs-de-lis ar. Crest—A griffin segreant ar. renting the forepaws on a cross formee fitchee gu.
Sa. a cross engr. or, betw. four fleurs-de-lis ar. Crest—A griffin segreant, implumed ar. holding a cross formee fitchee gu.
or Banck – (London and Yorkshire). Sa. across or, betw. four fleurs-de-lis ar. Crest—On the stump of a tree couped a stork close all ppr.
Sa. on a cross betw. four fleurs-de-lis ar. five pellets.
Or, a chev. gu. betw. three falcons' heads erased sa.
Gu. two lions' gambs erased or, supporting a crescent in chief ar.