Barcroft Family Crest, Coat of Arms and Name History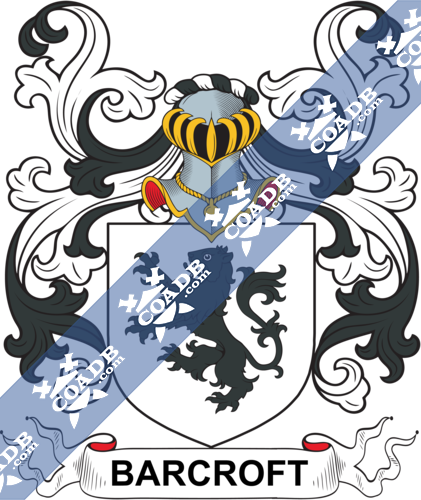 Barcroft Coat of Arms Gallery
Don't know which Coat of Arms is yours?
We can do a genealogical research. Find out the exact history of your family!
Learn More
Barcroft Origin:
England
Origins of Barcroft:
This uncommon surname is English. It is a geographical name from Barcroft in Cliviger, Lancashire, or from Barcroft in the Haworth urban district of the West Riding of Yorkshire. The initial component of the name is either the Olde English pre 7th Century "bere", which means barley, and also appeared in Barden (Yorkshire), or the Olde English "baer", swine- pasture, with "croft", a piece of enclosed land used for tillage or meadow, or a small piece of arable land near to a house. Geographical surnames, such as this, were originally given to local landholders, and the king of the palace, and especially as a source of recognition to those who departed from their birthplace to settle elsewhere. A family bearing the name Barcroft(e) resided in Lancashire in the reign of Henry III, and in May 1562, Henry Barcrofte and Elizabethe Haydock married at Burnley, Lancashire. The name was also well noted in Worcestershire Church Records as Barcrofte (Leigh with Bransford, 1576), and as Bearcroft (1639). In December of the latter year, William, son of Robert and Joane Bearcroft, named at St. Thomas', Dudley, Worcestershire. A Royal symbol given to the Bearcroft family of Worcestershire was described as "Sable on a chevron in the mid of three bears' heads erased argent, three swans close of the first."
Variations:
More common variations are: Bearcroft, Barrcroft, Barcaroft, Brocroft, Bercroft, Burcroft, Barcorft, Brycroft, Barcraft, Beercroft.
England:
The origins of the surname Barcroft appeared in Lancashire where people held a family seat from old times. Someone say better before the success of Normans and the entrance of Duke William at Hastings 1066 A.D.
The very first recording spelling of the family was shown to be that of John Barcorfte, dated about 1272, in Baines "History of Lancashire." It was during the time of King Henry III who was known to be the "The Frenchman," dated 1216 – 1272. The origin of surnames during this period became a necessity with the introduction of personal taxation. It came to be known as Poll Tax in England.
Ireland:
Many of the people with surname Barcroft had moved to Ireland during the 17th century.
United States of America:
Individuals with the surname Barcroft landed in the United States in three different centuries respectively in the 17th, 18th, and 19th. Some of the people with the name Barcroft who arrived in the United States in the 17th century included Charles Barcroft, who settled in Virginia in 1636. Jane and John Barcroft landed in Virginia in 1637. Lane Barcroft who landed in Virginia in 1637. Jon Barcroft, who landed in Virginia in 1637. Cha Barcroft, who landed in Virginia in 1647.
People with the surname Barcroft who landed in the United States in the 18th century included Ambrose Barcroft, who landed in Pennsylvania in 1722. Ambrose Barcroft, who came to Pennsylvania in 1722. Miss Barcroft, who arrived in Philadelphia, Pennsylvania in 1727.
The following century saw much more Barcroft surnames arrive. Some of the people with the surname Barcroft who arrived in the United States in the 19th century included John Barcroft, who came to America in 1802. George Barcroft, who came to New York, NY in 1822.
Here is the population distribution of the last name Barcroft: United States 626; England 350; Scotland 59; Canada 41; Australia 4; Wales 2; Ireland 2; South Africa 1; Russia 1; Cayman Islands 1.
Notable People:
George Barcroft (before 1574 – c.1610) was an English writer of church music. He matriculated to Trinity College, Cambridge in December 1574, and continued with the degree of a BA in 1577–78. He was selected as a minor criterion and organist at Ely Cathedral in 1579. He was named priest at Peterborough in August 1590. He was appointed vicar of Dullingham, Cambridgeshire in 1589.
Sir Joseph Barcroft (1872–1947), was a British physiologist.
Judith Barcroft (born 1942), is an American Broadway and soap opera actress.
Peter Barcroft (1929–77), was an English cricket player.
Roy Barcroft (1902–69), was an American character actor.
Tom Barcroft (1870 – after 1909), was an English soccer manager.
Blazons & Genealogy Notes
1) (Barcroft, co. Lancaster, 1664). Ar. a lion ramp. sa.
2) (confirmed to Henry Barcroft, Esq., of The Glen, co. Armagh, only son of the late Joseph Barcroft, of Lisburn, co. Antrim, descended from the family of Barcroft, of Noyna, co. Lancaster). Ar. a lion ramp. sa. in the dexter chief point a trefoil slipped vert. Crest—A demi bear ramp. gu. muzzled and charged on the shoulder with a trefoil slipped or.
3) (Meer Green, co. Worcester). Sa. on a chev. betw. three wolves' heads erased ar. a mullet betw. two crescents gu. Crest—A wolf ramp. gu.