Barwell Family Crest, Coat of Arms and Name History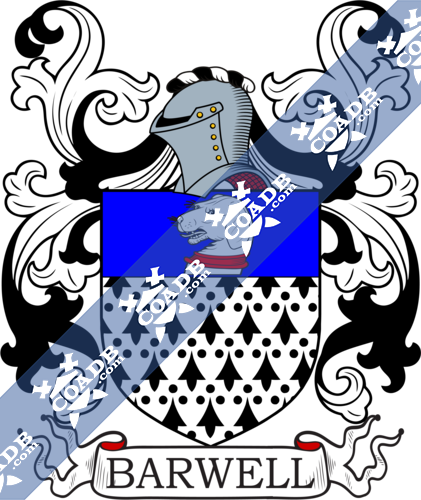 Barwell Coat of Arms Gallery
Don't know which Coat of Arms is yours?
We can do a genealogical research. Find out the exact history of your family!
Learn More
Surname Name Meaning, Origin, and Etymology
This is a local surname meaning "of Barwell", a parish in county Leicestershire. The Olde English word barre means gate or fence and waella means a spring or pond. Hence, the name may refer to someone who lived on or near a fenced off (to prevent cattle from grazing thereon) pond/spring. Another source claims it derives from the Old English word bar, meaning wild boar.
Spelling Variations
The surname Barrell is a corruption of Barwell. Other variants include Barwel and Barwel. Some claim the name is also related to Barnwell and Barwick.
Early Bearers of the Surname
The earliest known bearer of this last name was Tedricus de Berdawaella, who was documented in the Pipe Rolls of Norfolk in 1190 AD.
The Hundred Rolls of 1273 AD, a census of Wales and England, known in Latin as Rotuli Hundredorum, documents three people bearing this surname: Ralph de Barewell in county Wiltshire. A one Adam Barwell was recorded in the Register of the University of Oxford in 1603. Early marriages involving this surname include Edward Barwell to Mary Holman in 1664.
History, Genealogy, and Ancestry
A one Robert Barwell was born in 1713. He married Elizabeth House and they had a son named John Barwell, prior to Robert's death in 1782. The son John was born in 1744. He married Millicent Stock and had a son with her named Robert. Robert was born in 1786 in Witham, England. He married Mary Rule and died in 1862. He had a son named George Coen Barwell. George was born in 1816 in Maldon, England. He passed away in 1889 in Brantford, Ontario, Canada. He left behind numerous issue: George, Frederick, James, Mary, Egbert, Emily, Alfred, Susannah, Louisa, and Walter. His son George S. was born in the 1840s. He had children named George, Frances, Ada, Agnes, Fred, Grace, Emily, and Frank.
Early American and New World Settlers
A one John Barwell went to Barbados aboard the Constant Warwick in 1678. Early American immigrants include Joseph Barwell (Maryland 1666), John Barwell (New England 1678), and Elizabeth Barwell (Maryland 1774).
Mottoes
The Barwell family motto is Loyal au mort, meaning "Loyal to the dead".
Notables
Famous people with this last name include: 1) Henry Barwell (1877-1959) who was the 28th premier of South Australia, 2) Gavin Laurence Barwell (1972) who is a Member of Parliament in the United Kingdom who was  elected in 2010 and a member of the British Conservative Party, and 3) William Barwell (1705-1769) who was an administrator of the English East India Company, President of Bengal from 1748-1749, and High Sheriff of Surrey in 1768.
Blazons & Genealogy Notes
1) Ar. three martlets sa. betw. two bars gu. Crest—A demi lady holding in her dexter hand a garland of laurel ppr.
2) (Witham). Az. on a bend or, three mullets of the field. Crest—A greyhound's head erased ar. collared or.
3) (Norwich). Ar. an antelope saliant. Crest—An antelope's bead erased ar. attired or.
4) Erm. on a chief az. a talbot's head couped ar. collared gu.
5) Gu. a goat climant ar. attired or.
6) Ar. four barrulets az. over all a griffin segreant or.