Baxter Family Crest, Coat of Arms and Name History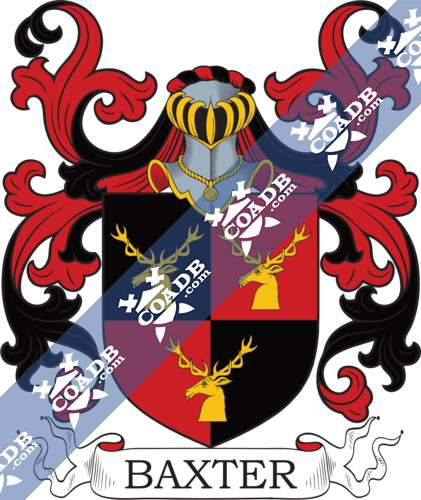 Baxter Coat of Arms Gallery
Don't know which Coat of Arms is yours?
We can do a genealogical research. Find out the exact history of your family!
Learn More
Surname Name Meaning, Origin, and Etymology
This Anglo-Saxon name is an occupational name meaning "a female baker" or a bakester. It derives from the word bagster, meaning a baker, and comes from the Old English word baecestre, meaning a female baker. As the years progressed, the ending estre evolved and lost its e, and came to be regarded as an emphatic form of "er", and was later applied to women as well as men.  Another source claims the name is simply the Scottish and North English form of the last name Baker. One source claims it was first used by the Boernicians, who were Vikings, Angles, and Picts. The name was first found in Forfarshire in north eastern Scotland, in the Angus area, where the family possessed lands.
Spelling Variations
Common spelling variations of this last name include: Baxstar, Bakster, Baxstair, Baxster, and Baxstare.
Early Bearers of the Surname

The earliest known person bearing this name was Liueger se Bacestere who was recorded in the Olde English Bynames of Devonshire in 1093 AD. The Hundred Rolls of 1273 AD, a census of Wales and England, known in Latin as Rotuli Hundredorum, documents one people bearing this surname: John le Bakestere. The Poll Tax of Yorkshire in 1379 AD lists Agnes Baker. Between 1200-1240 AD, a one Reginald Baxtar witnessed a gift of a church of Wemyss in Fife. In 1296 AD, one Geffrei le Baxtere of Lossithe, Forfar took an oath of allegiance to the king. Early marriages involving this surname include Patrick Baxter to Violet Kerr in Edinburgh, Scotland in 1606.
History, Genealogy, and Ancestry
Bernard Burke's book "The Landed Gentry" discusses one branch of this family: Baxter of Kincaldrum. The Right Honorable William Baxter of Kincaldrum in county Forfar was born in 1825, the son of Edward Baxter. He served as a Member of Parliament from the Montrose District and married Janet Scott in 1847. He was the Secretary to the Admiralty from 1868-1871 and the Secretary to the Treasury (1872-1873). Kilmaron Castle is a mansion constructed for the Baxter family near Cupar in Fife in 1820.
The book "The Scottish Nation" discusses one person with this surname: Andrew Baxter who was a well-known writer and son of a merchant in Old Aberdeen. He was born in 1686 or 1687. He was educated at King's College and later became a tutor. In 1730, he published a philosophy book called "An Enquiry into the Nature of the Human Soul". He left three daughters and one son.
Thomas Baxter was born in Westchester, New York in 1626. He married Temperance Gorham and later Bridget Clarke. Before passing away in 1715, he left behind two issue: Alice Baxter and Thomas Baxter Sr. Thomas, a Lieutenant, was born in 1653 in Marshfield, Massachusetts.  He had three
children: Thomas Jr., John, and Shubael. Thomas Jr. was born in 1683.  He left behind numerous issue before he died in 1745: Abraham, Thomas, James, William, Timothy, Elizabeth, John, Thomas, Robert, Cornelius, Dau, Susanna, Leah, Joshua, and Malachi.
Early American and New World Settlers
The book "Genealogical Guide to the Early Settlers" mentions five people bearing this surname: 1) Daniel Baxter, of Salem, Massachusetts, who was recorded in 1639 and married a woman named Elizabeth leaving the following issue with her: Elizabeth (1644), Susanna (1646), Rebecca (1652), and Priscilla (1652), 2) George Baxter of Providence, Rhode Island, who in 1650 was the umpire between the Dutch colony of New Netherlands and New Haven Colony, and he carried the royal charter from Boston to New York in 1663, 3) Gregory Baxter, who came to America with Governor Winthrop in March of 1632, and with his wife Margaret Paddy had numerous children:
Bethulia or Bethia (1632), Abigail (1634), and John (1639), 4) John Baxter of Salem, Massachusetts who married Abigail Whitney in 1667 and had four children with her: John (1668), Abigail (1670), Elizabeth (1673), and Mary, and 5) Nicholas Baxter of Boston in 1639 who married Ann and had a daughter named Mary, born 1640, who married Thomas Buttolph. Robert Baxter came to Virginia from the port of London  aboard the Alice in 1635. A one Edward Baxter was recorded as owning eight acres of land in the parish of Christ Church in Barbados in 1679. Other early settlers include Gregory Baxter (Massachusetts 1630), John Baxter (Maryland 1633), and Robert Baxter (Pennsylvania 1808).
Mottoes
The family mottoes include: 1) virtute non verbis, meaning "by valour not by boasting", 2) vincit veritas, meaning "truth prevails", and 3) deeds not words.
Notables
Famous people with this last name include: 1) John Babington Macaulay Baxter (1868-1946) who was
a Premier of New Brunswick, Canada and a chief Justice of the Supreme Court, 2) George White Baxter (1855-1929) who was an American politician and governor of the territory of Wyoming, and 3) Sir David Baxter, First Baronet, (1793-1872) who was a linen manufacturer and a philanthropist in Scotland.
Blazons & Genealogy Notes
1) (Cromer, co. Norfolk). Quarterly, sa. and gu., three bucks' heads couped at the neck or.
2) (Stannow, co. Norfolk). Gu. a wivern pass, or, with wings expanded tail nowed, on a chief of the second three spear heads az. Crest—A lion's gamb erased or, holding a spear sa. headed ar. near the head two strings and tassels gold.
3) (Norfolk). Ar. on a pale sa. three bezants within a bordure of the second (another, the bordure engr.).
4) (Northumberland). Gu. on a bend ar. four eagles displ. vert.
5) (Kincaldrum, co. Forfar, 1855, now borne by W. E. Baxter, Esq., M.P.). Erm. on a chev. engr. betw. three mullets gu. as many garbs or. Crest—A lion pass. guard. sa. Motto—Vincit veritas.
6) (Kilmaron, co. Fife, bart., 1863). The same within a bordure gu. Same Crest and Motto.
7) (Yorkshire). Ar. on a bend az. three estoiles of the field (another, or).
8) (Guienne, King of Arms, Visit, co. Notts. 1614). Erm on a chev. gu. three bezants.
9) Or, six eaglets displ. three, two, and one ppr.
10) Az. a cross betw. four lions sejant guard. or.
11) Ar. four windmill sails conjoined in saltire sa.
12) Vert, three squirrels sejant ar.
13) (Atherstone. co. Warwick). Az. a chev. betw. three falcons belled and jessed or. Crest—A falcon as in the Arms. Motto—Virtute non verbis.
14) (quartered by Cokayne). Or, three bats betw. two flaunches sa.
15) (Henry Baxter, Esq. of the Tower, Rainhill, J.P. co. Lancaster). Per fesse gu. and sa. in chief two garbs, and in base a dolphin naiant or. Crest—A demi eagle displ. sa. gorged with a collar gemel charged on the breast, and each wing with an annulet holding in the beak as many ears of wheat leaved and slipped, all or.
16) (Richard Baxter, Esq., of Leinster Gardens, co. Middlesex, and of Lincoln's Inn). Az. a dolphin embowed ppr. a chief engr. ar. issuant therefrom a demi eagle displ. gu. in the beak an arrow palewise point downwards of the second. Crest—A bat, wines expanded sa, each wing charged with an annulet or, and in the mouth an arrow fessewise ppr. Motto—Deeds not words.