Becker Family Crest, Coat of Arms and Name History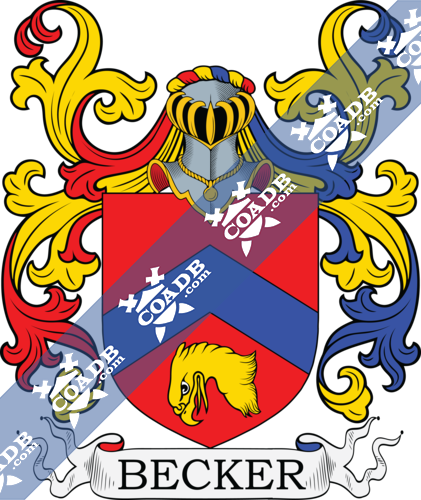 Becker Coat of Arms Gallery
Don't know which Coat of Arms is yours?
We can do a genealogical research. Find out the exact history of your family!
Learn More
Surname Name Meaning, Origin, and Etymology
The Anglo-Scandinavian, German, and Danish last name Becker has several origin theories or meanings. First, it is an occupational surname for a baker, deriving from the word becker in German, meaning "a baker", likely of bread, brick, or tiles, or from the German word backen, meaning "to bake". Often such people were employed by noble/royal households or monasteries, or they operated communal kitchens since not every household in the village could afford the equipment, which was likely expensive and limited during the era. The occupation was possibly mostly a hereditary feudal privilege. Second, it could be a baptismal name meaning "the son of Becker" deriving from an old personal (first) masculine given name. Third, it could derive from the world becher, meaning a cup/goblet, or from the word becherin, meaning to tipple (to snift or drink an alcoholic beverage) 9, with the German (or Dutch) der Becher, meaning a drinker. A fourth theory, mentioned in Henry Harrison's 1912 book, Surnames of the United Kingdom, states "Beckr (q.v.) + the agent, stiff, -er: cp. Brooker". Fifth, the name could be a habitational/locational surname for a person who dwelled at a brook, as stated in Elsdon Coles
Smith's 1956 book, Dictionary of American Family Names, deriving from the Old English word boece or bece and the Middle High German back, meaning stream or brook or beck. Sixth, as mentioned in the 2013 book Dictionary of American Family Names, it could be an English occupational name given to a person who made or used mattocks or pickaxes, deriving from the Old English word becca, meaning "mattock".  If the first theory is true and accurate, this would explain the extreme popularity of the name throughout Europe (it is around the 1,150th most common last name in the world, with nearly a half million bearers), given the occupation of a baker was important during medieval times and the Middle Ages throughout Christendom and the Holy Roman Empire. One source claims the name was first found in Prussia, and in England, they were first found in Yorkshire. It is interesting to note that some people of Jewish heritage and ancestry also bear this surname, for a variety of reasons, including the fact that some Jews changed Germanized their last names on order to safely travel and live in the country during times of oppression, discrimination, and prejudice.
Spelling Variations

Common spelling variants or names with similar etymologies include Beckar, Bekker, Beccher, Becher, Becuqer, Beacker, Baecer, Boecker, Buecker, Biecker, Beucker, Beecker, von Becker, Bakker, de Bakker, de Becker, and Bekere. The main part of the word, beck, is also found in many other primarily German compound surnames such as Durrbeck, Kornbeck, Brodbeck, Sauerbeck, Semmelbeck, Weitzenbeck, and Taglichsbeck.
Popularity & Geographic Distribution
The last name Becker ranks 315th in popularity in terms in the United Status as of the 2000 Census. The name ranks particularly high in the following nine states: Wisconsin, Minnesota, Kansas, Nebraska, North Dakota, South Dakota, Montana, Illinois, and Pennsylvania.
The name is extremely popular in Germany, as it is the 6th most common surname there. It is also popular throughout other parts of Europe: Austria (296th), Switzerland (244th), Sweden (956th), Netherlands (713th), France (379th), Luxembourg (8th), Denmark (530th), Norway (2,002nd), Iceland (3,712nd), and Finland (2,375th)
The surname Becker frequency/commonness ranks as follows in the British Isles: England (2,640th), Scotland (3,830th), Wales (3,682nd), Ireland (1,058th) and Northern Ireland (8,430th).  In England, it ranks highest in county Middlesex. The name is also present throughout the remainder English speaking world:  Canada (847th), New Zealand (1,530th), Australia (1,134th), and South Africa (507th).
Early Bearers of the Surname

The Poll Tax of Yorkshire in 1379 AD lists two bearers of this last name: Alicia Beckar and Magota Beckar. Early marriages in England involving this name include: 1) Roger Becker to Ann Nicoles at St. James Clerkewell in 1668 AD and 2) Ludewig Becker to Jane Toolken at St. George's Hanover Square in 1761.
History, Genealogy, and Ancestry
Stefan Becker was born between 1535 and 1595. He married Else Eva Franz and had five issue with her: Stephan, Hanss, Georg, and Marx. His son Stephan Becker was born in Volklinged, Germany in 1600. He married twice and had three children: Johann Matias, Hans C., and Anna Maria (Haag). His son Hans C. Becker was born in Gersweiler, Saarbrucken, Germany in 1648. He married Anna Barbara (last name not known) and had the following children with her: Anna Margaretha, Maria, Anna Apollonia, Hans Dominik, Susanna, and Hans George.
A one Hans Becker was born in Kirchhundem, Nordrhein-Westfalen around 1500 AD and he had a daughter named Dorothea who was born around 1540 in the same town and she married Franz von der Hardt, with whom she had issue.
Henry Becker was born in Hanover, Lower Saxony, Germany in 1820. He came to the United States. His wife was named Julia Eller. He had one son named John. John A. Becker was born in Erie, Pennsylvania and he married Julia Wylde with whom he had a son. This son named Joseph Henry and he was born in 1879 in Mount Carmel, PA. He married Elizabeth Kohler de Haven, and had a son with her named Joseph. Joseph was born in the 1900s and died in the 1990s. He had a son named Bill Becker who was born in the 1940s.
Georg Becker was born in Reiffelbach, Rheinland-Pfalz, Germant in 1594. He had two sons: Arnold and Johann Adam. His son Arnold was born in the same town in 1620 and he married Elisabeth Helman (or Helmer?) and they had six children together: Maria Margretha, Andreas, Maria Elisabetha, Johan, Hans Henrich, and Johannes. His son Hans Heinrich Becker was born in Hilchenbach in 1654 and he married Anna Clara Neuss, with whom he had the following issue: Anna Gertraud, Johann Henrich, Anna Katt, Antonious, Johann Jost, Maria, Johann Bernhard, and Henrich. His son Henrich was born in Nassau, Deggendorf, Bayern in 1693. He came to colonial America. He married Maria Eva Stillgebauer and had a son with her named Johannes. Johannes Georg Becker was born in Hochstenbach, Germany in 1737 and he married Anna Sophia Muller, with whom he had the following issue: Johannes Christianus, Eva Gertraud, Anna Elisabetha, Philip, Johann Henrich, Catharina, Jacob, and Anna. His son Jacob was born in Claremont, New York and he married Elizabeth Becker. He had the following children with her: Elizabeth, John Ludwig, Sophia, Catherine, Jacob, Margaret, Hannah, Jacob, Phillip, Christian John, Harmon, and Harmonius. His son Christian John Becker was born in Catskill, New York in 1803. He married Elizabeth Troyer and was the father of William B., Abraham, Hannah F., John Ludwig, Ephraim, and Cornelius. His son Cornelous Becker was born in Houghton, Ontario, Canada in 1844 and married Harriet Olive Marriet (Brown) and had the following children with her: Edith Lavinia (Fischer), Nellie (Hardie), Harriet (Duggan), Chelsea (Stewart), and Lena (Dick). He died in Tillsonburg in 1928.
Early American and New World Settlers
The book Genealogical Guide to the Early Settlers does contain an entry for this name, but it merely refers one to other source stating: "See Pearson's Schenectady, N.Y., Settlers 11; Munsell's Albany Coll. IV, 95; Collins' His. Hillsdale. N. Y., App. 35; Brabacher Gen. 181; Bouton Gen. 246; Amer. Ancestry vol. II, 9. His. Greene County, N.Y., 449".
Early settlers in colonial America, as derived from immigration records, bearing this name include: Jochem Becker (New York 1654), Jan Burrianse Becker (New York 1663), Harts Henrig Becker (New York 1709), Friederich Becker (New Jersey 1709), Albert Becker (New York 1709), Anna Cath Becker (New York 1709), Gerhard Becker (1709), and Elizabeth Becker (Pennsylvania 1802).
In Canada, one of the earliest settlers bearing this name was Ernst Becker who arrived in Nova Scotia in 1753. Two of the earliest bearers in New Zealand were Victor and Reine Becker, aged 27 and 23, respectively, with the former being a plumber, who came to the city of Auckland in 1874 aboard the Queen of The Age.
Early Americans Bearing the Becker Family Crest
I researched the following three resources and did not find any coats of arms for Becker: Bolton's American Armory, Matthew's American Armoury and Bluebook, and Crozier's General Armory.
Mottoes
I have identified one Becker family motto: In aethere cor,  a Latin which translates to literally to "In the heart of an ether", however this seems inaccurate, and perhaps is a reference to a piece of literate or culture, of which I know not.
Grantees
We have 18 coats of arms for the Becker surname depicted here. These 18 are from Armorial General published in 1861 by the famous genealogist/heraldist Johannes Baptisa Rietstap. The bottom of this page contains the blazons (in French and English), and in many instances contains some historical, geographical, and genealogical about where coat of arms was found and who bore it.
Notables
There are hundreds of notable people with the Becker surname. This page will mention a handful. Famous people with this last name include: 1) August Becker (1900-1967) was born in Staufenberg and was a member of the Nazi SS, a chemist who helped design vans with a gas chamber used during the early part of the Nazi mass murder and holocaust, who after the war, was sentenced to only three years, even though he personally gassed around 20 people in one incident, 2) Bors Franz Becker (1967) who was a professional tennis player born in Leimen, West Germany who won six major singles championships, including Wimbledon, at the age of 17, which is the youngest person to ever do so, 3) Karl Becker (1820-1900) who was a painter from Berlin who painted historical scenes, 4) Dietrich Becker (1623-1679) who was a German Baroque composer and violinist born in Hamburg, 5) George Ferdinand Becker (1847-1919) who was an American geologist born in New York City whose work involved the origin and mode of ore deposits, particularly in the western United States, 6) Gary Becker (1930-2014) who was a Nobel Prize winning economist born in Pottsville, Pennsylvania who was a professor at the University of Chicago, and who branched out into sociological topics such as crime, drug addiction, race, and discrimination, 7) Gustav Eduard Becker (1819-1885) who was a renowned German clock maker born in Oels, Silesia who founded the brand Gustav Becker, 8) Jean Otto Eric Hugo Becker (1863-1941) who was a German cellist and composed born in Strasbourg, 9) Philip Becker (1830-1898) who was born in Oberotterbach, Bavaria and became the Mayor of Buffalo, New York several years after the American Civil War, prior to the turn of the century, 10) Ralph Elihu Becker Sr. (1907-1994) who was an American Ambassador to Honduras during the Ford presidency who served in World War II and was son of a Lithuanian immigrant, 11) William Dee Becker (1877-1943) who was the 35th Mayor of St. Louis, Illinois, 12) Vaneta Becker, a Republican State Senator from Indiana who assumed office in 2005, 13) Gustavo Adolfo Claudio Dominquez Bastida (1836-1870) who was a Spanish poet from Seville, Spain known in the post-romantic school, who was also a playwright, 14) Wayland Herman Becker (1910-1984) who was an American football player born in Soperton, Wisconsin who played six seasons for the NFL, 15) Oscar Becker (1889-1964) who was a German philosopher, mathematician, and logician born in Leipzig, and 16) Benjamin Becker (1981) who is a tennis player born in Merzig, West Germant who is known for his powerful serve whose best achievement was bearing Andre Agassi.
Blazons & Genealogy Notes
1) Halle (Saxe) – D'azur à la bande échiquetée d'argent et de sable acc de six étoiles d'argent rangées en orle Casque couronné Cimier une étoile d'argent entre un vol d'azur Lambrequin d'argent et d'azur. English: Azure a bend checky argent and sable surrounded by six etoiles argent arranged in orle Crowned with a helmet Crest: an etoiles argent between a pair of wings azure Mantling: argent and azure.
2) Giessen – De sable au bouc rampant d'argent accorné d'or Cimier le bouc issant. English: Sable a goat rampant argent horned or Crest: the goat issuant.
3) Middelbourg, Amsterdam – D'argent au chevron d'azur ch de cinq étoiles d'or et acc en chef de deux trèfles de sinople et en pointe d'une couronne de roses au naturel Bourlet d'argent et d'azur Cimier une étoile (8) d'or (V Becquer à Séville). English: Argent a chevron azure charged with five etoiles or and surrounded by in chief two trefoils vert and in base by a crown of roses proper Crowned with a helmet with a wreath argent and azure Crest: an etoile of eight points or (for Becquer of Seville).
4) Utrecht – D'azur à deux flanchis d'argent en chef et un annelet du même en pointe. English: Azure two crosslets argent in chief and an annulet of the same in base.
5) Saxe – D'or à deux barres d'azur ch chacune de deux étoiles du champ Casque couronné Cimier trois plumes d'autruche de sable Lambrequin d'or et d'azur (V de Lichtenströhm). English: Or two bends azure each charged with two etoiles of the field Crowned with a helmet Crest: three ostrich feathers sable Mantling: or and azure (for dexter Lichtenströhm).
6) Bois-le-Duc – D'argent à trois losanges de gueules. English: Argent three lozenges gules.
7) Amsterdam – D'or à une aigle de profil de sable essorante posée sur deux pièces de bois du même passées en sautoir Cimier une aigle issante de sable. English: Or an eagle in profile sable soaring placed over two timbers arranged in saltire Crest: an eagle issuant sable.
8) Cologne – D'or à la bande de gueules ch de trois étoiles du champ et acc en chef d'un corbeau volant de sable tenant en son bec une bague d'or Au peuplier de sinople terrassé du même brochant sur le tout la deuxième étoile de la bande se faisant jour à travers le feuillage Casque couronné Cimier un peuplier de sinople la cime ch d'une étoile d'or entre deux proboscides de gueules Lambrequin d'or et de gueules. English: Or a bend gules charged with three etoiles of the field and surrounded by in chief a crow volant (flying) sable holding in its beak a ring or, a poplar tree vert on a mound of the same covering over all, the 2nd etoile of the bend which is intertwined ("making its way through") the foliage (leaves) Crowned with a helmet Crest: a poplar tree vert the top charged with an etoile or between two proboscides gules Mantling: or and gules.
9) Flandre – (An., 21 nov. 1626) – D'azur au chevron d'or ch de cinq étoiles du champ et acc en chef de deux quintefeuilles du second et en pointe d'une perdrix au naturel Bourlet d'or et d'azur Cimier cinq plumes d'autruche alternativement d'or et d'azur celle du milieu ch d'une étoile d'azur Lambrequin d'or et d'azur. English: Azure a chevron or charged with five etoiles of the field and surrounded by in chief two cinquefoils of the 2nd and in base a partridge proper Crowned with a helmet with a wreath or and azure Crest: five ostrich feathers alternately or and azure that in the middle charged with an etoile azure Mantling: or and azure.
10) Danemark – (M. ét.) – Parti au 1 d'or à l'aigle de sable au 2 de sable à l'étoile d'or Cimier l'aigle issante. English: Per pale 1st or an eagle sable 2nd sable an etoile or Crest: the eagle issuant.
11) de Becker – France – De gueules au chevron d'azur acc en pointe d'une tête d'aigle d'or posée en fasce. English: Gules a chevron azure accompanied by in base the head of eagle or fesswise.
12) de Becker – Brabant – D'argent à un coeur de gueules acc de trois étoiles de sinople Cimier une étoile de sinople Lambrequin d'argent et de sinople Devise IN AETHERE COR. English: Argent a heart gules surrounded by three etoiles vert Crest: an etoile vert Mantling: argent and vert.
13) von Becker – Suède – Noblesse, 20 août 1652 – Coupé au 1 d'azur à deux pattes d'ours adossées de sable au 2 d'or à trois roses de gueules Casque Cimier un bras dextre armé tenant une faux d'argent emmanchée d'or entre six lances avec leurs banderoles d'or d'azur et d'or. English: Per fess 1st azure two bear claws addorsed (back to back) sable 2nd or three roses gules Crowned with a helmet Crest: an a dexter arm armoured holding a scythe argent handled or between six lances with their banners or, azure and or.
14) ou Becquer. Prusse – (An., 18 déc. 1666) – D'or à deux roses de gueules tigées et feuillées de sinople passées en sautoir Casque couronné Cimier les roses devant un vol d'or. English: Or two roses gules stemmed and leaved vert placed in saltire Crowned with a helmet Crest: the roses in front of a pair of wings or.
15) de Beckerfeld – Silésie – Coupé d'argent sur gueules à trois roses de l'un à l'autre. English: Per fess argent over gules three roses counterchanged.
16) de Lichtenströhm – Saxe – (Nob. du St.-Empire, 8 mars 1805) – D'or à deux barres d'azur ch chacune de deux étoiles d'argent Casque couronné Cimier une étoile de l'écu entre un vol d'azur Lambrequin d'or et d'azur. English: Or two bends sinister azure each charged with two etoiles argent Crowned with a helmet Crest: an etoile of the shield between a pair of wings azure Mantling: or and azure.
17) de Rosenfeld – Saxe, Silésie – (Nob. du St.-Empire, 26 sept. 1647) – Écartelé aux 1 et 4 d'argent au lion de gueules couronné d'or aux 2 et 3 de gueules à la rose d'argent boutonnée d'or Casque couronné Cimier le lion issant tenant entre ses pattes une rose de l'écu. English: Quarterly 1st & 4th argent a lion gules crowned or 2nd & 3rd gules a rose argent centre or Crowned with a helmet Crest: the lion issuant holding between its paws a rose of the shield.
18) (London). – Ar. a chev. az. betw. two trefoils slipped in chief vert and a chaplet in base ppr.. English: Ar. a chev. az. betw. two trefoils slipped in chief vert and a chaplet in base ppr.