Benitez Family Crest, Coat of Arms and Name History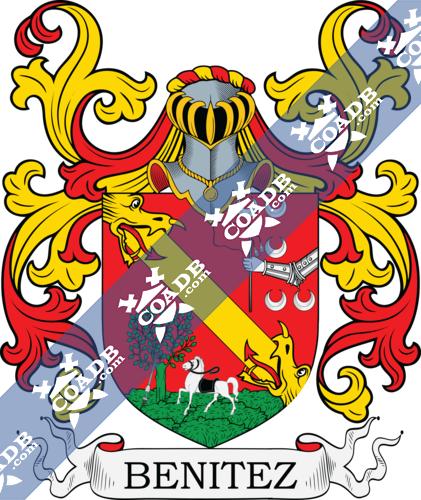 Benitez Coat of Arms Gallery
Don't know which Coat of Arms is yours?
We can do a genealogical research. Find out the exact history of your family!
Learn More
Surname Meaning, Origin, and Etymology
Benitez is one of the oldest surnames from the medieval Spain. This is a patronymic surname, which is noticeable thanks to its suffix "ez", patronymics surnames were one of the first kind of surnames and are derived from the name of the father. In this case, Benitez means "son of Benedictus" that was a Roman personal name and means "blessed". Benitez became very popular thanks to Saint Benedictus, an Italian priest who created the Benedictine Order in 529 and wrote the code of conducts that many other orders took as a guide to rule their behavior and actions.
Benedictus which firstly used only by members of the church but after the Crusades to the Holy Land in the 12th century, it spread thanks to the practice of soldiers or pilgrims that returned to their homes, of naming their children after a saint or a remarkable member of the church. Thanks to its popularity in the Middle Ages, Benedictus had some versions in different languages such as "Beneti or Benoit" in French. Approximately 200 years after, the surname was born and started to be passed from father to children as a hereditary surname. Initially, Benitez could be found in the region of Asturias in the north of Spain and the first record of a bearer of this surname belongs to William Benet, who appeared on the rolls of the city of Durham, England in 1208.
Spelling Variations
During the Medieval Era, surnames didn't count on a single way of being written, there were many different forms of writing the same last name. In this period of history, there weren't available the same kind of grammatical rules that we have today, in many languages, there were not any kind of rules at all. This led to the bearers of the same surname, to write it differently because they didn't have an exact and right way of doing it.
Other factors like wrong translations, the evolution of languages and the adding of suffix by some families to the surname with the goal of expressing a political position or just to be unique, also caused spelling variations for a surname. The most common spelling variations of Benitez were Benítez, Benitez, Benites, Benito, Beneditez, Benedito, Benecdito, Beneyto, Beneitez and there even were variations in other languages such as Benedicte, Benech, Bennet, Benet, Banish and Beinosovitch. In the case of Spanish, the accent mark plays an essential role in distinguishing words that are written in the same way, which is why Benítez and Benitez are considered two different variations.
Popularity & Geographic Distribution
Nowadays, Benitez is not among the most used surnames, actually, it is the 911th most common surname with approximately 577, 452 bearers in the world. The country with the biggest amount of bearers of Benitez is Mexico, the second Paraguay, and the third Argentine. Benitez has its highest density in Paraguay. All of this data was taken from the census of 2014.
Early Bearers of the Surname
Some of the old bearers of Benitez were Robert Benyt from Yorkshire, England in 1327, Hainrich Benedicte from Saint Blazien, Germany in 1330, Juan Benítez who was part of the Conquest of Tenerife, Spain around 1494-1496, Don Lorenzo Benitez who earned the title of Commander of the natives of Cascota in 1556 and Alonso Felipe Benítez Cortés who got married to Doña Mariana Cortés y Santos on Albacete, around that same time.
History, Genealogy, and Ancestry
A good record of the genealogical tree of a family Benitez begins with Alonso Benítez Velasco who got married to Beatriz Burgos Carmona y Pérez Candia, daughter Gonzalo Carmona, and Mariana Pérez Candia. Alonso and Beatriz had two children, José Benítez Burgos who on October 28, 1728, got married to Ana Ramírez de Arellano y Varas Morgado in Santiago de Chile, she was a daughter of Nicolás Ramírez de Arellano y Araube and Teresa Varas y Sánchez-Morgado. The second child of Alonso and Beatriz was Bartolomé Benítez Burgos who got married to Bartolina Aguiar Zevallos, daughter of Diego Aguiar and Ana Zeballos.
The first child of Bartolomé Benítez and Bartolina Aguiar was Andrés Benítez Aguiar who got married to Ana Ramírez de Arellano Pacheco and they had a son, José Benítez y Arellano Pacheco who got married to María Mercedes Ramírez de Arellano y Benítez. Their first son was Joaquín Benítez Ramírez de Arellano. The second son of José Benítez y Arellano Pacheco was Antonio Benítez Ramíres de Arellano, the third was Rafael Benítez Ramírez de Arellano, then there were José María Benítez Ramírez de Arellano, Ramón Benítez Ramírez de Arellano, who got married to Micaela Benítez and they had a son, José Miguel Benítez Benítez, then Micaela died and he got married again to Mercedes Niño, but they didn't have any children. The last two children of José Benítez y Arellano Pachecho and María Mercedes Ramírez de Arellano y Benítez were Carmen Benítez Ramírez de Arellano and Dolores Benítez Ramíres de Arellano.
The other children of Bartolomé Benítez Burgos and Bartolina Aguiar Zevallos were: Juana Benítez Aguiar who got married to Juan Ramírez de Arellamo y Varas Morgado, Ignacia Benítez Aguiar, Lorenza Benítez Aguiar, who got married to José Antonio del Rio y Piñeiro in Santiago de Chile, Juan Francisco Benítez Aguiar who got married to Juana de Dios Guerrero and Francisca Benítez Aguiar who got married José Flores Ortiz.
Early American and New World Settlers
Some of the first users of Benitez in arriving in America were Juan Benitez, who arrived in America in 1528, Alonso Benitez who landed in New Spain in 1536, Antonia Benitez who arrived in New Orleans in 1779, Francisco Benitez who landed in America in 1817 and Jose Benitez who arrived in Puerto Rico in 1821.
Notables
Some of the bearers of Benitez that have played a key role in a certain field are: Jorge José Benitez (b. 1950) an Argentine football player, Antonio Benítez-Rojo (1931-2005) a Cuban-American Professor, Elsa Benítez (b. 1977) Mexican supermodel, Miguel Angel Benitez (b. 1970) a football player from Paraguay, Joe Benítez (b. 1971) an American comic book artist, and Héctor Benítez (1918-2011) a professional baseball player from Venezuela.
Blazons & Genealogy Notes
1) Castille – De gueules à la bande d'or engoulée de deux têtes de dragon du même languées de gueules acc en chef d'un senestrochère armé d'argent mouv du flanc tenant un guidon de gueules ch d'une fasce d'argent flottant vers dextre acc de cinq croissants d'argent 2 en chef 1 à senestre du guidon et 2 au-dessous du senestrochère la bande acc en pointe d'un cheval blanc bridé et sellé de sable adextré d'un arbre de sinople contre laquelle est appuyée à dextre une lance de tournoi le tout soutenu d'une terrasse de sinople. English: Gules a bend or being swallowed by two heads of dragons (at each end) of the same langued gules accompanied by in chief an armoured left arm argent coming from the flank holding a flag gules flying to the dexter surrounded by five crescents argent 2 in chief 1 to the sinister of the flag and 2 below the arm the bend accompanied by in base a white horse bridle and saddle sable to the dexter a tree vert against which is resting to the dexter a tournament lance all upon a mound vert.
2) Castille – D'azur au lion d'or à la bordure de gueules ch de huit flanchis d'or. English: Azure a lion or a bordure gules charged with eight crosslets or.
3) Andalousie – D'or à l'arbre terrassé de sinople accosté de deux loups affrontés de sable rampants contre le fût à la bordure d'azur ch de huit étoiles d'or. English: Or a tree on a mound vert alongside two wolfs affrontant sable rampant against the trunk a bordure azure charged with eight etoiles or.