Benn Family Crest, Coat of Arms and Name History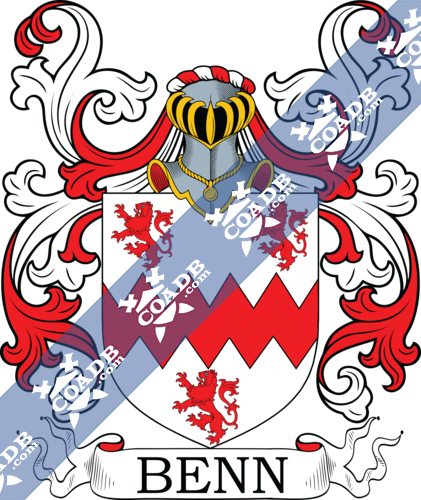 Benn Coat of Arms Gallery
Don't know which Coat of Arms is yours?
We can do a genealogical research. Find out the exact history of your family!
Learn More
Surname Name Meaning, Origin, and Etymology
This is a baptismal surname meaning "the son of Bennet", i.e. Benedict, from the nickname Benn. The name is unrelated to Benjamin. The name was popularized throughout Britain due to the numerous Benedict monasteries built throughout the British Isle, and the surname is found in the areas where said monasteries were present. Furness Abbey, founded in the 1100s AD, made the surname common in Furness and south Cumberland. The personal name Benedict was brought into England from mainland Europe during the Norman Invasion of 1066 AD. The male given name Benedict derives from the latin word Benedictus, meaning blessed, from bene (good) and dicte (speak or well spoke). The name was born by St. Benedict of Nursia (480-543 AD), who founded the Order of Saint Benedict and hence Western Monasticism, as well as seven other saints and fifteen popes (ex. Pope Benedict I who died in 579 AD).
Another author asserts it developed from the Old English given name Beonna, meaning "the plump one", which was a sign of affluence in medieval times and the Middle Ages. The Middle English personal name Benne is also a form of the Old Norse personal (first) name Bjorn, meaning "bear cub" or "warrior".
A separate origin theory, proffered by P.H. Reaney and R.M. Wilson in their 1991 book A Dictionary of English Surnames, suggests the name derives from the Old English word beonet, meaning "by the grassy plain" and hence is a locational surname referring to a person that lived on or near such a geographical feature.
I can find no indication the name is a shortened version of Bennett or that it is related to the name Benjamin.
Spelling Variations
Common spelling variants or names with similar etymologies include Benne, Ben, Bente, Bent, and Bend. It can also be a North German shortened version of the first name Bernhard.
Popularity & Geographic Distribution
The last name Benn ranks 6,973th in popularity in terms in the United Status as of the 2000 Census.  The name ranks particularly high in the following three states: Delaware, New York, and Rhode Island. The surname is even more common in England, where it ranks 2,228th. It ranks highest in the following counties:  Cumberland, Yorkshire, and Middlesex.The name is common throughout the English speaking world:  Scotland (278th), Wales (12,161st), Ireland (3,646th), Canada (3,786th), New Zealand (5,908th), Australia (2,968th), and South Africa (1,701).
Early Bearers of the Surname
The earliest known bearer of this surname was Leuuinus Benne who was recorded in 1086 AD, in the Domesday Book for Suffolk, which was a survey of England and Wales ordered by William the Conqueror. Other early bearers include Siuard Benne of Lincoln in 1190 AD and Thomas Ben of Worcester in 1275 AD. The Hundred Rolls of 1273 AD, a census of Wales and England, known in Latin as Rotuli Hundredorum lists two bearers of this surname: Eborard Benne in county Norfolk and Robert Benne in the same county. The Poll Tax of Yorkshire in 1379 AD lists two bearers of this last name: Ricardus Benne and Thomas Benne. The History of Norfolk, by Blomefield and Parkin, lists William Benne, vicar of Castor, was listed in county Norfolk in 1410, as was Peter Benne, vicar of Rowdham.
Early marriages involving this last name was Elizabeth Benn to Anthony Beomont at St. Thomas the Apostle in London in 1634, Rebecca Benn to Tempest Milner at Canterbury in 1662, and Sally Benn to Richard Brooks at St. George's Hanover Square in London in 1771.
History, Genealogy, and Ancestry
Henry Benne (or Benn) was born in Safford Walden, Essex, England sometime before 1540. He had a son named John, a yeoman. This John was a Sergeant at Arms to Kings Henry VII and VIII of England. He married and had two sons: Robert and Thomas.His son Robert Benn was born sometime between 1515 and 1569 and he married Elizabeth Woodson. They had the following issue together: Anthony, John, John, Elizabeth, Bennett, William, Mary, Anne (Goodwin), William, Margaret, and Peter. His son Sir Anthony Benn, Knight, Recorder of London was born around 1569 AD. He married Jane Hart and had the following children with her: Amabell and Charles.
A one Edwin Benn was born in Colesville, New York in 1836. He married Emma Serena Pierson and had a son with her named Beulah May (Crawford).
A one Braxton Benn was born in Virginia around 1822. He married Martha B.E. Cannon, who was born in Kentucky, and had the following children with her, prior to his 1880 death in Iowa: Gabriel, Robert A, E. Jane, Leonard F., and Lucy A. His son Robert A. was born in Henry County, Iowa around 1845 and he married Lavina E. Clark with whom he had one son: Arthur. Arthur B. Benn was born in 1873.
The book, Peerage and Baronetage, by the famous British genealogist Bernard Burke, lists two branches of this family.
The first is Benn of Old Knoll. Sir Ernest John Pickstone Benn, 2nd Baronet, 1918, of Old Knoll, Lewisham, was High Sheriff of London, born in 1875. He was President of the Boys' Hostels Association and the British Export Society. He succeeded his father in 1922. In 1903, he married Gwendoline Dorothy, was Justice of the Peace, county Surrey,  daughter of Frederick May Andrews, and had the following issue with her: John Andrews (born 1904, served in World War II, married Ursula Helen Alers Hankey), Edward Glanvill (Major of the East Surrey Regiment, married Beatrice Catherine Newblad), Frederick Christopher, Elizabeth (born 1907, married Paul Alfred Shinkman of New York), and Julia Wedgewood (born 1916, married Albert Edward Louis Mash). Burke traces the lineage back to Reverend Julius Benn, a Congregationalist Minister of London who married Anne, daughter of William Taylor of Gerrards, and had issue with her, including John. This Sir John William Benn, 1st
Baronet, was a Knight, Justice of the Peace for Essex and London, Deputy Lieutenant for county London, and a Member of Parliament for St. George Dib who was born in 1850. He was knighted in 1906 and created a baronet in 1914. He married Elizabeth, daughter of John Pickstone of Silver Jill, and had four children with her: 1) Sir Ernest John Pickstone (2nd Baronet), 2) William Wedgwood, Christopher Julius, and Oliver Williams. The Benn Coat of Arms is blazoned as follows: Argent two barrulets indented gules between in chief as many dragon's head erased in the base a pencil and a pen in saltire proper tied with a lace azure pendant therefrom a torteau charged with the figures 1904 or. The Benn family motto is Deo Favente, meaning "". The family is seated at Morevex, Oxten, Surrey.
The second branch mentioned is Benn of Rollesby. Sir Ion Hamilton Benn, 1st Baronet was born in March of 1863. He was a Captain in the
R.N.V.R and a Member of Parliament for Greenwich, as well as the mayor of said city. He survived in World War I as well. In 1885, he married Frances Charlotte, daughter of Nathaniel Bridges of Wallington Manor in Surrey, and had three issue with her: Ion Bridges Hamilton (born 1887, served in both World Wars, married Theresa Dorothy Blacker and had issue with her), Dorothy Hamilton (1917), and Marion Hamilton (born 1886, married Major Edward Benn of Whitehaven, Cumberland). Burke states the family was long settled in Cumberland England. John Benn, of Glenravel, county Antrim, was son of Edward Benn and Mary Hocklin, was born in 1721 and settled in Ireland in 1760. In 1758, he married Ann, daughter of Henry Rodgers, and had three sons with her. The youngest son was John Benn of the same town who was born in 1767. In 1789, he married Elizabeth, daughter of James Craig of Tandragee, and had issue with her including James. James was born in 1790 and in 1813 he married Margaret, daughter of Colonel Watkins Dunn, and had several issue with her, the eldest of which was John. This Reverend John Watkins Benn, Rector of Carriglaine and Douglas in county Cork, was born in 1814. In 1853, he married Maria Louisa, daughter of Major-General Christopher Hamilton, and had issue with her: 1) Arthur Shirley (Baron Glenravel, Member of Parliament for Plymouth), 2) James Edward Hamilton (Bencher of the Inner Temple, married Marion Wavell), 3) Ion Hamilton (baronet in 1920), and 4) Hans Hamilton (born 1865, married Camilla Koncelik). The Benn Family Crest is described as following in heraldry: Argent, on a chevron indented gules between three lions rampant sable, a trefoil slipped or. Crest: A tiger passant argent, gorged with a dollar dancette gules, charges with a trefoil as in the arms. The Benn family motto is Courage sans peur. The family is seated as Rollesby Hall in county Norfolk, England.
Early American and New World Settlers
A one William Benn, age 24, came to St. Christopher's aboard the William and John in September 1635. A one Stephen Benn came to Virginia in 1637. Other early settlers in colonial American bearing this surname include Edward Benn (Virginia 1706) and Charles Benn (1755). A one John Benn came to Canada in 1783 or 1784. In Australia, James Thomas Benn, a convict from Middlesex, England, came to New South Wales, a penal colony at the time, aboard the Andromeda in November 1832. Several members of this family (Harriet, Edward, Aldred Ashenden, and Arthur) came to Wellington, New Zealand in 1880 aboard the Wairoa.
Grantees
We have 6 coats of arms for the Benn surname depicted here. These 6 blazons are from Bernard Burke's book The General Armory of England, Ireland, and Scotland, which was published in 1848. The bottom of this page contains the blazons, and in many instances contains some historical, geographical, and genealogical about where coat of arms was found and who bore it. People with this last name that bore a Benn Coat of Arms include:
1) Robert Benne of London, of the Temple, confirmed 23 October 1573, by Cooke, Clar., son of John, of Walden
2) John Bene, argent on a bend counter embattled, etc., by Segar
Notables
There are hundreds of notable people with the Benn surname. This page will mention a handful. Famous people with this last name include: 1) Sir Ernest John Pickertstone Benn, 2nd Baronet (1875-1954) was a British publisher and political writer, the son of John Benn, 2) Concetta Benn (1926-2011) who was an Australian social worker known for her work in developmental approach, 3) Nigel Gregory Benn (1964) a boxer from Ilford, London known as "The Dark Destroyer", 5) Anthony Neil Wedwood Benn (1925-2014) who was a British politician who served as Secretary of State for Energy in the 1970s,  6) Air Commodore William Wedgwood Benn, 1st Viscount Stansgate (1877-1960) who was a political who was the Secretary of State for India and a decorated officer in the Royal Air Force, and 7) William Ben(n) (1600-1680) who was an English ejected minister (Puritan minister forced out of the Church of England by the Act of Uniformity in 1662) from Egremont, Cumberland.
Blazons & Genealogy Notes
1) (Lord Mayor of London, 1747). Ar. a fesse dancettee betw. three lions ramp. gu.
2) (Ireland). Same Arms, lions sa.
3) Ar. a chev. gu.
4) Same Arms within a bordure sa. bezantee.
5) (Surrey). Ar. a fesse dancettee gu.
6) (or Benne) (Newport-Cranley, co. Surrey, Recorder of London). Ar. a fesse dancettee gu. betw. three lions ramp. sa. Crest—A tiger pass. erm. ducally gorged or.