Berg Family Crest, Coat of Arms and Name History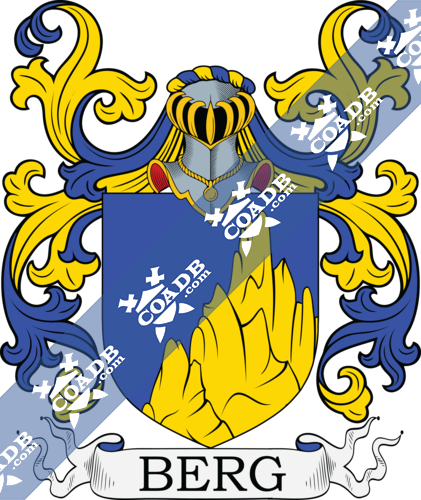 Berg Coat of Arms Gallery
Don't know which Coat of Arms is yours?
We can do a genealogical research. Find out the exact history of your family!
Learn More
Surname Name Meaning, Origin, and Etymology
This surname has two origin theories. First, it is a topographic surname for someone who lived by a hill or mountain, deriving from the Middle High German word berc or Old High German word burg, and became common throughout central and eastern Europe. The modern German word berg means mountain. The Lower German variant is barg. Second, in Scandinavia, it is a locational name for a person who lived by a farmstead, deriving from the Old Norse word bjarg meaning hill or mountain. In the Netherlands, which literally means the low lands, some theorize that any who lived on higher land near the mountains or hills was of a more prestigious social class. In Olde English, the word was spelled beorg. The Gothic word was bairhai. With four letters and one syllable, this is one of the shortest names in the Unites States.
Many places in England bear this name, as documented in the Domesday Book of 1086 AD, a survey of England and Wales ordered by William the Conqueror, including Burgh in county Suffolk and Lincolnshire, historically spelled Burch.
Spelling Variations
Common spelling variants include, but are not limited to, Berge, Burg, Burgh, Bergg, Bergh, and Bergge. This word is also in many other surnames, usually Jewish/German, such as Goldberg, Blumberg, Hornberger, Rosenberg, Greenberg, Steinberg, and countless others. The majority of Jews in the western world are Ashkenazi Jews, whose traditional language was Yiddish, which is a Germanic language, hence the term berg in many Jewish last names. Interestingly, many Jews did not adopt surnames formally until The Edict of Tolerance of 1782, issued by Emperor Joseph II of Austria-Hungary, forced them to.
The name also serves as the first part of various German last names: Berghammer, Bergler, Bergner, Bergstrasser, and Beringer, to name a few. In Holland, the name has often been spelled Van Berg, Van der Berg, or Van den Berg, with the suffixes means "of the".
The similar word borg appears in many Norwegian, Icelandic, Danish, and Swedish last names (ex. Arnbjorg, Eylburg,Almborg) and means stronghold, castle, or fortification. Many of these names were Anglicized or Americanized to berg in the when the families settled in the United States, particularly in the mid west. The name Solberg means "sunny mountain" and Sorberg menas "southern mountain".
Popularity & Geographic Distribution
The last name ranks 637th in terms of popularity in the United States as of the US Census of 2000. The spelling variants Berge ranks 8,991th.  The name is particularly dense in Wisconsin, Minnesota, and North Dakota, likely because the area was settled by German and Scandinavian immigrants in the nineteenth century. The name is also very common in the following countries: Norway (11th), Sweden (18th), Denmark (68th), Germany (90th), and Netherlands (112th).
Early Bearers of the Surname
One of the earliest recorded bearers was Bruno II von Berg, who was the Archbishop of Cologne from 1131 to 1137 AD and was appointed to said position by King Lothar of Germany. Another early bearer was Peter Berger (Peter der uf dem berge) recorded in Breslau in 1320 AD. A one Ailricus Burc was recorded in the Domesday Book in 1086 AD. A Geoffrey de Burk was recorded in 1272 AD in Herefordshire, and the name Burke, very popular in England and Ireland, shares a similar etymology as the surname Berg.
History, Genealogy, and Ancestry
One source claims the name first originated in the German Rhineland, a region in Europe surrounding the Rhine River, which was occupied by the Romans and then dominated by the Franks and become an integral part of the Holy Roman Empire. Another claims it was first established in Holland.
Adolph I was the Count (Graf) von Berg Vogt con Gerresheim con Berg and was born in 1020. He had a son named Adolph born before 1077. He married Adelaide Sommerschenberg and they had a son named Adolph. This son was born in 1078 and he married Irmgard Kleve. They had two children: Gisela and Adolph. Adolph IV was the Count of Berg and Hoevel von Berg. He was born in 1095 AD and married Irmgard Sponheim and they had two children together: Eberhard (Berg) Altena and Engelbert (Berg) von Berg. His son Engelbert was born in 1140 AD. He married Margarehta Gelre and they had a son named Adolph Berg or Von Berg.
A one Konrad Berg was born in 1506 in Kolberg. He married Katharina von Steinwehr and they had a son named Paul who was born in 1525. Paul II, or "Paulus", married Katharina Klucke in 1544 and had numerous children with her: Konrad III, Joachim, Gerhard, Michel, Peter, and Thomas.  His son, Konrad III, or Conrad, was born in Kolberg, Pommern (Pomerania, Germany). He married Dedula Broecker and Gertrud Borchert Gutzmer. He left behind the following children: Paul III, Johann I, Katharina, Konrad, Kondrad, and two others with unknown names. Johann I Peter was born in 1587 in Stettin. He married Dorothea Fuessel n 1618 and Ursula Matthias in 1637. He left behind 14 children who bore the name Bergius prior to his 1658 death in Berlin: Johann, Elisabeth, Georg Konrad, Dorothea, Wilhelm, Katharina Eleonore, Paul, Friedrich, Daniel, Daniel Sigisimund, Ursula (Durham), Johann, Katharina Gertrud (Shardius) and Elisabeth Maria.
Peter Fredrich Berg was born in 1650 and married Elizabeth Bradenmuller. He had a son named Maximinius who born in 1685 in Eisenschmitt, Germany. He married a woman named Cartharina and had a daughter with the same name.
A one Zacharias Abrahamsen Berg was born in 1791 in Jolster, Norway. He married Danela Bendicksdatter in 1809 and had the following issue with her: Sonneve, Abraham, Christie, Knu, Catherine, and Johannes. His son Abraham Sachariassen Berg was born in 1812 in the same city. He married Nicolaia Nilsdatter Loset in 1845 and they had the following children prior to his 1877 in Minnesota: Danelle (Lee), Tornelle Abrahamsdatter (Johnson), Zacharis Abrahamesen, Sonneve Johanne, Nils Abrahamsen, Sacharias Sever, Johanne Andrea, Andreas, and Andrea Danelle. His son Nils (or Nels) was born in 1853. He married Ingeborg Boltoffdatter Thomspn and had the following children: Anna Karine, Theodore, Severt John, Butler, Carl, Marin, William Benjamin, Ella Marie, Alfred Raymound, and George Henry Berg.
Early American and New World Settlers
Early settlers to colonial America bearing this last name include Andreas Christian Berg (Pennsylvania, 1709), Johan Henrig Berg (New York 1709), and Tiel Berg (New York 1709). Later immigrants after the American Revolution include Baltazhar Berg (Maryland 1834). One of the earliest bearers in Canada was Johann Simon Berg who came to Quebec in 1850.
A one William Berg was born in 1727 in New Jersey. He married Eva Maria Cramer and had two children: Johann Jacob and Susan Barrick.
Mottoes
The only documented motto for the Berg family is Vigila labora et ora, meaning "Love pray and work". There are likely numerous others lost to history.
Grantees
We have 37 coats of arms for this surname depicted here. The first 35 are from Johannes Baptista Riestap's well-known book Armorial General, published in 1861, which is a comprehensive book of blazons for Europe (particularly Germany, Netherlands, France, Denmark, and Spain). The last two arms we have are from Bernard Burke's famous book The General Armory of England, Scotland, and Ireland, published in 1848. The bottom of this page contains the blazons in both English and French, and in many instances contains some historical, geographical, and genealogical about where coat of arms was found and who bore it.
Notables
Famous people with this last name include: 1) Gunnar Berg (1909-1989) who was a Swiss-born Danish composer, 2) Else Berg (1877-1942) who was a Dutch painter of Jewish ancestry who was associated with the Bergense School, which was characterized by its expressionist style, 3) Lev Semyonovich Berg (1876-1950) who was a Soviet biologist and geographer, 4) Paavo Johanses "Peltonen" Berg (1911-1941) who was a Finnish fighter ace, and 5) Patricia Jane Berg (1918-2006) who was an American professional golfer from Minneapolis who was a founding member of the Ladies Professional Golf Association.
Blazons & Genealogy Notes
1) Margraves de Burgau ou Burgovie – Bavière – (M. ét. en 1310) – Bandé d'argent et de gueules au pal (ou à la fleur-de-lis) d'or brochant sur le tout Casque couronné Cimier un vol aux armes de l'écu. English: Bendy argent and gules a pale (alternatively a fleur-de-lys) or covering over all Crowned with a helmet Crest: a pair of wings with the arms of the shield.
2) Margraves de Burgau ou Burgovie – Bavière – (M. ét. en 1310) – Bandé d'argent et de gueules au pal (ou à la fleur-de-lis) d'or brochant sur le tout Casque couronné Cimier un vol aux armes de l'écu. English: Bendy argent and gules a pale (alternatively a fleur-de-lys) or covering over all Crowned with a helmet Crest: a pair of wings with the arms of the shield.
3) Mecklembourg – D'argent à un canard de gueules sur un tertre de sinople Cimier le canard. English: Argent a duck gules on a hillock vert Crest: the duck.
4) Luxembourg – D'argent au lion de sable. English: Argent a lion sable.
5) Ile d'Oesel (Mer Baltique) – (Nob. du St. -Empire, 14 juillet 1531) – D'or à une aigle héraldique de sable becquée membrée et couronnée du champ languée de gueules soutenue d'un tertre de sinople Cimier un vol coupé d'or sur sable Lambrequin d'or et de sable. English: Or a heraldic eagle sable beaked, legged and crowned of the field langued gules supported by a hillock vert Crest: a pair of wings per fess or over sable Mantling: or and sable.
6) Livonie, Esthonie – (Comte russe, 26 août 1856) – Parti d'un trait coupé de deux autres qui font six quartiers au 1 de gueules semé de roses d'argent au lion d'or couronné du même brochant sur le tout tenant une épée d'argent garnie d'or et courant sur un cimeterre d'argent garni d'or posé en bande la pointe en bas les pieds posés sur la lame du cimeterre et la patte senestre appuyée sur la garde au 2 d'or à l'aigle éployée naissante de sable chaque tête sommée d'une couronne impériale d'or surmontée d'une autre couronne impériale d'or aux rubans flottants d'azur l'aigle portant sur sa poitrine un écusson triangulaire d'azur bordé d'or ch de la lettre A du même aux 3 et 6 d'or au demi-vol de sable acc de trois étoiles d'argent au 4 de sinople à la grue avec sa vigilance d'argent tenant en son bec une anguille au 5 coupé d'argent sur un échiqueté de sable et d'or l'argent chargé de deux bustes de More couronnés d'or posés de front mouv de l'échiqueté chacun atteint d'une flèche d'or dans l'épaule extérieure la flèche à dextre en bande et celle à senestre en barre Sur le tout d'or au demi-vol de sable acc de trois étoiles d'argent Trois casques couronnés celui du milieu d'or Cimiers 1° l'un des bustes de More du 5 celui dont l'épaule dextre est percé de la flèche 2° les meubles du 1 (moins les roses) 3° une étoile d'argent entre un vol à l'antique d'or et de sable Supports deux griffons d'argent lampassés de gueules Devise VIGILA LABORA ET ORA. English: Quarterly of six ("party by a line cut by two others, which makes six quarters") 1st gules semy de roses argent a lion or crowned of the same covering over all holding a sword argent hilt and pommell or and running on a scimitar argent hilt and pommell or placed bendwise the point downwards the feet (of the lion) placed on the blade of the scimitar and the sinister paw resting on the hilt 2nd or a demi-eagle double-headed sable each head surmounted by an imperial crown or surmounted by another imperial crown or with ribbons flying azure the eagle carrying on its chest a triangular escutcheon azure bordure or charged with the letter "A" of the same 3rd and 6th or a single wing sable surrounded by three etoiles argent 4th vert a crane in his vigilance (i.e. with a stone in the dexter foot?) argent holding in its beak a eel 5th per fess argent over checky sable and or the argent charged with two busts of a moor (Arab) crowned or affronty coming from the checky each struck by an arrow in the exterior (nearest the edge of the shield) shoulder the arrow to the dexter in bend and that in the sinister in bend sinister, over the whole shield an escutcheon or a single wing sable surrounded by three etoiles argent Crowned with three helmets that in the middle or Crest: 1st one of the busts of a moor from the 5th quarter which has the dexter shoulder pierced by the arrow 2nd the charges of the 1st quarter (except the roses) 3rd an etoile argent between an ancient pair of wings or and sable Supporters: two griffins argent langued gules.
7) Prov. rhénanes – (Nob. du St-Empire, 23 sept. 1637) – D'or au sautoir de sable cantonné de quatre crampons du même (ou les mêmes armes moins le sautoir) Casque couronné Cimier un crampon de sable entre un vol coupé alternativement d'argent et de sable. English: Or a saltire sable surrounded by in each quarter a crampon (hook for scaling walls) of the same (alternatively the same arms without the saltire) Crowned with a helmet Crest: a crampon sable between a pair of wings per fess alternately argent and sable.
8) Prov. rhénanes – (Nob. du St-Empire, 23 sept. 1637) – D'or au sautoir de sable cantonné de quatre crampons du même (ou les mêmes armes moins le sautoir) Casque couronné Cimier un crampon de sable entre un vol coupé alternativement d'argent et de sable. English: Or a saltire sable surrounded by in each quarter a crampon (hook for scaling walls) of the same (alternatively the same arms without the saltire) Crowned with a helmet Crest: a crampon sable between a pair of wings per fess alternately argent and sable.
9) Saxe, Autriche, Bade – (Barons, 29 août 1834) – D'argent à un chamois arrêté au naturel posé sur un tertre de sinople l'écu bordé d'azur Casque couronné Cimier le chamois issant Lambrequin d'argent et d'azur. English: Argent a chamois (mountain goat) statant proper on a hillock vert a bordure azure Crowned with a helmet Crest: the chamois issuant Mantling: argent and azure.
10) Suisse – D'argent à la roue de sable Cimier la roue les rayons d'or sommée de trois panaches de plumes de coq de sable. English: Argent a (cart) wheel sable Crest: the wheel the spokes or surmounted by three plumes of cockerel feathers sable.
11) Saxe – De gueules à trois roses d'or rangées en bande Cimier un vol d'or et d'argent. English: Gules three roses or in bend Crest: a pair of wings or and argent.
12) Ratisbonne – Écartelé aux 1 et 4 de gueules à la bande d'argent aux 2 et 3 de gueules au chevron ployé d'argent soutenu d'un tertre de sinople et acc en chef de deux roses d'argent Casque couronné Cimier un homme issant habillé de gueules couronné d'or tenant de sa main dextre une couronne de roses d'argent et de sa senestre un coeur de gueules. English: Quarterly 1st & 4th gules a bend argent 2nd & 3rd gules a chevron embowed ("bent") argent supported by a hillock vert and accompanied by in chief two roses argent Crowned with a helmet Crest: a man issuant dressed gules crowned or holding in his dexter hand a crown of roses argent and in his sinister a heart gules.
13) Rothenburg (Bavière) – De sable à la bande d'or ch d'un chamois courant au naturel soutenu d'une terrasse de sinople mouv du bord inférieur de la bande Cimier le chamois issant Lambrequin d'or et de sable. English: Sable a bend or charged with a chamois (mountain goat) courant (running) proper supported by a hillock vert coming from the lower edge of the bend Crest: the chamois issuant Mantling: or and sable.
14) Holstein – (Nob. du St-Empire, 16 janv. 1742) – De gueules à la fasce d'argent ch de trois tourteaux de sable Casque couronné Cimier une montagne de sinople Lambrequin à dextre d'argent et de gueules à senestre d'argent et de sable. English: Gules a fess argent charged with three roundels sable Crowned with a helmet Crest: a mountain vert Mantling: to the dexter argent and gules to the sinister argent and sable.
15) Allemagne – D'azur à la bande d'or acc de deux étoiles d'argent Casque couronné Cimier un vol à l'antique aux armes de l'écu Lambrequin d'or et d'azur. English: Azure a bend or surrounded by two etoiles argent Crowned with a helmet Crest: an ancient pair of wings with the arms of the shield Mantling: or and azure.
16) Amsterdam – D'azur à une montagne d'or mouv du flanc senestre et de la pointe de l'écu. English: Azure a mountain or coming from the sinister flank and from the base of the shield.
17) Allemagne – Coupé au 1 d'or au vol de sable au 2 d'azur au chamois courant au naturel sautant d'un rocher d'argent sur un autre rocher du même Casque couronné Cimier un chamois issant au naturel entre un vol coupé à dextre d'or sur sable à senestre d'azur sur or Lambrequin conformes aux émaux du vol. English: Per fess 1st or a pair of wings sable 2nd azure a chamois (mountain goat) courant (running) proper jumping over a boulder argent on another rock of the same Crowned with a helmet Crest: a chamois issuant proper between a pair of wings per pale to the dexter per fess or over sable and to the sinister per fess azure over or Mantling: the same colours as the wings.
18) (Comtes) – Autriche – Écartelé au 1 d'argent à une queue de paon au naturel aux 2 et 3 de gueules à un senestrochère au 2 et un dextrochère au 3 armés d'argent tenant une épée et mouv du flanc au 4 d'argent au bouquetin naissant de gueules Sur le tout d'azur à une couronne d'or Trois casques couronnés Cimiers 1° un senestrochère et 3° un dextrochère chacun brandissant une épée 2° la queue de paon Lambrequin d'argent et de gueules. English: Quarterly 1st argent a peacock's tail per pale 2nd & 3rd gules a left arm in the 2nd and a right arm in the 3rd both armoured holding a sword and coming form the flank 4th argent a demi-ibex gules over the whole shield an escutcheon azure a crown or Crowned with three helmets Crest: 1st a left arm and 3rd a right arm each brandishing a sword 2nd the tail of the peacock Mantling: argent and gules.
19) (Duché) – D'argent au lion de gueules lampassé et couronné d'azur. English: Argent a lion gules langued and crowned azure.
20) Brandebourg – (Comtes, 30 nov; 1842) – D'azur à la fasce d'argent remplie de gueules et acc de quatorze besants d'or disposés en cercle 7 au-dessus et 7 au-dessous de la fasce Casque couronné Cimier trois plumes d'autruche une d'argent entre deux de gueules Lambrequin d'argent et de gueules. English: Azure a fess argent filled (voided) gules and surrounded by fourteen bezants or arranged in a circle 7 above and 7 below the fess Crowned with a helmet Crest: three ostrich feathers, 1 argent between 2 gules Mantling: argent and gules.
21) Franconie – Parti au 1 d'or à deux lions de gueules l'un sur l'autre au 2 bandé d'or et de sable Cimier deux proboscides de sable ornées chacune à l'extérieur de trois oreilles d'âne au naturel dont une dans l'embouchure. English: Per pale 1st or two lions gules in pale 2 bendy or and sable Crest: two proboscides sable each decorated on the outside with three donkey's ears proper, 1 in the mouth.
22) Hesse – D'argent à huit tourteaux de gueules rangés en orle rond séparés par une fasce du second Casque couronné Cimier cinq plumes d'autruche alternativement de gueules et d'argent. English: Argent eight roundels gules arranged in orle separated by a fess of the 2nd Crowned with a helmet Crest: five ostrich feathers alternately gules and argent.
23) Danemark – (M. ét.) – D'argent à trois rochers escarpés accostés de sable mouv de la pointe de l'écu à la fasce de gueules brochant sur le tout Cimier les roches (moins la fasce) celui du milieu sommé d'un oiseau essorant au naturel. English: Argent three boulders in bend sinister sable coming from the base of the shield a fess gules covering over all Crest: the boulders (without the fess) that in the middle surmounted by a bird soaring proper.
24) Comtes de Schelklingen – Bavière – (M. ét. en 1345) – Bandé d'argent et de gueules Cimier un huchet d'argent virolé de gueules sommé de plumes de coq de sable. English: Bendyl argent and gules Crest: a bugle argent ringed gules surmounted by the feathers of a cockerel sable.
25) Danemark – (M. ét.) – D'argent à l'aigle de sable becquée membrée et couronnée d'or Cimier un vol de sable. English: Argent an eagle sable beaked and legged and crowned or Crest: a pair of wings sable.
26) (Berg de Dussen-Muilkerk et de Middelburg). Amsterdam, La Haye – (Inc. dans la nob. néerl., 9 mai 1825) – D'or au demi-vol de sable acc de trois étoiles d'argent Bourlet de sable et d'or Cimier une étoile d'argent entre un vol d'or et de sable Lambrequin de sable et d'or. English: Or a single wing sable surrounded by three etoiles argent Crowned with a helmet with a wreath sable and or Crest: an etoile argent between a pair of wings or and sable Mantling: sable and or.
27) de Berg – Hollande – Écartelé aux 1 et 4 de gueules à un oiseau d'argent le vol levé aux 2 et 3 de sable au griffon passant d'or. English: Quarterly 1st & 4th gules a bird argent the wings raised 2nd & 3rd sable a griffin passant or.
28) (van Den) – Liège – D'argent à deux lions affrontés de gueules jouant de la patte soutenus d'un tertre de sinople Cimier les deux lions rampants et affrontés (Henri van den Berg roi d'armes de la province de Liège décédé en 1674). English: Argent two lions affrontant gules boxing ("playing the paws") on a hillock vert Crest: the two lions rampant and affrontant (Henri van den Berg king of arms of the province of Liege deceased 1674)
29) (van Den) – Rotterdam – Écartelé aux 1 et 4 d'azur à une montagne au naturel mouv de la pointe aux 2 et 3 d'argent à une tête de mort surmontant deux os de mort passés en sautoir au naturel le tout embrassé par deux rameaux de laurier de sinople courbés en couronne les sommets liés d'un ruban de gueules soutenu d'une terrasse au naturel. English: Quarterly 1st & 4th azure a mountain proper coming from the base 2nd & 3rd argent a skull surmounted by two bones in saltire proper all bordered by two laurel branches vert curved and crowned the tops tied by a ribbon gules all above a mount proper.
30) (van Den) – Hollande – D'or à trois oiseaux de sable celui en pointe ayant le vol levé. English: Or three birds sable that in the base having the wings raised.
31) (van Den) – Harlem, Leyde – D'or à trois losanges de gueules Casque couronné Cimier une tête et col de chien braque de gueules colletée et bouclée d'or. English: Or three lozenges gules Crowned with a helmet Crest: the head and shoulders of a pointer (dog) gules collared and buckled or.
32) (van Den) – Hollande – D'or à trois chevrons de gueules. English: Or three chevron gules.
33) dit Dürffendahl – (Barons) – Prov. rhénanes – D'argent à la fasce de sable supportant un oiseau du même becqué et membré de gueules Cimier un chapeau de sable retroussé d'argent supportant un cor de chasse d'argent lié et virolé de sable. English: Argent a fess sable supporting a bird of the same beaked and legged gules Crest: a (woollen) hat sable brim (turn-up) argent supporting a hunting horn argent tied and ringed sable.
34) dit Schrimpf – Bavière – (Rec. de nob., 25 déc. 1817, 4 déc 1860 et 11 nov. 1867) – D'azur à la fasce échiquetée d'argent et de gueules Casque couronné Cimier deux proboscides aux armes de l'écu Lambrequin d'argent et d'azur. English: Azure a fess checky argent and gules Crowned with a helmet Crest: two proboscides with the arms of the shield Mantling: argent and azure.
35) ou 'S Heerenberg. (Comtes) – Autriche, Prusse – Orig. de Gueldre – D'argent au lion de gueules armé lampassé et couronné d'or à la bordure de sable ch de onze besants du troisième Cimier un vol d'or Lambrequin d'argent et de gueules. English: Argent a lion gules armed, langued and crowned or a bordure sable charged with eleven bezants of the 3rd Crest: a pair of wings or Mantling: argent and gules.
36) Berge – None – Az. a fesse counter compony gu. and ar.. English: Az. a fesse counter compony gu. and ar. (Burke's General Armory)
37) Berge – (Devon, Croscombe and Chittlehampton, Visit. Devon 1620). – Or, three bars gu.. English: Or, three bars gu. (Burke's General Armory