Berkley Family Crest, Coat of Arms and Name History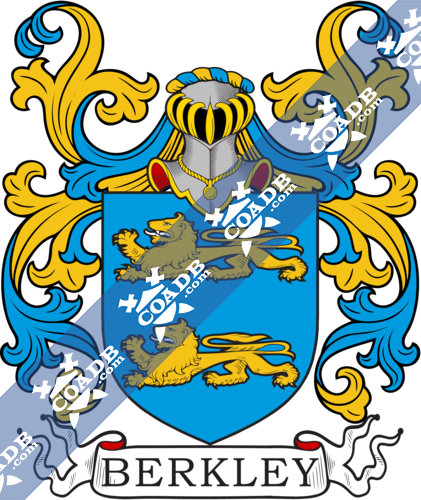 Berkley Coat of Arms Gallery
Don't know which Coat of Arms is yours?
We can do a genealogical research. Find out the exact history of your family!
Learn More
Berkeley Family
Arms of Berkeley: Gules, a chevron between ten crosses pattée six in chief and four in base argent. Motto: Virtute non Vi, "By virtue not by force"
The name Berkeley is derived from the Anglo-Saxon for Birch-Wood. It means someone who lives at the Birch Tree Meadow. The Berkeley family is unique in English history, in that it has to this day an unbroken male line of descent from a noble Saxon ancestor before the Norman conquest of England in 1066 and also retains possession of much of the lands it held from the 11th and 12th centuries, centered on Berkeley Castle in Gloucestershire, which still belongs to the family.
The family descends from Harding, the son of Eadnoth (Alnod), who as "Marshal" or "Staller", a high official under King Edward the Confessor. A study of dates makes it probable that this Harding had a son of the same name, perhaps the man who played a distinguished part in the Crusading Wars, helping King Baldwin I of Jerusalem, to win the battle of Jaffa in 1102. The son of the crusader would then be Robert Fitzharding (1095–1170) 'Fitz'-meaning "son of" who was an Anglo-Saxon nobleman from Bristol who was granted the feudal barony of Berkeley in Gloucestershire.
Robert Fitzharding rebuilt Berkeley Castle, as Berkeley Castle had been originally a Norman motte-and-bailey mounded hill fort, (historically sometimes spelled Berkley Castle) the castle is located in the town of Berkeley, Gloucestershire, UK. The castle's origins date back to the 11th century. The castle was given to Robert Fitzharding who was a wealthy Bristol merchant and a financier of Henry Plantagenet, Duke of Aquitaine, who was the rival of King Stephen (1135–54) during the period known as The Anarchy and who subsequently became King Henry II (1154–89). Fitzharding founded St. Augustine's Abbey, which after the Reformation became Bristol Cathedral. Many members of the Berkeley family were buried within it, and some of their effigies survive there. It is traditionally believed to be the scene of the murder of King Edward II in 1327.
The Berkeley Castle Estate is a traditional rural estate extending to approximately 6,000 acres in Gloucestershire's Berkeley Vale. The estate comprises a medieval Deer Park, a number of farms let to farming tenants (where the families have often been on the land for generations), cottages, offices a hotel and two pubs. Furthermore, the Estate owns the New Grounds at Slimbridge, where the Wildfowl & Wetlands Trust is based, and about five miles of the bed of the River Severn.
Notable Berkeley personages:
Robert Fitzharding (1095–1170) Founder of the Berkeley Dynasty.
Thomas de Berkeley, 1st Baron Berkeley (1245 – 23 July 1321), The Wise.
Maurice de Berkeley, 2nd Baron Berkeley (1271 – 31 May 1326), The Magnanimous.
Thomas de Berkeley 3rd Baron Berkeley ( 1293 or 1296 – 27 October 1361), The Rich.
Maurice de Berkeley, 4th Baron Berkeley (ca. 1330 – 8 June 1368), The Valiant.
Thomas de Berkeley, 5th Baron Berkeley (5 January 1352/53 – 13 July 1417), The Magnificent. The last of the original 'Berkeley Barons' Brother-in-law to Richard de Beauchamp 13th Earl of Warrick. The next creation by writ was in 1421, for the last baron's nephew and heir James Berkeley. His son and successor William was created Viscount Berkeley in 1481, Earl of Nottingham in 1483, and Marquess of Berkeley in 1488
The current Baron is, Anthony Fitzhardinge Gueterbock, 18th Baron Berkeley and Baron Gueterbock, OBE, CEng, MICE, Hon FIMechE, Hon DSc, FRSA, FCIT (born 20 September 1939), also known as Tony Berkeley, who is a British Politician and member of the House of Lords.
Monarchs associated with Berkeley Castle:
Essentially every reigning monarch within the British system of governance since King Henry I, has had political, martial and or diplomatic endeavors and ties to the Berkeley family.
Henry I, Henry II, John, Henry VII, Henry VIII, Queen Elizabeth I, Charles I, George I, the Prince Regent, James II to name just a few.
Names associated with:
Fitzharding, Saxon family names of Arden, and Swinton. With Cliveton, Bitteshorne, and Beauchamp,-cousins through marriage. The Berkeley family has split countless times. There are several cadet or junior branches of the family notably the Bruton Priory side (as in a location not a family name.) Fitzjames is another name associated with the cadet side of the Berkeley family.
The Berkeley family has large populations in North America, Australia and most of the commonwealth countries.
Blazons & Genealogy Notes
1) Notes: None. Blazon: Azure two lions passant or.
2) Notes: None. Blazon: Gules a chevron ermine. between ten crosses pattee argent Crest—A unicorn passant gules armed and crined or.
3) Notes: None. Blazon: Gules a chevron between ten cinquefoils (another, crosses pattee) argent. Crest—A bear's head couped argent muzzled gules.