Blair Family Crest, Coat of Arms and Name History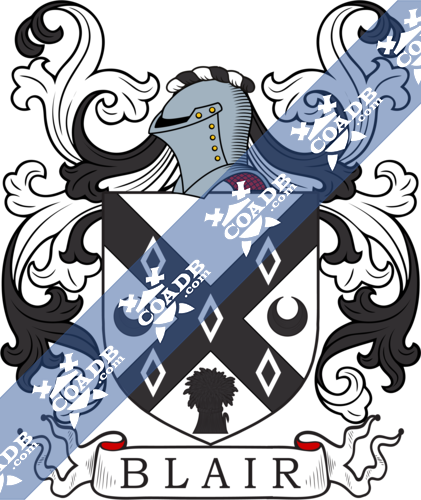 Blair Coat of Arms Gallery
Don't know which Coat of Arms is yours?
We can do a genealogical research. Find out the exact history of your family!
Learn More
This surname is of Celtic origin and comes from the words blair or blar, meaning "a cleared plain", and later came to signify a battle, as the Celts often chose such land to wage their warfare. There is a village called Blair near Lochord in Fifeshire, Scotland where a famous battle took place between the Romans and Caledonians (the indigenous people of Scotland) in 83 AD. The Irish of Scottish Gaelic word is blàr. Spelling variants include Blare, Blayr, de Blare, and Blaire. It is a masculine name in Scotland, but in North America, where it is now more popular, it is also a feminine name.
The earliest recorded person bearing this last name is one Stephen de Blare, who was recorded in a document about the monastery of Arbroath between 1204-1211. Also, a Brice de Blar and Alexander del Blair witnessed an agreement involving the burgh of Irvine and Brice de Egulstone in 1205 AD. There are two possibilities about the origin of the surname: 1) from Blair House in Ayrshire or 2) Mount Blair in county Forfarshire in the North East of the country where there are various locales called Balir in Pershire and Dunfermline.
There are two well-documented, ancient Scottish families claiming the name Blair: 1) the Blairs of that Ilk (also called the Blairs of Blair) in Ayrshire and 2) the Blairs of Balthayock in Perthshire. There is an old debate as to whether they arose separately, or both had a common origin with the Barony of Blair in Ayrshire. It is believed the first Blair was an heir of Jean Francois, a Norman, granted Barony of Blare by King William, between 1165 and 1200 AD.
The name is discussed in the famous genealogist Bernard Burke's book, Peerage and Baronetage.  Sir Reginald Blair, born 1881, was the first Baronet, and from Harrow Weald in county Middlesex. He held numerous titled and served as a Major in World War I. He was created a Knight in 1921 and a Baronet on June 19, 1945.  He married Mabel Wieland and had four children: Malcolm Reginald (1906), George MacLellan (1907) who was killed in action during World War II, Walter MacLelland (1913), and Mary Lile Wieland (1910). He was the youngest son of George MacLelland Blair, of Glasgow, and Jean Scott of Cader. He resided at Chalfont St. Giles, in Bucks.
The surname is also discussed in Burke's other book, The Landed Gentry.  First, he discusses a branch known as Blair of Blair. The first person mentioned if William-Fordyce Blair, of Blair in county Ayr (born 1805). He married Caroline-Isabella Sprot and had the following children: William-Augustus (1843), Frederick Gordon (1852), Mary, Caroline-Madelina, and Adelaide-Gordon (1846).  Burke traces the lineage back to Madelene Blair, the eventual heiress of the ancient and eminent house of Blair, who was the only daughter of William Blair and Lady Margaret Hamilton. She married William Scott, and had an heir, her son William. When she died in 1715, William Scott assumed her surname Blair and married Catherine Tait of Edinburgh and had eleven children with her. Madelene was succeeded by her son William, who died in 1732 and was succeeded by his half-brother, Hamilton Blair, who married Jane Williams. He died in 1782 and left two daughters (Agatha and Jane) and one son, his successor, William Blair, M.P. for Ayrshire. William married Madalene Fordyce, and had issue with her: Hamilton, John Charles, William Fordyce, Henry-McIville, Augustus, Catherine, Madaline, Louisa, Elizabeth, Charlotte, Jane Gordon, and Georgiana. William died in 1841.
Second, he discusses a branch called Blair-Imrie of Lunan House. The discussion starts with William Thomas Taylor Blair-Imrie, an Esquire of Lunan House in county Forfar, who was born in 1831. He was a Lieutenant Colonel in Forfar and Kincardine Militia Artillery, and was Lord of the Barony of Lunan, which belonged to his family since 1759. According to Peters' Baronage of Angus and Mearns, this family seems to be paternally a branch of the ancient house of Blair of that ilk, in Ayrshire, the first recorded of which is William de Blair, who flourished in the reign of William the Lion (1143-1214). He was the father of William Blair, who in the charter of Alexander III to the Abbey of Dunfermline , in 1260 AD, was design "Willelmus de Blair, domius eodem". He was succeeded by his son, Sir Bryce Blair, known as "the gallany knight" who fought alongside William Wallace, and was execute in 1296 AD. He was succeeded by his brother, David Blair, who was compelled to swear fealty to Edward. Madeline, the heiress, married William Scott of Malleny who thereupon assumed the name and arms of Blair.
In his book The Homes of Family Names, H.B. writes the following about this surname: "The Blairs, of Northumberland, are probably derived from the Blairs of Ayrshire, who are of great antiquity" and "The two principal stocks are the Blairs of Ayrshire and the Blairs of Perthshire, both of whom date back in their respective counties to the 13th century." In his book Patronymica Britania, Mark Antony Lower writes, "The Blairs "of that ilk" In Ayrshire, have been seated in that co. for more than 600 years. They claim the chiefship of all the Blairs in the S. and W. of Scotland though that honour is challenged by the B.'s of Balthayock, co. Perth, who date back to the beginning of the XIII. Century B.L.G. Blair, in Scottish topography signifies a moss or heath, and as there are many localities so called, there may be several distinct families. Imp. Gaz. Scotl. Some etymologists malce the word signify a battle-field." He also says the Blairs of Blair descend from a cadet of Scott, who married the heiress, and adopted her name, but do not have the blood of that race. The surname Blair is also discussed at length in a book titled The Scottish Nation, published in 1877, by William Anderson.
Early Americans bearing this surname include David Blair, of Blandford, MA, who was a native of Scotland, and had a son named Robert, who was of Blandford. Others include Dugall Blair (Virginia 1700), Alexander Blair (New England 1718), and John Blair (New Hampshire 1718).
The family mottoes for Blair include: 1) facies quails mens talis, meaning "as the face so is the mind", 2) God be my guide, 3) nec temere, nec timide, meaning "neither rashly not timidly", 4) non crux, sed lux , meaning "not the cross, but its light", 5) vigilantia, robur, voluptas, meaning "vigilance, strength, pleasure", 6) virtute tutus, meaning "by virtue safe", and 7) amo probos, meaning "love the virtuous".
Notable persons bearing this surname include Francis Preston Blair Jr. (1821-1875) who was a General in the American Civil War and James Blair (1656-1743), a Scottish clergyman who founded the College of William and Mary in the Colony of Virginia.
Regarding the tenth arms listed above, it belongs to the branch of Blair of that Ilk of Southwest Scotland. These arms were found on a gravestone in Antrim, Ireland. The crescents on each side, the star at the top, and the garb at the bottom were  added by a descendant of Blair of that Ilk to separate him/her from the main family. The saltier cross with the nine mascles  indicates that this  person was a descendant of the house of Blair of that Ilk.
Blazons & Genealogy Notes
1) (Blair, co. Ayr.; heiress m. a son of Scott, of Malleny, from whom the present family, the heir male is the Earl of Dundonald). Ar. on a saltire sa. nine mascles of the first. Crest—A stag lodged ppr. Motto—Amo probos.
2) (Avontoun, co. Linlithgow, as borne by Henry Temple Blair, Esq., of that place). Arms, same as Blair, of Blair, within a bordure gu. a crescent for diff.
3) (Adamton, co. Ayr; descended from Sir John Blair, 2nd son of James Blair, of Blair; the heiress m. Maxwell, of Monreith). Ar. on a saltire engr. sa. five mascles of the first.
4) (The Carse). Ar. on a bend sa. three mascles of the first..
5) (Balthayock, co. Perth). Ar. a chev. sa. betw. three torteaux. Crest—A dove with her wings expanded ppr. Motto—Virtute tutus.
6) (Balmill, a younger son of Balthayock). Ar. a chev. ta. betw. three torteaux, all within a bordure of the second. Crest—A Roman head, ppr. Motto—Facies qualls mens talis.
7) (Lethenty, a scion of Balthayock). Ar. on a chev. sa. betw. three torteaux a martlet of the field beaked and membered gu. Crest—A garb ppr. Motto—Nec temere, nec timide.
8) (France). The same as of Balthayock; the chev. wavy for diff. Crest—A garb or. Motto—Virtute tutus.
9) (Inchyra, co. Perth, a cadet of Balthayock). The same; the chev. embattled for diff.
10) (Milgerholme, co. Ayr). Ar. on a saltire betw. two crescents in the flanques, and a garb in base sa. five mascles of the first. Motto—God be my guide.
11) (Overdurdie). The same as of Balthayock, with the chev. invecked for diff.
12) (Watton Grove, Surrey, 1815). As Balthayock, within a bordure gu. Crest—A dove with wings expanded holding in his beak an olive branch ppr. Motto—Virtute tutus.
13) (Edinburgh, 1849). Ar. a cross betw. four mascles sa. a bordure gu. Crest—A dove rising ppr. Motto—Virtute tutus.
14) (William Henry Stopford Blair, a lieut-colonel). Quarterly, 1st and 4th. Blair, viz. ar. a chev. sa. betw. three torteaux (a canton or, for distinction); 2nd and 3rd, Stopford. Crests— 1st, Blair: A dove, wings expanded ppr. (charged on the breast with a torteaux for distinction); 2nd, Stopford: A wyvern, wings displ. vert.
15) (Blair, Hunter). (Blairquham, co. Ayr, bart.). (Dunsky). Quarterly, 1st, ar. on a chev. gu. betw. three bugles vert garnished of the second an annulet or, for Hunter; 2nd, ar. on a chev. gu. betw. three cross crosslets fitchee sa. three fleurs-de-lis, all within a double tressure flory-counterflory or, for Kennedy of Culzean; 3rd, ar. on a saltier sa. nine mascles of the field, and in chief a star of eight points gu., for Blair; 4th, ar. a shakefork sa. and in chief a rose gu., for Cunninghame of Brownhill. Supporters—Dexter, a dog of chase salient ar.; sinister, an antelope springing ppr. gorged with an open crown, and a chain hanging thereat or. Crest—A stag's head cabossed ppr. Motto—Vigilantia robur voluptas.