Blanchard Family Crest, Coat of Arms and Name History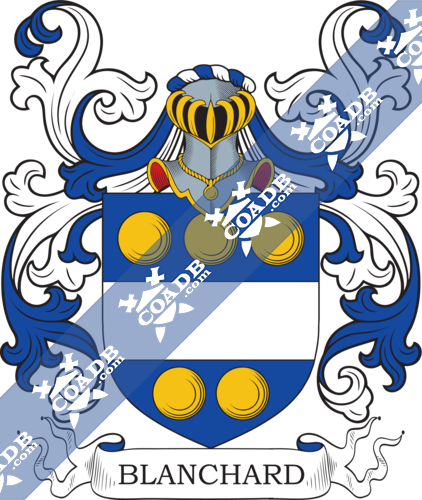 Blanchard Coat of Arms Gallery
Don't know which Coat of Arms is yours?
We can do a genealogical research. Find out the exact history of your family!
Learn More
Blanchard Origin:
England and France
Origins of Name:
The surname of Blanchard may originate from both an Old French and Old Germanic derivative. The first possible origin is that of the Old French word "blanc" which means white and "ard" which denotes that a person is characterized by a quality of their appearance or demeanor, and could be used as a nickname to describe an attribute of someone, as in having white hair. The second possibility for this surname of Blanchard is the Old Germanic personal name composed from "blanc" which means white, shining, pure, beautiful, and "hard" which meant brave, hearty, and strong. Thus, someone who is beautiful and brave, or any other combination of these characteristics may have been given the surname of Blanchard due to these qualities. Both possible origins categorize the surname of Blanchard as being used to describe the characteristics and qualities of a person or group of people.
Variations:
More common variations are:
Blancharde, Balanchard, Blanechard, Blancharad, Pblanchard, Bilianchard, Blanchaard, Blancharrd, Blanceeard, Blancet, Blanshard
History:
England:
The first recorded spelling of the surname Blanchard is said to be in the Pipe Rolls of Lincolnshire, and named Richard Blanchard in the year 1177, under the reign of King Henry II, who was known as "The Builder of Churches," and ruled from the year 1154 to the year 1189. The name originated in Lancashire, and then those who bore the family name of Blanchard spread to the counties of Yorkshire, Hampshire, the City of London, Wiltshire, and Lincolnshire.
Scotland:
In Scotland, those who carry the surname of Blanchard are said to congregate in the counties of Aberdeenshire, Fife, Midlothian, and West Lothian counties.
United States and Canada:
In the 17th century, settlers from European countries started leaving their homeland in search of bigger and better things, including religious freedom and work outside of Europe. During this time, many of these settlers arrived in the United States of America, which was called the New World, and the Colonies at this time. The first recorded settler in America who bore the surname of Blanchard was Thomas Blanchard, who arrived in the town of Charleston, Massachusetts in the year 1639. Forty-one years later, Elie Blanchard, and Henri Blanchard, who was twenty-four years of age, landed in the state of South Carolina in the year 1680. Also in the 17th Century, settlers fled Europe and sailed towards Canada. Louis Blanchard was the first recorded citizen bearing the Blanchard surname to land in Canada, and he did so in the year 1636. Francois Blanchard landed in Montreal in 1653, and Jean Blanchard, Louis Blanchard, and Francois Blanchard arrived in Quebec in the year 1665.
Australia and New Zealand:
In the 19th Century, settlers began to emigrate to both Australia and New Zealand. The first person who had the surname of Blanchard and was recorded in Australia was one James Blanchard, who was an English convict from Middlesex that was transported on the "Asia" in the year 1820, settling in New South Wales, Australia. In New Zealand, the first recorded people to bear the surname Blanchard were Kate E. Blanchard, Maude M. Blanchard, and Agnes G. Blanchard, who all sailed to the city of Lyttelton, New Zealand aboard the ship named the "Blue Jacket" in the year 1865.
Blanchard Today:
United States 46,191
France 38,575
Canada 10,957
England 4,383
Haiti 3,150
Ivory Coast 2,192
Vietnam 1,987
Venezuela 1,355
Australia 1,201
Switzerland 1,188
Notable People:
Johnny Blanchard (1933-2009) who was an American baseball player
Helen Blanchard (1840-1922) who was an inventor from America who received 28 patents for her work done between 1873 and 1915, and is most notably recognized for her inventions that deal with sewing machines and other sewing technology
Frank Nelson Blanchard (1888-1973) who was a herpetologist and zoology professor at the University of Michigan
Erin Blanchard (born in 1989) who was a gymnast from America that competed in the 2008 Olympic Games
Elizabeth Blanchard (1834-1891) who served as the seventh President of Mount Holyoke College from 1883-1889
Edmund Blanchard (1824-1886) who was a prominent business man and American lawyer
Dick Blanchard (born in 1949) who was a former linebacker in the NFL, and played for the New England Patriots in the 1972 NFL season
George Samuel Blanchard (1920-2006) who was a Four-Star General in the U.S. Army, a Commander in Chief, a U.S. Army Commander in Europe in the Central Army Group from 1975 to 1979
George Washington Blanchard (1884-1964) who was a prominent American politician
To receive a complete surname meaning report by PDF you can order our SURNAME MEANING PACKAGE for $129.   This report is great to share with family and friends.  It includes everything you see above plus any other information we can find on the specified surname.  It does take approximately 10 to 15 days for us to complete this custom report.
To receive a direct lineage & coat of arms search for your specific line(s) you can order one of our GENEALOGY PACKAGES ranging in price from $249 to $999.   All research is completed by a professional genealogist with over 30 years' experience.  All reports and coat of arms files are sent by email in PDF and JPG format.
Blazons & Genealogy Notes
1) Marquis du Bois de la Musse – Bretagne – (Marquis, sept. 1651) – D'azur à la fasce d'argent acc de cinq besants d'or 3 en chef et 2 en pointe
2) Lyonnais – De gueules au chevron d'argent acc de trois papillons du même
3) Provence – D'or à un ours de sable passant et muselé d'argent
4) Paris – D'azur à la fasce d'or acc en chef de deux étoiles d'argent et en pointe d'un monde d'or
5) Languedoc – D'or à la fasce de gueules acc de trois couronnes d'azur en chef et d'un lion de gueules en pointe
6) Bourgogne – D'azur à l'arbre d'or
7) Lorraine – (An., 1619) – D'or à une croix ancrée de gueules cantonnée de quatre étoiles de sable
8) Limousin – D'azur un lion d'or acc de trois couronnes du même rangées en chef
9) Blanchard de Kerandévet – Bretagne – De gueules au hibou d'argent
10) Blanchard de La Buharaye – Bretagne – (Arch. des coll. d'Ex-Libris) – D'azur à trois croissants d'argent Couronne de marquis Supports deux griffons
11) Blanchard de La Buharaye – Bretagne – D'azur à trois croissants d'argent
12) Blanchard de La Chapelle – Bretagne – D'azur à la fasce d'argent acc de trois besants d'or
13) Blanchard de La Poterie – Normandie – D'azur au chevron surmonté d'une croix et acc en pointe de trois molettes 2 et 1 le tout d'or
14) Blanchard des Fougerais – Bretagne – D'argent à deux bandes de sable ch chacune d'une macle du champ
15) Blanchard du Bois – France – D'or à la bande d'azur côtoyée de cinq merlettes de sable 2 en haut et 3 en bas
16) Blanchard du Val – Bretagne – D'azur à trois croissants d'argent