Borghese Family Crest, Coat of Arms and Name History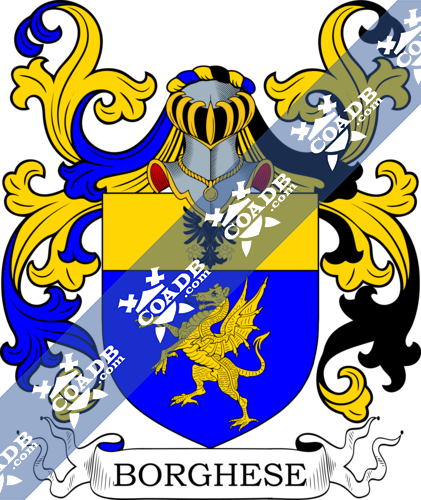 Borghese Coat of Arms Gallery
Don't know which Coat of Arms is yours?
We can do a genealogical research. Find out the exact history of your family!
Learn More
Borghese Origin:
England, France
Origins of Borghese:
According to the early recordings of the spelling of the name, this interesting and unique name was listed in many forms including Bourges, Bourgaize, Bourgeois, (France), Burgess, Burges and Burgis (England and Scotland), Borghese, Borgesio and Burgisi (Italy), and others, this interesting surname is of pre 8th century Old French origins. It acquires from the word "burgeis", which means inhabitant and freeman of a protected town, one which could apply municipal rates, taxes, and duties. A burgeis generally had tenure of land or buildings from a landlord by "burgage", which involved the payment of a fixed money rent. In Scotland, the position of burgess required not only the making of payments, but to be available to take part in guarding the town. The surname is one of the earliest noted anywhere in the world. These recordings are from England because this country was the first to pick both hereditary surnames and to make the necessary records in which to list them. France was many centuries later, and Italy, not until the 19th century in most areas. Early records showing the influence of the Norman-French in England after the Conquest of 1066 include as Ralph le Burgeis, in the Pipe Rolls of the division of Sussex in 1195, and Philip Bourges in the cartulary of Oseney Abbey, Oxford in 1197.
Variations:
More common variations are: Bhorghese, Borghes, Borghesi, Barghese, Borghise, Berghese, Borghess, Bourghes, Borghose, Borghs.
England:
The surname Borghese first appeared in Brittany, where the family first started and maintained their status as one of the most important families of the region.
The very first recording spelling of the family was shown to be that of Geoffrey Burgeis, dated about 1115, in the "Winton Rolls," of Hampshire. It was during the time of King Henry 1st, who was known to be the "The Lion of Justice," dated 1100-1135. The origin of surnames during this period became a necessity with the introduction of personal taxation. It came to be known as Poll Tax in England. Surnames all over the country began to develop, with unique and shocking spelling variations of the original one.
Ireland:
Many of the people with surname Borghese had moved to Ireland during the 17th century.
United States of America:
The distinguished family name Borghese has made significant contributions to the culture, arts, sciences and religion of France and New France. Amongst the settlers in North America with this distinguished name Borghese were Jeanne Trahan, who settled in Acadia in 1636. Marguerite Bourgeoys, 33, who arrived in Montreal in 1653, another Marguerite Bourgeoys, who settled in Montreal in 1659.
Here is the population distribution of the last name Borghese: Italy 2,083; United States 431; France 380; Argentina 314; Canada 110; Brazil 95; England 38; Belgium 30; Australia 11; Spain 8.
Notable People:
Prince Lorenzo Borghese (born June 1972) is an Italian-American businessman, television personality, and member of the famous noble Borghese family. Besides being a cosmetics businessperson and animal advocate, Borghese was a featured bachelor on the ninth season of ABC's The Bachelor. He is the son of Prince Francesco Marco Luigi Costanzo Borghese (born 1938) and his American wife, Amanda Leigh. Borghese's paternal grandmother was Princess Marcella Borghese, who founded the Borghese cosmetics line in 1958.
Junio Valerio Scipione Ghezzo Marcantonio Maria Borghese (June 1906 –August 1974), nicknamed The Black Prince, was an Italian Navy commander during the regime of Benito Mussolini's National Fascist Party and an outstanding hard-line fascist politician in post-war Italy. In 1970, he took part in the planning of a neofascist coup (dubbed the Golpe Borghese) that called off after the press discovered it. He subsequently fled to Spain and spent the last years of his life there.
Blazons & Genealogy Notes
1) Italie (Comtes bavarois, 17 juin 1693; princes, 18 juillet 1769) D'azur à un dragon ailé d'or; au chef du même, ch. d'une aigle de sa., bq., m. et cour. d'or. English: Azure, a winged dragon or, a chief of the same charged with an eagle sable, beaked, legged and crowned or.
2) Borghese-Bichi. Italie. Ec au 1 d'or au vol de gu; aux 2 et 3 d'azur à un dragon ailé d'or; au 4 de gu. à tête de lion d'or. English: Quarterly 1st or a pair of wings gules 2nd & 3rd azure a winged dragon(*) or 4th gules the head of a lion or.