Bosworth Family Crest, Coat of Arms and Name History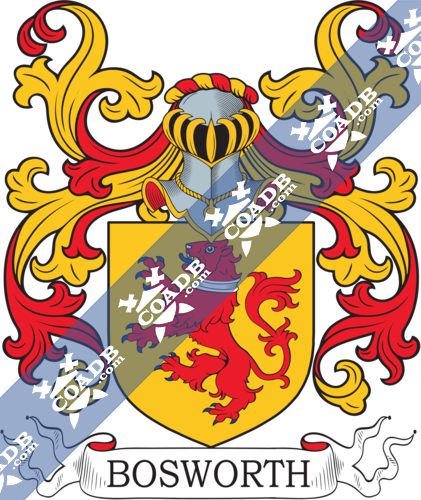 Bosworth Coat of Arms Gallery
Don't know which Coat of Arms is yours?
We can do a genealogical research. Find out the exact history of your family!
Learn More
Bosworth Origin:
France
Origins of Bosworth:
This surname has many different spelling such as Bosworth, Bosword, Boswood, Bozward, Bozworth, and many others. Mostly Bosworth found in the location of Bosworth Priest in the country of Leicestershire. In ancient times, Husbands Bosworth was recorded as Baresworde in the well-known book of Domesday in the pre 7th century 1086. The surname Bosworth derived from the word "BARWORTH" this word is the combination of two words Bar and Worth. Bar Means "Boar" and Worth Means "Fenced Enclosure" which means separated off. It is unclear why the word 'husbands' was used with Bosworth because this word was used to describe farmers. Market Bosworth was written in the book of Domesday as Boseworde, and is also the place of Boseworde Field, the famous war in the year 1485 between Henry Tudor and the future Henry VII and soon to be late Richard III. Early recordings include William De Boresworth in the Leicestershire Country rolls in 1328, John De Bosworth in the Fines Court of Norfolk in 1377, and Joseph Bozward of Birlingham, Worcestershire, on 3rd, March1698.
Variations:
More common variations are: Bosworthy, Bossworth, Boysworth, Boseworth, Boswoorth, Boswourth, Bosworthe, Boasworth, Bosworthw, Boswrth.
France:
The surname Bosworth was first found in Leicestershire, where they held a family seat from ancient times, before the success of Normans in 1066.
The first recording of the spellings of the surname is shown to be that of Richard de Baresworth, in the pipe rolls of Leicestershire for the year 1206. It was done under the supervision of King John, Known as "Lackland" 1199-1216. Surnames are compulsory when Government levied the personal tax. In England, this was known as Poll Tax. In every part of the country, surnames developed often leading to the surprising uniqueness of the original spelling.
United States:
People with the Bosworth surname settled in the United States in three different centuries respectively in 17th,18th, and 19th. Some of the people of Bosworth family who settled in the United States in the 17th century included Benjamine Bosworth in Hingham in the year 1630. Zack Bosworth would also settle in Boston in 1620 as well as John Bosworth in 1634 in New England. Jonathan Bosworth and Edward Bosworth arrived in Cambridge and Boston, Massachusetts in the year 1634.
The following century saw many more Bosworth surnames arrive. Henry Bosworth and Captain Bosworth in Boston respectively in the years 1765 and 1634 in the 19th century.
People of Bosworth who settled in the 19th century in the United States included J H Bosworth landed in San Francisco, California in the year 1851.
Canada:
People of Bosworth family also settled in Canada in the 19th century included Joseph Bosworth in Nova Scotia in 1851 and Mr. Thomas Bosworth U.E. Settled in New Brunswick near the year 1783.
Australia:
Some of the Bosworth people who settled ultimately in 19th century in Australia included Joseph Bosworth, an English prisoner from Worcester, aboard the ship "Aboukir" on 24 December 1851, arrived in Van Diemen's Land, Australia.
New-Zealand:
The settlement of Bosworth family also observed in places in the 19th century in New-Zealand included Joseph Bosworth, aged 18, arrived in Auckland, New-Zealand aboard the ship "Bombay" in the year 1865.
Here is the population distribution of the last name Bosworth: United States 6,984; England 2474; Australia 932; South Africa 457; Canada 240; Germany 235; El Salvador 215; New Zealand 111; Scotland 98; Wales; 68
Notable People:
Alan Bosworth (1967) was a professional boxer.
Allan R. Bosworth (1901–1986), was a writer, journalist who gave services in the American Navy.
Brian Bosworth (1976), is known as one of the internet streaming pioneers.
David M. Bosworth (1897–1979), was an American orthopedic operator.
Hobart Bosworth (1867–1943), was a Californian artist, manager, author and producer.
Joseph Bosworth was a professor of the Anglo-Saxon language.
Kate Bosworth was an American artist and entertainer.
Kyle Bosworth (1986), was an American football player.
Libbi Bosworth was an American singer and songwriter
Midge Bosworth, (born 1941), was an old Australian racer
Patricia Bosworth (1933) was an American journalist and biographer.
Roger Bosworth (1607–1660), was an English specialist of physics and politician.
Blazons & Genealogy Notes
1) Gu. a cross vair betw. four annulets ar. Crest—A lily ppr. slipped and leaved.
2) Or, a lion ramp. gu. collared ar.