Bover Family Crest, Coat of Arms and Name History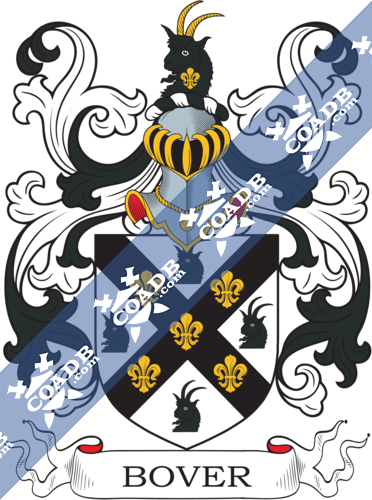 Bover Coat of Arms Gallery
Don't know which Coat of Arms is yours?
We can do a genealogical research. Find out the exact history of your family!
Learn More
Bover Origin:
England, Ireland
Origins of Bover:
This interesting name is related to "Bouvier" or "Bouverie," and appeared in Catalan which is a French geographical name for a person who lived by a cowshed, or it may be a professional name for a shepherd both from the Old French "bouvier," which means a stable for oxen. In the late 16th Century, French and Flemish Huguenots, fleeing religious oppression brought the surname into England, as did another wave of settlers mainly French, at the end of the 17th Century. Richard Bover married Katherin Wager at Earls Colne, Essex in May 1560, while also in September Alice, daughter of Richard Bover named. John, son of John and Anne Bover named at St. Anne Blackfriars, London in 1592, while in September 1706, Isacc, son of Charle and Anne Bouuar, French Huguenots, named at Threadneedle Street, London, as was Abraham Bouvar in May 1710. At Chelmsford, Essex, John Buiver married Fortune Long in February 1727.
Variations:
More common variations are: Bovery, Boaver, Boveri, Bovero, Boever, Bhover, Boover, Bovyer, Bouver.
England:
The surname Bover first appeared in Yorkshire where they held a family seat with estates in that shire. The Saxon rule of English history declined after the Battle of Hastings in 1066. The language of the courts was French for the next three centuries, and the Norman ambiance predominated. But Saxon surnames remained, and the family name showed by Danielle Buuier in 1191, and again in 1197.
The very first recorded spelling of the family was shown to be that of Edward Bover, who married Alys Gwyn, dated about the year 1544, in the "St.Micheal Bassishaw", London. It was during the time of King Henry VIII who was known to be the "Good King Hal," dated 1507 – 1547. The origin of surnames during this period became a necessity with the introduction of personal taxation. It came to be known as Poll Tax in England.
Ireland:
Many of the people with surname Bover had moved to Ireland during the 17th century.
Here is the population distribution of the last name Bover: Spain 1,260; Argentina 224; United States 152; India 137; France 110; Brazil 79; England 65; Australia 35; Russia 29; Ukraine 24
Notable People:
Miguel Bover Pons (February 1928 in Palma de Mallorca –January 1966 in Palma de Mallorca) was a Spanish professional road bicycle racer. He was the son of 1920 Spanish road race champion Miguel Bover Salom.
Captain Peter Turner Bover (October 1772 – late 1802) was an officer of the Royal Navy during the French Revolutionary Wars, who shot the first shot at the Spithead revolution of 1797. He entered the Royal Navy, following in the footsteps of his father (Captain John Bover) and two of his elder brothers, as a missionary aboard HMS Perseus. He was assigned to HMS Queen the same year, and then to the HMS Crown, then the flagship of Commodore Cornwallis. He took a great interest in Bover's job, as did Admiral Affleck, who wrote that "Bover is a name which will always be dear to the service".
Blazons & Genealogy Notes
(Cheshire). Ar. on a saltire betw. four goats' heads couped sa. five fleurs-de-lis or. Crest—A goat's head couped sa. horned and charged on the neck with a fleur-de-lis or.