Bowden Family Crest, Coat of Arms and Name History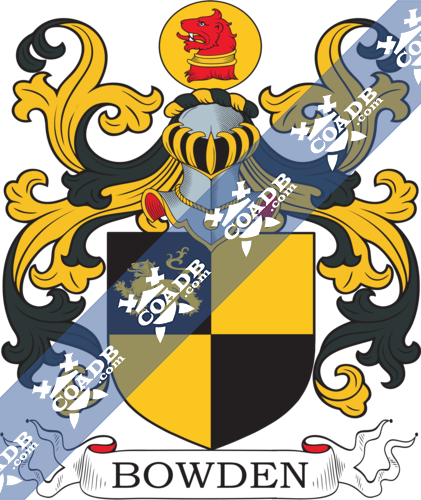 Bowden Coat of Arms Gallery
Don't know which Coat of Arms is yours?
We can do a genealogical research. Find out the exact history of your family!
Learn More
BOWDEN
The name Bowden is Anglo-Saxon/English in origin but variations were also found to exists in Scotland. The name is thought to possibly be topographical, coming from the Old English words boga meaning "bow" and dun meaning "hill". Many of the ancient surnames, actually acted as an indicator or representation of the birthplace of the individual by identifying easily recognizable landmarks. This worked well for the small settlements which existed at this time because people rarely traveled far from their homes and were familiar with the surrounding landscape. The origin of the name is also thought to have been used to identify anyone from any of the towns and villages in Britain which bear any variation in spelling of the name such as Bowden in Devon and Derbyshire and Bowdon in Cheshire.
Variations of the name include; Bowden, Bouden, Boulden, Bouldene, Bolden, Boldane, Boden, and Bodden among others. The variation in spelling of names during this time period can be attributed to a lack of continuity regarding guidelines for spelling which was compounded by the diversity of languages in use in European countries at this time. The first records of any variation of the name to appear in Britain is that of Parson Richard de Boulden of Edilstone. The Monastic Annals of Teviotdale show William de Bolden held the position of Abbot of Kelso in 1370 and was given the title The reverend lord, William de Bolden, and Andrew Boldane was Burgess of Arnbroath in 1450. In 1850, Frederick James Cornish-Bowden, Esq. of Black Hall was listed in the official records of landed gentry of Great Britain and Ireland as was James Butler-Bowdon, Esq., Captain of 3rd Royal Lancashire Militia.
Captain Butler-Bowdon was a descendant of the Bowdons of Bowden House in Derby County. Located near Totnes in Ashprington parish, Devon, England, is the historic Bowden House. The property was thought to originally be part of the Chilington royal manor granted to Roger de Nonant by Henry I, which is referenced in the Domesday Book. However, records show that as of 1314, John de Bowdon resided in the manor. The Georgian Manor home still stands and is on the Statutory List of Buildings of Special Architectural or Historic Interest in the United Kingdom.
The first records of immigrants to America bearing the surname Bowden include Ambrose Bowden who arrived in 1620 and settled in Maine, Joan Bowden who arrived in Virginia in 1635, and Phillip Bowden who arrived in 1636 and settled in Virginia as well.
Worldwide, the highest concentration of people with the surname Bowden are found in Australia, New Zealand, the United Kingdom, Ireland, and the United States.
Notable persons bearing the name include Sir Frank Bowden, 1st Baronet, from Devon, England. He was an inventor and businessman. He founded the Raleigh Bicycles Company in 1888 and by 1896, it was the largest bicycle manufacturing company in the world.
Sir Harrold Bowden, 2nd Baronet, was the son of Sir Frank Bowden. Upon his father's death, he inherited his father title of baronetcy and assumed the role of chairman and chief executive of the companies his father had created, Raleigh Bicycle Company and Sturmey-Archer Ltd. In 1929 he was knighted and awarded the Grand Cross, Order of the British Empire. In 1933, he was appointed High Sheriff of Nottingham, and from 1930 until 1934 he was the Chairman of the British Olympic Association.
Admiral Sir Nathaniel Bowden-Smith was a decorated officer in the British Royal Navy. His last commission was as the Commander-in-Chief of The Nore. In celebration of Queen Victoria's diamond Jubilee, Admiral Bowden-Smith was decorated with the award Knight Commander of the Order of the Bath.
Charles Bowden was an American journalist, essayist, and author of non-fiction. He had earned a Master's Degree in American Intellectual History from the University of Wisconsin. Bowden was a contributing editor for many major publications and newspapers. In 1996, he won the Lannan Literary Award for Nonfiction and an award from United States Artist in 2010.
Benjamin Bowden of Britain, was an industrial designer primarily know for his work on bicycles and the automotive industry. He designed and armored car which was used by King George VI and Winston Churchill during World War II.
Bertram Vivian Bowden from Chesterfield, Derbyshire in Great Britain was an educator and scientist. In 1931 he earned his Ph.D In nuclear physics from Emmanuel College, Cambridge. At the outbreak of World War II, he was conscripted to work on radar with the Telecommunications Research Establishment and later continued his research at the U.S. Naval Research Laboratory until the end of the war. The life peer of Baron Bowden was created for him in 1964.
Blazons & Genealogy Notes
1) (Bowden, co. Chester). Quarterly, sa. and or, in the dexter chief quarter a lion pass. of the second (another, ar.). Crest—A bezant charged with a lion's head erased gu. and collared.
2) (Oxfordshire). Quarterly, gu. and ar. in the first quarter a lion pass. guard. or.
3) Ar. three teazels slipped ppr.
4) (granted to Richard Catlow Bowden, Esq., of Stroud Green, Croydon, co. Surrey). Quarterly, sa. and or, in the 1st quarter a lion pass. guard., and in the 4th quarter a tilting-spear surmounting a battle-axe in saltire of the second. Crest—In front of a tilting-spear and a battle-axe in saltire, as in the arms, a heron's head erased sa.
5) Ar. a chev. sa. betw. three teazels slipped ppr.
6) Quarterly, sa. and ar. in the first quarter a lion pass. guard. of the second.
7) Quarterly, sa. and or, in the first quarter a lion pass. guard. ar. Crest—On a chapeau a fox sejant.