Boxwell Family Crest, Coat of Arms and Name History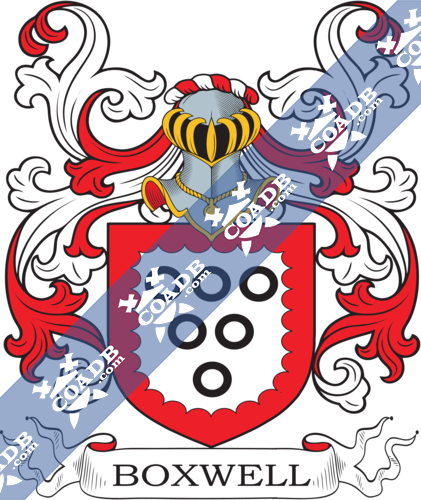 Boxwell Coat of Arms Gallery
Don't know which Coat of Arms is yours?
We can do a genealogical research. Find out the exact history of your family!
Learn More
Boxwell is a name of old Anglo-Saxon origin and comes from the family once having resided in Boxhulle, in Sussex, or in BoxweII, in Gloucester.  The Sound was what guided spelling in the essentially pre-literate Middle Ages, so one person's name often noted under many variations during a single lifetime.  Also, before the advent of the printing press and the first dictionaries, the English language not standardized.  Therefore, spelling variations were common, even among the names of the most educate people.  Known variations of the Boxwell family name include Boxall, Buckshell, Boockshell, Boxull, Boxell, Boxhulle, Boxhall, Baxhall, Boxnell, Baxull, Boxsell, Bochshall and much more. More common variations are: Boxell, Boxwel, Bexwell, Boxwill, Boxcell, Buxwell, Baxwell, Hboxell, Boxel, Boxwall. The surname Boxwell first found in Sussex at Boxhulle, "an old estate in Salehurst, among whose lords was Alan de Boxall, one of the earliest Knights of the Garter. " Early travelers bearing the Boxwell surname or a spelling variation of the name include as James Boxall who arrived in Philadelphia in 1838.  Another James arrived 5 years later.
Blazons & Genealogy Notes
Ar. six annulets sa. within a bordure engr. gu.