Bradbury Family Crest, Coat of Arms and Name History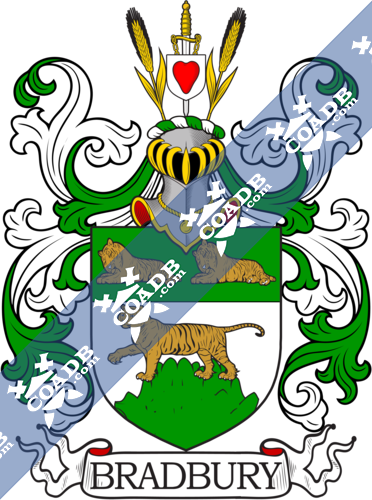 Bradbury Coat of Arms Gallery
Don't know which Coat of Arms is yours?
We can do a genealogical research. Find out the exact history of your family!
Learn More
BRADBURY:
Bradbury is a name of English origins that can be dated all the way back to the Middle Age. The word comes from ancient English: "Brydbyrig", spacious town. As most of traditional names in that time, people got their last names from the places they were born. According to the records, the first one to sign using the surname was William of Bradbury around 1272. Three hundred years later, the name began to be more common according to marriage records in England. According to an 1840 census, there were around 219 families in the United States holding the name Bradbury, a number that increased all the way up to 1445 families in the 1920 census.
The name became quite common, mostly for William Bradbury, and can be found in countries such as the United States, England or Scotland. The Baron of Bradbury is a novelty title in the United Kingdom, underlining the importance of this surname among British peerage system. In a census from 1880, the most common occupation for a Bradbury was farming. By the time of the Civil War, there were Bradburys fighting on both sides: 75 under the Confederate flag and 232 reinforcing the Union. That fact shows that the majority of Bradbury immigrants stayed in the northern, more industrial States, while only a few of them tried to settle at southern regions.
Among some of the most famous Bradbury we can name:
Ray Bradbury: American science fiction writer. His most important works are: Farenheit 451, The Golden Apples of the Sun and The Illustrated Man. His works earned him a Pulitzer in 2007.
William Bradbury: English footballer who played for such teams as Port Vale, Scunthorpe United, Rochdale and Burton Town. As a half-back he played 116 games from 1903 until 1923 scouring 5 goals.
Randy Bradbury: American bass player and second vocalist for the punk-rock band Pennywise. He also played with the bands One Hit Wonder and The Falling Idols. He is considered a pioneer in Californian punk-rock.
Blazons & Genealogy Notes
1) Notes: (Augustus Beaty Bradbuby, Esq., of Edinburgh). Blazon: Ar. in base on a mount vert, a tiger pass. ppr. on a chief of the second, two tigers dormant also ppr. Crest—Betw. two ears of wheat or, a sword erect point downwards ppr. pendent from the hilt by a chain or, an escocheon ar. charged with a heart gu. Motto—Amicitia cum virtute.
2) Notes: (Essex and Suffolk). Blazon: Sa. a chev. erm. betw. three round buckles ar. the tongues hanging downwards. Crest— A boar's head erect betw. two ostrich feathers ppr.
3) Notes: (Lancashire). Blazon: Sa. two chevronels or, betw. four buckles, three in chief and one in base ar. Crest—A demi wood-pigeon ar. the body fretty gu. and each wing charged with a buckle ar. Motto— Aequitas actionum regula.
4) Notes: (Derbyshire and London). Blazon: Sa. a chev. erm. betw. three buckles ar. a fleur-de-lis or, for diff. Crest—A demi dove, volant ar. fretty gu. holding in the beak a slip of barberry vert, fructed gu.