Bree Family Crest, Coat of Arms and Name History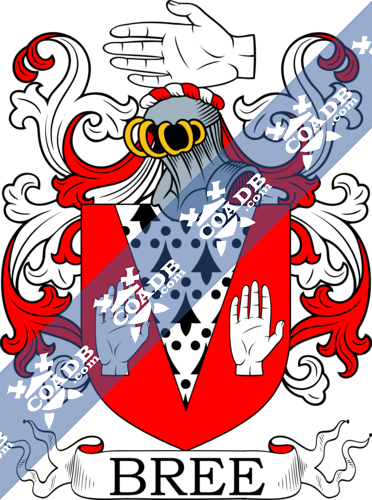 Bree Coat of Arms Gallery
Don't know which Coat of Arms is yours?
We can do a genealogical research. Find out the exact history of your family!
Learn More
Bree Origin:
England, Wales, Ireland, Scotland
Origins of Bree:
This old and well-known surname, listed with the spellings of Bray, Braye, Brea, and Bree, and having no less than twenty-one royal symbols, and many notable entries in the "National Biography," has four different possible origins, each with its own history and source. The first source of the name may be of Anglo-Saxon origin, and a geographical name from the hamlets so called in East Berkshire or Devonshire. Listed as "Brai" in the Domesday Book of 1086, the hamlets were called from the Olde English pre 7th Century "breg," or the Welsh, Cornish "bre," which means hill, slope. Ralph de Bray was recorded in the 1225 Curia Regis Rolls of Devonshire, Parnella Brea in the record of St Martins in the Field, Westminster, in February 1565, and Underhill Bree in the record of St Botolphs without Aldgate, London, in March 1669. The second origin of the name may have started as a nickname for one of great and noble bearings, from the Cornish "bregh," which means fine or strong. Examples from this source contain as Roger le Bray (Northamptonshire, 1202), and William le Brey (Somerset, near the year 1314). The third possibility is of Scottish origin and geographical from one or other of the places called Brae. Godfredus de Bra was a witness on an examination in Aberdeen in the year 1400. Finally, it may be of Irish origin, and an Anglicized form of the Old Gaelic "O'Breaghdha" showing a resident of Bregia, an old territory in Co. Meath.
Variations:
More common variations are: Brewe, Boree, Baree, Breye, Biree, Breie, Buree, Beree, Breeh, Byree.
England:
The surname Bree first appeared in Northamptonshire where Sir Robert Bray who existed about the time of Richard I was considered to be the ancestor. "His great-grandson, Thomas, was king of Thgunby, in the same division in the ninth of Edward II. "This name befalls in all the copies of the co-called Roll of Battel Abbey, and that a great family so called shifted from Normandy at the time of the Invasion seems certain. Three places in that county are still called Brai as two in the arrondissement of Falaise, and one in that of Bernal."
The very first recordied spelling of the family was shown to be that of Alnod de Braio, dated about 1086, in the "Domesday Book of Devonshire." It was during the time of King William I who was known to be the "William the Conqueror," dated 1066 – 1087. The origin of surnames during this period became a necessity with the introduction of personal taxation. It came to be known as Poll Tax in England.
Ireland:
Many of the people with surname Bree had moved to Ireland during the 17th century.
New-Zealand:
Some of the population with the surname Bree who arrived in New Zealand in the 19th century included Harriet Bree arrived in Auckland, New Zealand aboard the ship "Claramont" in 1863. Anna Bree arrived in Auckland, New Zealand aboard the ship "Claramont" in 1863. Bertha Bree arrived in Auckland, New Zealand aboard the ship "Clararnont" in 1863. Reginald Bree arrived in Auckland, New Zealand aboard the ship "Claramont" in 1863. Alice Bree arrived in Auckland, New Zealand aboard the ship "Claramont" in 1863.
Here is the population distribution of the last name Bree: United States 885; Netherlands 691; Germany 538; England 290; France 257; Argentina 224; Australia 214; Belgium 156; Ireland 147; Canada 139
Notable People:
Andrew Bree (born 1981), is an Irish swimmer.
Declan Bree (born 1951), is an Irish political leader.
Herbert Bree (1828–1899), was an Anglican priest.
James Bree (1923–2008), was a British actor.
James Bree (footballer) (born 1997), is an English football player.
Jonathan Bree was a singer, composer, and director in New Zealand.
Robert Bree (1759–1839), was an English physician.
Johannes Bernardus van Bree (1801–1857), was a Dutch author and musician.
Mattheus Ignatius van Bree (1773–1839), was a Belgian painter, sculptor, and designer.
Blazons & Genealogy Notes
1) Gu. a pile erm. betw. two dexter hands apaumee couped ar. Crest—A hand couped in fesse.
2) (as borne by the Her. William Bree, M.A., Rector of Allesley, co. Warwick). Ar. a chev. betw. three eagles' legs erased a-la-cuisse sa. armed gu. Crest—A hempbreaker or.