Briggs Family Crest, Coat of Arms and Name History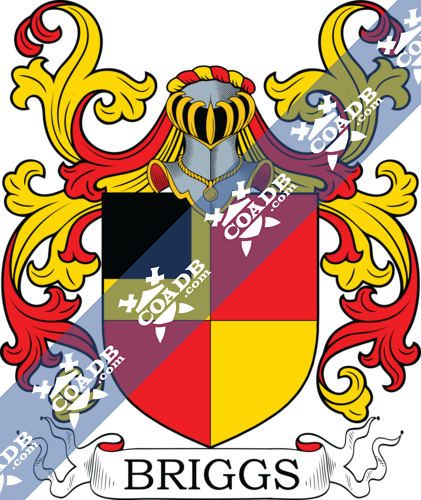 Briggs Coat of Arms Gallery
Don't know which Coat of Arms is yours?
We can do a genealogical research. Find out the exact history of your family!
Learn More
Briggs Origin:
England
Origins of Name:
The surname of Briggs has two possible origins, and is found as a derivative of the surname of Bridges. The first origin of the surname of Briggs is from the country of England, where it was seen as a topographical surname. Topographical surnames are given to those who live on or near a certain man-made or natural phenomena that was found in the land. In this case, the topographical location was that of a bridge. This was used in the surname of Briggs, as well as the variants of this surname, which are Bridges, or Brydges. This surname of Briggs in the topographical and occupational sense was used for someone who lived near a bridge, or someone who was a bridge keeper. In the Middle Ages, maintaining a bridge was one of the more common feudal occupations. This derives from the Middle English word "brigge" which comes from the Old English Pre 7th Century "Brycg" both of which can be translated to mean the word "bridge."
Variations:
More common variations are: Brigges, Briggss, Briggis, Briggsa, Briaggs, Briggus, Briiggs, Braiggs, Briggsw, Brigs, Brigg, Brig, Bridge
History:
England:
The first recorded spelling of the surname of Briggs was found in the country of England in the year of 1205. This person, who was recorded as being named one William de Bruges, was mentioned in the document referred to as the Curia Regis Rolls of Oxfordshire. This document was ordered, decreed, and written under the reign of one King John of England. King John of England was also known as, and commonly referred to throughout history as the "Lackland," and he ruled from the year of 1199 to the year of 1216. Other mentions of this surname of Briggs in England include Henry Briggs, who lived from the year 1561 to the year 1630, and was a Professor of Astronomy, who published many of the early books of astral navigation. Those who carried the surname of Briggs can be found in the county of Cumberland, and generally spread to be found in high concentrations in the county of Lancashire.
Scotland:
Those who bear the surname of Briggs in the country of Scotland can be found in the county of Aberdeenshire, and were commonly referred to as "the bricklayers."
United States of America:
Throughout the 17th Century, a period of time known as the European Migration began throughout Europe, though mostly centered in England. This migration was when the settlers determined that they no longer were happy with their homeland, and sought out a new place to live, one promising new freedoms and capabilities that were not afforded to them in the land of their birth. The United States of America, which at that time was called The New World or The Colonies, promised these freedoms to new settlers, and thus was a popular destination during this time for those settlers. The first person who was recorded to bear the surname of Briggs was one Clement Briggs who landed in Plymouth, Massachusetts in the year 1621. Those who have this surname are in the states of Massachusetts, New York, New Jersey, Pennsylvania, Michigan, California and the state of Maine.
Here is the population distribution of the last name Briggs:
United States 66,858, Nigeria 34,235, England 18,859, Australia 7,871, Canada 4,150, South Africa 2,630, Scotland 1,339, New Zealand 1,105, Brazil 715, Ghana 559
Notable People:
James Frankland Briggs (1827-1905) who was a U.S. Representative from New Hampshire from the year 1877 to the year 1883, and who was a politician from America
Frank Parks Briggs (1894-1992) who was a United States Senator from Missouri from 1945 to 1947, and who was a politician from America
Frank Obadiah Briggs (1851-1913) who was a United States Senator from New Jersey from the year 1907 to the year 1913, and who was a politician from America
Frank A. Briggs (1858-1898) who was the 5th Governor of North Dakota in the year 1897 to the year 1898, and who was a Republican politician from America
Clare A. Briggs (1875-1930) who was an early comic strip artist, who was best known for his comic A. Piker Clerk, which was created in 1904, and his later comic strip Danny Dreamer, which was regularly published in the Chicago Sunday Tribune
Charles Frederick "C.F." Briggs (1804-1877) who was a journalist, author, and editor who was from America
William John "Bill" Briggs (born in 1943) who was an NFL football defensive end for the Washington Redskins from the year 1966 to the year 1967
Blazons & Genealogy Notes
1) (Halifax and Birstwith Hall, co. York). Motto—Fortiter et fideliter. Ar. a bend vair betw. three escutcheons sa. each charged with a pheon of the field, a bordure engr. gu. bezantee. Crest—A mount vert, thereon, in front of a lion pass. erm. the dexter paw resting upon a pheon sa. a laurel branch erect ppr.
2) (Catherington House, co. Hants). Ar. on an inscutcheon gu. a bend vair betw. two cinquefoils or, a border engr. az. bezantee. Crest—On a stump of a tree eradicated or, sprouting vert a pelican of the first vulning herself ppr.
3) (Haughton, co. Salop, originally of Saul, co. Norfolk. Sir Moreton Brigges. of Haughton, was created a baronet in 1641, extinct 1767). Motto—Virtus est Dei. Gu. three bars gemelles or, a canton erm. Crest—As preceding.
4) (Bart, of Briggs-Dayrell, Island of Barbados, created 1871). Mottoes—Under the Arms: Ne traverse par le pont; over the Crest: Virtus est Dei. Ar. three bars gemelles az. on a canton of the last, a bridge of the first. Crest—Upon the stump of a tree erased and couped, and charged with a trefoil ppr. a pelican vulning herself wings elevated ar.
5) (Brecknockshire). Ar. three esutcheons gu. each charged with a bend of the field. Crest—An arm vambraced, and hand holding a bow and arrow ppr.
6) (London and Shropshire). Ar. three inescutcheons gu. each charged with a bend vair. Crest—On the stump of a tree, erased and couped or, sprouting two new branches vert, a pelican gold, vulning her breast gu.
7) (Haughton, co. Salop). Gu. three (another, two) bars gemelles or, on a canton sa. a crescent of the second. Crest—An arm embowed, covered with leaves vert, holding in the hand ppr. a bow gu. strung sa. and an arrow ar.
8) Quarterly, or and gu. a canton sa.