Bright Family Crest, Coat of Arms and Name History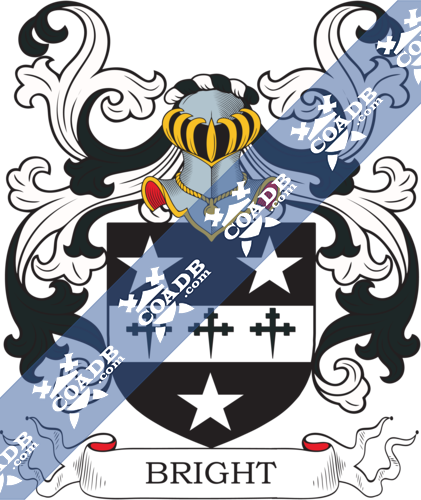 Bright Coat of Arms Gallery
Don't know which Coat of Arms is yours?
We can do a genealogical research. Find out the exact history of your family!
Learn More
Bright Origin:
England
Origins of Name:
The surname Bright is comprised of the Old English word "beorht" meaning bright or shining, but can also be traced to the Medieval English nickname of 'bright' which meant that the person was fair, or beautiful. The surname Bright could also be a shortened version of the Old English word "Beorhthelm" which was a compound word, comprised of "beorht" and "helm" which meant helmet. Thus, this word literally translates to "bright helmet." Throughout the ages, spellings have been changed due to literacy during the English Poll Taxes.
Variations:
More common variations are:
Bright, Brighty, Burright, Brighto, Boright, Baright, Brighte, Buright, Brighta, Beright, Brightey, Breight, Brighet, Brighet,
History:
England:
The ancient surname Bright found its original mentions in the Anglo-Saxon tribes of Britain, and found in Cheshire County. Throughout history, the Bright surname has been spelled in multiple ways, and first appeared in recorded history in 1252, with the spelling Briht. The name appeared in The Pipe Rolls of Huntingdonshire for a man named John Briht.
After twenty-six years, in 1278 the surname appeared again with the spelling Brythe, and resurfaced again in 1279 with the spelling Brite. In 1296, Adam Bright's name appeared in the Subsidy Rolls of Sussex. Bright's disease became a household name during the lifespan of Richard Bright, a physician who lived from 1789 to 1858. Bright's disease was a renal disease that was concerned with chronic inflammation of the kidneys.
United States and Canada:
During The Great Migration, many people who carried the surname Bright migrated to the United States of America. In the 1600's, Bright families settled in the New England area. Francis Bright came to Massachusetts in 1629, while Henry Bright arrived in New England in 1630. Two years later, Henry Bright migrated to Charlestown, Massachusetts in 1632, and ten years later, in 1642, Henry Bright Jr. settled in Watertown, Massachusetts. In the 18th century, Michael Bright and William Bright both settled in New England, with Michael arriving in Pennsylvania in 1726, and William arriving in 1747. Throughout the 19th century, Edward Bright came to New York in 1822, Robert Bright settled in Charleston, South Carolina in 1829, and Andrew Jackson Bright landed in Mobile, Alabama in 1895. Across the Canadian border, Mr. Moses Bright U.E. and Mrs. Elizabeth Bright U.E. arrived in Nova Scotia in 1783, after sailing on the Port Roseway from Staten Island, New York.
Australia and New Zealand:
In the 19th century, an English convict from Middlesex, William Bright, was transported to Van Diemen's Land, Australia aboard the Albion. Four men all migrated to Adelaide, Australia. In 1837, John Edward Bright sailed aboard the Navarino, and in 1848, William Bright arrived aboard the Thomas Lowry. Another man by the name of William Bright sailed aboard the Susannah in 1849, and in that same year, fifty-three-year-old James Bright sailed aboard the ship William Money.
Bright Today:
Nigeria 91,243
United States 38,165
Ghana 27, 478
Uganda 12,696
England 9,954
Australia 3,925
Liberia 3,902
Bangladesh 3,781
Malawi 3,423
South Africa 2,977
Notable People:
Ronnell Bright (born in 1930) who was a jazz pianist in America
Jesse David Bright (1812-1875) who was a politician in America, and also served at the 9th Lieutenant Governor of Indiana
Susannah "Susie" Bright (born in 1958) is a writer, speaker, audio-show host, performer, and teacher in America
Ronald David "Ronnie" Bright (1938-2015) who was an R&B (Rhythm and Blues) and doo wop singer in America
Johnny D. Bright (1930-1983) was a Canadian CFL football player, who was inducted into the College Football Hall of Fame, and the Canadian Football Hall of Fame, but was born in America
Arthur W. Bright who was a Democratic Candidate for the U.S. Representative from Tennessee in the 1st District in both 1954 and 1958, and was an American politician who also was an Alternate Delegate to the Democratic National Convention from Tennessee in 1948
Amos Bright, who was a Delegate to the Republican National Convention from West Virginia in 1912, and was an American Republican politician
Arlen Bright, who was the Chair of the Menominee County Republican Party in 2007, and is an American Republican politician
Bobby Neal Bright Sr. (born in 1952) who was the Mayor of Montgomery Alabama from the years 199 to 2008, and served as a U.S. Representative from Alabama in the 2nd District from 2009 to 2011, and is an American Democrat politician
Nicholas Bright (1956-1988) was a businessman from Brookline, Massachusetts who died in the Pan Am Flight 103 bombing (known as the Lockerbie bombing) in 1988
Blazons & Genealogy Notes
1) (London, Visits London, 1568). Sa. on a bend betw. three mullets ar. as many cross crosslets fitchee of the field.
2) (Brockbury, and Colwall, co. Hereford, and Ham Green, co. Somerset, descended from the Rev. Henry Bright, of Brockbury, canon of Worcester, 1610, grandson of Nathaniel Bright, of Worcester, who d. 1564). Motto—Post tenebras lucem. Az. a fesse wavy erminois in chief three crescents ar. Crest: A demi lion ramp, holding a battle-axe headed gu.
3) (Bury St. Edmund's, co. Suffolk, granted 1615). Sa. a fesse ar. betw. three escallops or. Crest—A dragon's head gu. vomiting flames of fire ppr. collared and lined or.
4) (Carbrook and Badsworth. co. York. Sir John Bright, of Carbrook, the well-known Parliamentary commander, was created a baronet in 1660. His dau. and heir, Catherine, m. Sir Henry Liddell, Bart., of Ravensworth Castle). Per pale az. and gu. a bend or, betw. a mullet in chief ar., and another in base of the third. Crest—The sun in splendour issuing from a cloud ar.
5) (Bannercross, Ecclesall). Same Arms. Crest—A mass of clouds, and thereupon a sun issuant all ppr.
6) (Harrow Weald, co. Middlesex). Motto—Clarior e tenebris. Per pale az. and gu. a bend or, betw. two mullets, ar. Crest—A mass of clouds, and therefrom a sun issuant, all ppr.
7) (Ireland). Per pale az. and or, a bend betw. two mullets, all counterchanged. Crest—A hand erect ppr. vested sa. issuing from a cloud, shedding forth rays, and. holding a mort's head of the first.