Brock Family Crest, Coat of Arms and Name History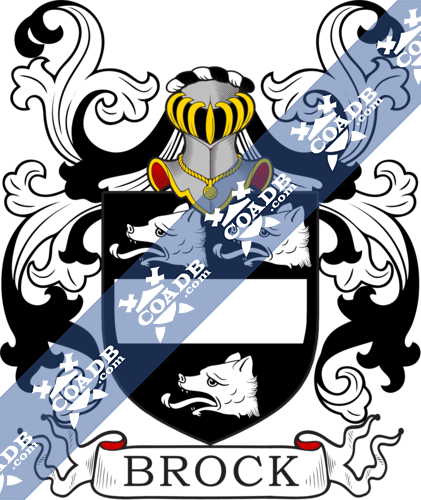 Brock Coat of Arms Gallery
Don't know which Coat of Arms is yours?
We can do a genealogical research. Find out the exact history of your family!
Learn More
Brock Origin:
England, Germany, France
Origins of Name:
The surname of Brock is of an Old French and an Anglo-Saxon origin, and there are three possible origins from which this surname is derived. The first possible origin of the surname of Brock is that it was a nickname for someone who looked like a badger. This origin of the surname derives from the Old English, Pre 7th Century word of "brocc" which can be translated to mean "a badger." This nickname was used to describe both the physical characteristics of the person, but also could have been used to describe their personality. In this case, the surname of Brock could have been used to describe someone who was vexing or mischievous. The second origin of the surname of Brock is that it may hail from an Old French word. These two words it could have originated from, "broque" or "brocke". They could also possibly have different meanings. "Young stag" is a possible definition for both or alternatively could also mean one who is young, enthusiastic, and full of life. The third possible origin of the surname of Brock is that it could have been a topographical surname from England, which was used to describe someone who lived by a stream. This derivative hails from the Old English word "broc" which can be translated to mean, "a brook" or "a stream." Topographical surnames were used to describe someone who lived on or near a man-made or natural phenomenon found throughout the land.
Variations:
More common variations are: Broock, Brocke, Braock, Brocka, Broeck, Brocki, Brouck, Burock, Brocko, Borock
History:
England:
The first recorded spelling of the surname of Brock was found in the country of England in the year of 1222. This person, who was recorded to bear the name Joel le Broc, was mentioned and recorded in the document referred to as the Calendar of Patent Rolls of Essex. This document was ordered, written, and decreed under the reign of King Henry III, who was known as "The Frenchman" and ruled from the year of 1216 to the year 1272. Other mentions of the surname of Brock that were found in the country of England included Richard Brock, who was mentioned in the Subsidy Rolls of Worcestershire in the year 1275, and Daniel de Lisle Brock was the baliff of Guernsey and represented the interests of the island in London, and lived from the year 1762 to the year 1842. Those who bear the surname of England can be found in the southwest counties of Cornwall, Devon, Somerset, and into the country of Wales, as represented in the county of Glamorgan.
Scotland:
Those who bear the surname of Brock can be found in the lower central region of the country.
United States:
The European Migration was a movement of people from the European countries who left their homeland in search of a better life. Many of these people went to the United States of America, which at that time was referred to as The New World or The Colonies, because this new land promised the freedoms that they were so hoping for. Those who bear the surname of Brock can be found in Texas, Georgia, South Carolina, New York, Ohio, Missouri, Indiana, Kentucky, Alabama, Tennessee, Illinois and Missouri.
Here is the population distribution of the last name Brock: United States 69,706, England 5,394, Germany 5,178, Canada 2,711, Australia 2,419, Brazil 2,178, South Africa 1,575, Ghana 1,118, Scotland 604, Philipines 580
Notable People:
Brigadier-General Ronald Cornelius Brock (1815-1984) who was a Commanding Officer in the 65th Division of the Artillery from the year 1943 to the year 1945
William Emerson "Bill" Brock III (born in 1930) who was a politician from America. He was also a resident of Tennessee and became a U.S. Senator for the state from the year 1971 to the year 1977
William H. Brock (born in 1936) who was a Professor of Chemistry at the University of Leicester
Sir Russell Claude Brock (1903-1980) who was surgeon from England, and was known as the Lord Brock of Wimbledon, and who was a pioneer of the open-heart surgery
Charles Edmund Brock (1870-1938) who was a line artist from England, and a book illustrator
Tony Brock (born in 1954) who was a British drummer
Sir Thomas Brock (1847-1922) who was a British sculptor who created the Queen Victoria Monument. The sculpture was placed in front of Buckingham Palace
Sir Isaac Brock (1769-1812) who was killed in the Battle of Queentston Heights, Niagara Falls. He was the Major-Geneneral and administrator in the army.
Peter Brock (1945-2006) who was a motor racing driver who was from Australia
Edwin Brock (1927-1997) who was a poet from Britain
Blazons & Genealogy Notes
1) (Cheshire, granted 3 Sept., 1580). Sa. a fesse humettee, betw. three bears' heads erased ar.
2) (Saltwood, co. Kent). Ar. on a bend sa. a lure or.
3) (Guernsey). Gu. a fleur-de-lis ar., on a chief of the second a lion pass. guard. of the first. Crest—An escallop or.
4) (granted to Sir Isaac Brock, of Guernsey, 15 Feb., 1813). Gu. an eagle displ. or, on a chief embattled ar. a lion pass. guard. of the field. Crest—Out of a mural crown ar. a demi Canadian Indian, the dexter hand supporting a tomahawk erect ppr. Motto—Canada. Supporters— Dexter, a grenadier of the 49th regiment of foot; sinister, a soldier of the same, both armed and habited ppr.
5) Az. a fieur-de-lis or, on a chief ar. a lion pass.
6) Ar. on a chev. engr. betw. three boars' heads couped sa. an. annulet or.
7) Ar. three brocks ppr.
8) Chequy ar. and sa.
9) (Clutton-Brock, Pensax Court, co. Worcester. Thomas Henry Clotton-Brock, Esq., of Pensax, was son of Col. Thomas Clutton, Worcester Militia, who took the additional name and arms of Brock in 1809). Quarterly, 1st and 4th, gu., three trefoils, slipped, or; on a chief, ar., a lion, pass. guard. of the field, for Brock; 2nd and 3rd, ar., a chev. erm. between three annulets gu., for Clutton. Crest—A demi lion, guard., gu., on the body a chev. or, charged with three trefoils slipped vert holding betw. his paws an arrow gold, barbed and feathered ar., for Brock; an owl on a myrtle branch, ppr., for Clutton.