Butcher Family Crest, Coat of Arms and Name History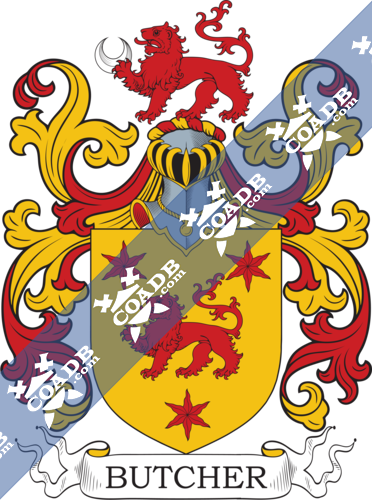 Butcher Coat of Arms Gallery
Don't know which Coat of Arms is yours?
We can do a genealogical research. Find out the exact history of your family!
Learn More
Surname Name Meaning, Origin, and Etymology
This surname has three origin theories. First, it is an occupational surname meaning "the butcher", a person who slaughtered slaughters animals, deriving from the Old French bocher or Middle English bocher. The two most common animals butchered were bucks (male goats, deriving from the Old High German bocch, with goat's flesh being a common food on the European continent during the Middle Ages)  and rams (from the Old French word bouc). This occupation was extremely important in medieval times. A second, alternative theory, is that this is a locational name for a family who lived in the area of Boursieres, a town in eastern France. Third, it may have developed as a nickname for a blood thirsty person, or a title of honor bestowed upon great warriors in battle in France. It is said the name came from France to England during the Norman Conquest in 1066 AD, and the Butcher family first held land and titles in Salop, Shropshire. Previously, they held lands in ancient Burgundy.
Spelling Variations
Common spelling variants or names with similar etymologies include Boutcher, Butcheri, Butchery, Butchere, Boucher, Bucher, Buchere, Bocher, and Boutcher. Foreign names with similar origins, meaning, or etymologies include: Buoker (Norse), Boedker (Danish), Boettcher (German), Boddekke (Dutch), Buker/Buscher (Flemish), and Boucher/Bucher (French).
Popularity & Geographic Distribution
The last name Butcher ranks 1,478th in popularity in terms in the United Status as of the 2000 Census. The name ranks particularly high in the following nine states: West Virginia, Ohio, Indiana, Kentucky, Oklahoma, Utah, Delaware, Alaska, and Wyoming.
The surname Butcher frequency/commonness ranks as follows in the British Isles: England (400th), Scotland (1,036th), Wales (429th), Ireland (3,646th) and Northern Ireland (1,273rd).  In England, it ranks highest in counties Suffolk and Essex. In Scotland, it ranks highest in Moray and Peeblesshire. In Wales, the surname Butcher rankest highest in county Brecknockshire. In Ireland, it ranks highest in Queen's County. In Northern Ireland, it ranks highest in county Londonderry.
The name is also present throughout the remainder English speaking world:  Canada (2,221st), New Zealand (514th), Australia (502nd), and South Africa (2,358th).
Early Bearers of the Surname
The earliest known bearer of this surname was Ailwardus le Bochere who was documented in the Pipe Rolls of London in 1184 AD. Richard le Bucher was documented in the Feet Fines of Essex in 1240 AD. The Hundred Rolls of 1273 AD, a census of Wales and England, known in Latin as Rotuli Hundredorum lists three bearers of this surname: William le Bocer (Salop), Baudechon (London), and Simon le Bucher (Norfolk). William Bochier was documented in the Subsidy Rolls of Sussex in1327 AD. The Subsidy Rolls of 1332 AD in Lancashire lists two bearers: Alan le Boucher and Thomas le Bouker. A one Michael le Bucher was documented in the Excerpta e Rotulis Finium in Turri Londinensi. An early marriage involving this surname was Jonathan Butcher to Mary Ellen Dosset at St. George's Hanover Square in London, England in 1794. In Scotland, Gilbert Boutcheour, tenant in Craignathro, Angus, was assaulted in 1590 AD, and Robert Boutcher and Richard Boutcher are also mentioned around the same time.
History, Genealogy, and Ancestry
The famous genealogist Bernard Burke's books "The Landed Gentry" and "Peerage and Knights" does not discuss this family.
Thomas Butcher, son of John, was born in Rudgwick, Sussex, England in 1592. He had the following issue: John, Mary, Jane, Ann, Thomas, and Elizabeth. His son John was born in the same town in 1620. He married Mary Mower and had the following issue with her: Richard. This Richard Butcher was born in Sussex in 1639. He married Margaret and had three children with her: Mary, John, and Anna. His son John was born in Rudgwick in 1672.
Thomas Cooke, alias Butcher was born in Netherbury, Dorset, England, in 1570 and he married Joanna with whom he had four issue: Mary Cooke, Joan Cook, Peter Cook, and Captain Thomas. His son Captain Thomas Cooke alias Butcher was born in Nerbury in 1600 and also spelled the surname Bowcher. He married Mary and had the following children: Thomas, John, and George. His son Captain Thomas Cooke was born in the same town in 1626. He had several issue, including Captain John Cook who was born in Rhode Islands around 1652.
John Butcher was born between 1555 and 1615. He married Annis Adkins and had a daughter with her was named Alice Allis Butcher.
William Butcher was born in Prince William, Virginia around 1750. He married Mary Hannah Howell and had three children with her: James, John Coleman, and George. His son James was born in Augusta, VA in 1774 and he married Martha Ruth Clark with whom he had numerous issue: William C., Elizabeth Ruth, Samuel, Sarah, Hannah, George, Elizabeth (Gibson), Josiah Comes, and Anna D. His son Josiah Combes Butcher was born in Whitehorn Creek, Virginia in 1810. He married Carmelia Jane Fuller and had a son with her named John. This John William Butcher was born in Virginia in 1841 and he married Millie Lee with whom he had four children: Charles Clinton, Albert S., Sallie C., and Paul Kay. His son Charles Clinton was born in Arkansas in 1885 and he married Carrie Bitely. They had six issue: Clara (Christine), Mamie (Martin), Charles Aubrey Sr., Kenneth John, Willie, and Clinton Paul. His son Charles Aubrey Butcher was born in Arkansas in 1910 and he married Josephine M. Lawson and had a son with her named Charles Aubrey. This Charles Aubrey Butcher Jr. married Anne Williamson in 1970 and had two issue with her: Charles Aubrey III and David Argo.
Early American and New World Settlers
Early settlers in colonial America bearing this name include Francis Butcher (Virginia 1623), Mary Butcher (1643), and John Butcher (1786). John Butcher came to Virginia aboard the True Friendship in 1679. Richard, son of John and Mary Butcher, was baptized in the parish of St. Michael in Barbados in 1678. In Australia, one of the first bearers of this name was William Butcher, a convict from Lancaster, England who arrived in April 1820 aboard the Agamemnon and settled in New South Wales (then a penal colony). In New Zealand, a one J Butcher came to the city of Wellington in 1860 aboard the Wild Duck.
Early Americans Bearing the Butcher Family Crest

Charles Bolton's American Armory (1927) contains one entry for this surname: Vert an elephant [arg?] and on an inescutcheon arg a chev bet 3 griffins' heads erased sa (Cotton?). Crest: a branch of a cotton tree fruited. Motto: Be steady. Bookplate Robert Butcher. Crozier's General Armory (1904) and Matthew's American Armoury (1907) and do not contain entries for this surname.
Mottoes
The Butcher family motto is "Be steady".
Grantees
We have two coats of arms for the Butcher surname depicted here. These two blazons are from Bernard Burke's book The General Armory of England, Ireland, and Scotland, which was published in 1848. The bottom of this page contains the blazons, and in many instances contains some historical, geographical, and genealogical about where coat of arms was found and who bore it.
Notables
There are hundreds of notable people with the Butcher surname. This page will mention a handful. Famous people with this last name include: 1) Alan Raymond Butcher (1954) who was an English cricket player born in Croydon who played for Surrey and Glamorgan, a member of a prominent family known in the sport, 2) Samuel Henry Butcher (1850-1910) who was an Anglo-Irish classical scholar and politician born in Dublin, 3) John George Butcher, 1st Baron Danesfort (1853-1935) was a British barrister and Conservative Party politician, 4) William James Burchell Butcher (1858-1944) was an Australian politician who was a Member of the Western Australian Legislative Assembly for 12 years who was born in Richmond, Tasmania, 5) Bilinda Jayne Butcher (1961) who is an English singer-songwriter known for being the vocalist and guitarist for the band My Bloody Valentine, 6) Harry C. Butcher (1901-1985) who was born in Santa Barbara, California who was an Naval Aide to General Dwight D. Eisenhower, 7) John Charles Butcher (1933) who was a New Zealand mathematician known for his work on numerical methods for the solution of ordinary differential equations, 8) Vice Admiral Samuel Butcher (1770-1849) who was an officer in the British Royal Navy during the French Revolution and Napoleonic Wars who was born in Cople, England, 9) Mark Alan Butcher (1972) who was born in Croydon and was an English cricket player, and 10) Samuel Butcher (1811-1876) who was an Irish Anglican Bishop in the Church of Ireland who was born in Danesfort, County Kilkenny.
Blazons & Genealogy Notes
1) Or, a lion pass. gu. betw. three estoiles of the last. Crest—A lion pass. gu. holding in the dexter paw a crescent ar.
2) (registered to Robert Butcher, Esq., Cork, Samuel Botcher, D.D., Bishop of Meath, Richard George Butcher, Esq., M.D., late President of the Royal College of Surgeons, Ireland, Arthur Butcher, Col. Royal Marines, and John Barlow Butcher, Capt. Royal Marines, sons of Samuel Butcher, Admiral R.N., by Elizabeth, his wife, dau. of Richard T. Herbert, Esq., of Cahirnane, of the family of Muckruss. Admiral Butcher was grandson of Robert Butcher, of Ickleford, Herts, Lord of the Manor of Ravensden, co. Bedford, and High Sheriff of that co. 1761, to whom the original grant was made by the Heralds' College, London). Vert an elephant ar. Crest—A branch of a cotton tree, fructed, ppr. Motto—Be steady.