Butterfield Family Crest, Coat of Arms and Name History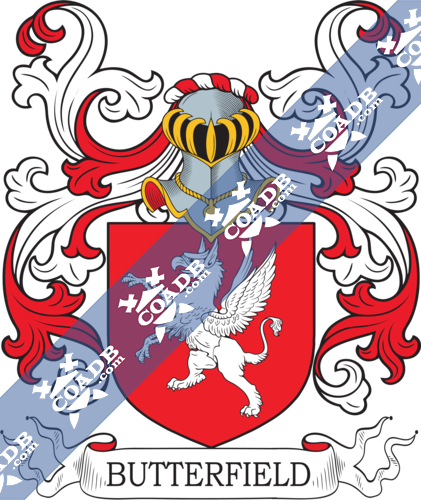 Butterfield Coat of Arms Gallery
Don't know which Coat of Arms is yours?
We can do a genealogical research. Find out the exact history of your family!
Learn More
BUTTERFIELD
Butterfield is an English surname which originated from one of two sources. The first and most likely source is geographical, indicating the bearer of the name resided on or near Butterfield, one of two places, the was once located near West Riding, Yorkshire, the second was near Lancashire. The second source is occupational, as it is believed the name Butterfield was used in reference to a person who raised cows for dairy.
The variations in the spelling of the surname includes; Butterfield; Boutterfield; Butterfeld; Buttersfield; Boutterfeld; and Butterfelds among others. The variations in spelling of surnames dating back to ancient times can be attributed to a lack of consistency regarding guidelines for spelling in use by the scribes who recorded such information, many of which were in the habit of spelling phonetically. The issue of multiple spellings of names in records was compounded by the diversity of languages in use in European countries at this time.
Until the mid to late sixteenth century, surnames were rarely if ever used. In the small settlements and villages which existed during earlier times in most of Europe, residents found little need for surnames as everyone in these communities knew each other and a given name would usually suffice. However, as communities grew and people began to migrate on a larger scale, along with the need of the government having a reliable way to track people for tax and census purposes, the aristocracy's penchant for using surnames seemed the appropriate evolution to this problem. In most instances to distinguish themselves, one from another, those not of the noble class would often be identified by their given name plus their occupation while others may have been identified by their given name and one of their parent's names. There was a limitless supply from which surnames could be formed, in addition to the use of patriarchal or matriarchal names, or reference to the individuals occupation, there were things such as defining physical traits, a familiar geographical location or a topographical landmark found near the individual's home or birthplace, the name of the village in which the person lived, and so much more. Over the course or time, surnames would come not just to represent an individual but whole families.
One of the earliest record of any variation of this surname is that of Hugh de Buteresfeld which appears in the Buckinghamshire tax rolls from 1199. The tax rolls, were a series of census and tax records kept by the English Treasury by order of King John, with the oldest dating back over seven hundred years to the 12th century. These documents are considered the oldest concentric set of records detailing English governance in the United Kingdom spanning a period of over seven centuries.
With the discovery of America and the addition to the British Commonwealth of countries such as Canada, Australia, and New Zealand, it was not long before people began to immigrate to these outlying areas. The use of surnames made tracking of immigrants easier. One of the first recorded immigrants to America bearing the surname was Benjamin Butterfield who landed and settled in Charlestown, Massachusetts in 1638. Robert Butterfield landed and settling in Virginia in 1650. Sarah Jane Butterfield was one of the early settlers to Australia, landing and settling in Adelaide in 1838. John and Elizabeth Butterfield and their children, Hannah and Asa, are some of the early settlers to New Zealand, arriving and settling in Nelson in 1842.
Worldwide, the highest concentration of people with the surname Butterfield are found in the United Kingdom, Australia, New Zealand, the United States, and Canada. By state, the largest percentile of those with the surname Butterfield live in Maine, Utah, and Idaho.
There are many notable people with the surname Butterfield such as, British born medical researcher and clinician, William John Hughes Butterfield, Baron Butterfield.
Butterfield attended Oxford University, Johns Hopkins University as a Rockefeller Foundation Scholar, and received a fellowship at the Medical College of Virginia. He has served as a Professor of Experimental Medicine at Guy's Hospital in England, Vice-Chancellor of the University of Nottingham, Regius Professor of Physic at Cambridge University, and Master of Downing College, Cambridge.
In recognition of his service and contributions to education and medicine, Butterfield has been awarded a Knight Bachelor, Officer of the Order Of the British Empire, Fellow of the Royal College of Physicians, and in 1988 he was made a life peer, Baron Butterfield, of Stechford in the County of West Midlands.
Blazons & Genealogy Notes
1) (Welch's Bentley, cos. Hants, and Hertford). Gu. a griffin pass. ar. Crest—Out of a ducal coronet or, a dragon's head, wings elevated vert.
2) (Clapham, co. Surrey; granted 1754). Gu. a griffin pass wings elevated ar. on a canton indented or, a butterfly volant az. Crest—A demi dragon with wings elevated ar. issuing from a ducal coronet or, on each wing, a butterfly volant az.
3) Gu. a griffin segreant or.
4) Or, on a bend az. three bees volant ar.