Byers Family Crest, Coat of Arms and Name History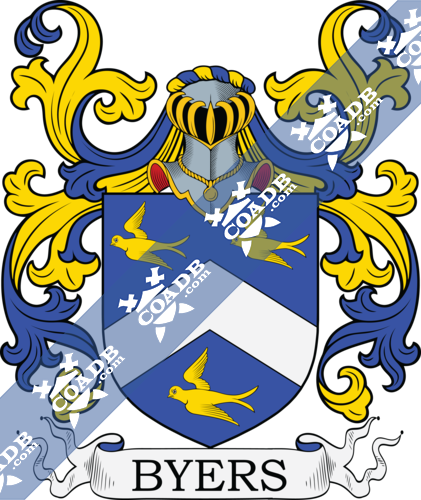 Byers Coat of Arms Gallery
Don't know which Coat of Arms is yours?
We can do a genealogical research. Find out the exact history of your family!
Learn More
Byers is a Scottish and northern English topographic surname for someone who lived near a cattleshed or dairy, from the Middle English word byre, or a habitational name for a person, such as Byers near Edinburgh and Byers Green in Durham. Another author states it means "dweller at a land corner; one who purchased merchandise to sell to others". It some cases it is also an Americanized spelling of the German surname Bayers. Spelling variations include Byre, Byres, Byars, Bier, Bieres, and Buyers. Some of the earliest known bearers of this last name include Thomas filius (son of) Bye of Cambridge in the Hundred Rolls of 1279 AD, John Attebeyre of Cambridge in the Hundred Rolls of 1279 AD, and John Buyres of Somerset in the Subsidy Tax Rolls of 1327 AD. One author believes the family could descend from the chateau of Biars in the canton of Isigni, La Manche, Normandy France, and were lords of the same name.
Some of the earliest settlers in colonial America bearing this name include William Byers (Georgia 1734), Elizabeth Byers (1751), Joseph Byers (Pennsylvania 1754), William Byers (Maryland 1774), and Martha Byers (Delaware 1770). Several members of this family fought in the American Revolution, including Private Jacob Byers of Virginia, Corporal Godfrey Byers of New York, Lieutenant James Buyers of New York, Rubin Byers of New Jersey, and David Byers of North Carolina. The name ranks in the top 700 most commonly occurring surnames in nine US states: Indiana, Pennsylvania, Ohio, North Carolina, Iowa, Missouri, Kansas, Arkansas, and Wyoming. William Newton Byers (1831-1903) was born in Ohio, and was one of the founding figures of Omaha, Nebraska.
Blazons & Genealogy Notes
1) or Byer (Northamptonshire). Sa. on a chev. betw. three pheons ar. a griffin's head erased betw. two mullets of the field. Crest—A griffin's head per pale gu. and az. charged on the neck with a pheon ar.
2) or Byres – Az. a chev. ar. betw. three martlets volant or.