Cabrera Family Crest, Coat of Arms and Name History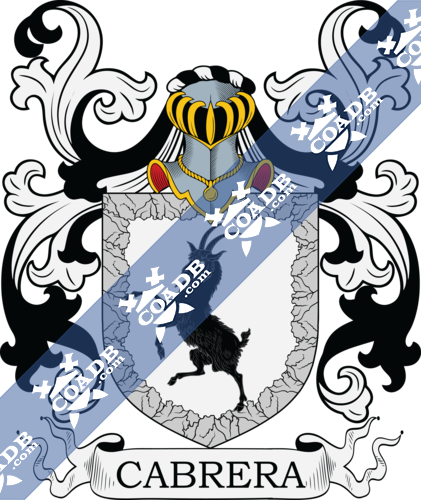 Cabrera Coat of Arms Gallery
Don't know which Coat of Arms is yours?
We can do a genealogical research. Find out the exact history of your family!
Learn More
Surname Name Meaning, Origin, and Etymology
This Spanish/Catalan last name is of locational/habitational origin, given to a person who was from various places named Cabrera throughout the region. It derives from the Latin word capraria, meaning "place of goats" or "the place of wild animals". One source asserts the family was first found in Galicia on the Iberian Peninsula.
A one Ponzo Cabrera was the Viscount of Cabrera, Anger, and Girona in 1040 AD in Sicily, Italy. Three early christenings include: 1) Miguel Hortiz Cabrera who was baptized at Carinena, Spain in 1606, 2) Ana Cabrera was baptized at Ascunsion, Mexico in 1617 and 3) Anna de Cabrera was baptized at San Miguel, Mexico in 1716. Some early immigrants to the New World bearing this last name include Luis de Cabrera (American 1512), Alonso Cabrera (Santo Domingo 1536), Pedro de Cabrera (Florida 1538).
The House of Cabrera was a prominent Catalan dynasty that began with rule in the Viscounty of Girona. It originated in the Castle of Cabrera (Castell de Cabrera) at L'Esquirol (a village in the modern day city of Santa Maria de Coroco). The first recorded ruler was Gausfred (Berenger?) de Carera in 1002 AD. He was born around 980 AD and married a woman named Isabel. His son was Guerau I de Cabrera who married Ermessenda de Montsoriu, daughter of the Viscount of Girona Amat de Montsoriu. The dynasty appears to have last until the reign of Anna de Cabrera, who ruled from 1477 to 1526 AD. The family bore a coat of arms (or family crest), with the shield being the tincture (color) Or (yellow) bearing a black goat with a border embattled.
Spelling Variations
Common spelling variants or names with similar etymologies include Cabrara, Cabera, Cabrer, Caberas, and Cabrerizo. The name is also Portugese and Italian.
Popularity & Geographic Distribution
The Hispanic last name Cabrera ranks 524th in popularity in terms in the United Status as of the 2000 Census. The name ranks particularly high in the following seven states: California, Florida, New Jersey, Nevada, New York, Texas, and Arizona. The surname Cabrera frequency/commonness ranks 87th in Mexico, 59th in Spain, 37th in Argentina, 61st in Pero, 24th in Cuba, 44th in Eduador, 38th in the Dominican Republic, 50th in Guatemala, and 105th in Venezuela, and is also popular throughout the remainder of the Spanish speaking world.
Mottoes
I have not been able to identify the Cabrera family motto.
Grantees
We have 4 coats of arms for the Cabrera surname depicted here. These 4 blazons are from Armorial General published in 1861 by the famous genealogist/heraldist Johannes Baptisa Rietstap. The bottom of this page contains the blazons (in French and English), and in many instances contains some historical, geographical, and genealogical about where coat of arms was found and who bore it.
Notables
There are hundreds of notable people with the Cabrera surname. This page will mention a handful. Famous people with this last name include: 1) Alexander Alberto Cabrera Suzuki (1971) who is a Venezuelan baseball player who played for the Arizona Diamondbacks, 2) Jose Miguel Cabrera Torres (1983) who is a Venezuelan baseball player from the Detroit Tigers nicknamed "Miggy", 3) Blas Cabrera y Felipe (1878-1945) who was a Spanish physicist, 4) Miguel Mateo Maldonado y Cabrera (1695-1768) who was a painter from the Viceroyalty of New Spain (Mexico) who was recognized as the nation's greatest painter who created both religious and secular art from the Catholic Church and other wealthy patrons, 5) Manuel Jose Estrada Cabrera (1857-1924) who was the 13th President of Guatemala, 6) Ryan Frank Cabrera (1982) who is an American pop musician from Dallas, Texas, and 7) Pedro Garcia Cabrera (1905-1981) who was a Spanish writer and poet, considered one of the greatest of the Canary Islands.
Blazons & Genealogy Notes
1) Andalousie – D'argent à une chèvre de sable et une bordure composée de blocs de roche au naturel ladite chèvre rampante contre la bordure à dextre. English: Argent a goat sable and bordure composed of blocks of rock proper the aforesaid goat rampant against the bordure to the dexter.
2) de Cabrera – Vice-Rois de Catalogne et Sicile, Comtes de Cabrera. Originaire de Cabrera aux Guilleries – D'or à la chèvre effarouchée de sable à la bordure crénelée de sept créneaux du même. English: Or a frightened [a bit like rampant, raised on hind legs] goat sable a bordure crenelly of seven crenelles of the same.
3) Cabrera-Bovadilla Y Peñalosa – Andalousie – Écartelé en sautoir au 1 d'azur à une couronne royale d'or doublé de gueules au 2 de gueules à une tour sommée d'une tourelle d'or au 3 d'argent au lion de gueules au 4 d'or à un mont isolé de sinople chargé d'une chèvre rampante de sable. English: Quarterly per saltire 1st azure a royal crown or cap gules 2nd gules a tower surmounted by a turret or 3rd argent a lion gules 4th or a mountain isolated [not touching the edges] vert charged with a goat rampant sable.
4) Y Bovadilla – Andalousie – Parti au I écartelé en sautoir au 1 d'azur à une couronne royale d'or doublée de gueules au 2 de gueules à une tour sommée de trois tourelles d'or au 3 d'argent au lion de gueules au 4 d'or à une chèvre passante de sable et une bordure crénelée aussi d'or (Cabrera) au II écartelé de gueules à l'aigle d'argent et d'argent à la tour de sable embrasée de gueules les flammes sortant par les créneaux les flancs et la porte à la bordure componnée de gueules et d'argent chaque compon de gueules ch d'une tour sommée de trois tourelles d'or et chaque compon d'argent d'un lion de gueules couronné d'or (Bovadilla). English: Per pale 1st quarterly per saltire a: azure a royal crown or cap gules b: gules a tower triple-towered or c: argent a lion gules d: or a goat passant sable and a bordure crennellated also or (for Carbera) 2nd quarterly [1st and 4th] gules an eagle argent and [2nd and 3rd] argent a tower sable embraced by flames gules coming from the crenelles the sides and the door, the bordure compony gules and argent each compon [square of the compony] of gules charged with a tower triple towered or and each compon argent with a lion gules crowned or. [This train-wreck of a shield is illustrated almost correctly about midway down http://www.tzorafolk.com/genealogy/history/madrid-gibaja.htm]