Camus Family Crest, Coat of Arms and Name History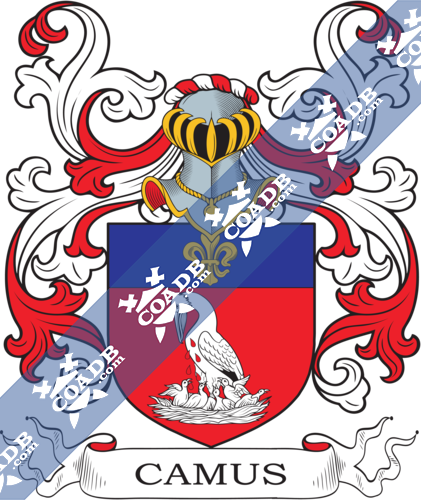 Camus Coat of Arms Gallery
Don't know which Coat of Arms is yours?
We can do a genealogical research. Find out the exact history of your family!
Learn More
Camus Origin:
England, France
Origins of Camus:
This attractive and unusual name has three possible origins. The first of these is of Norman (French) origin, introduced after the invasion of 1066, and is a surname formed from the Old Norman French nickname "cammus, camois", which means "the snub-nosed one", from the Old French "camus", which means short, smooth nose, pug-nose. The first record of the surname from this origin is that of Adam Le Camhus, in the 1256 Assize Rolls of Northumberland. The second possible origin of the name is also a Norman introduction, and is a metonymic professional surname for a shirt manufacturer, acquired from the Old Norman French "camise, kemise", Old French "chemise", which means shirt, used by men and women, and mentioning also priest's surplices and herald's robes. The first documentation from this origin is Bartholomew le Camisur (1282, Berkshire). Finally, the new surname, appeared as Cammis, Camis, Cammish, Camous, Camoys, Camus, Kemmis and Keemish, may be geographical from "Campeaux" in Calvados, Normandy. The recording below is from this origin. One Emot Cammish named in October 1612 at Filey in Yorkshire.
Variations:
More common variations are: Camuso, Camous, Cameus, Camusi, Camues, Cammus, Camuse, Camuse, Camuss, Caymus, Camaus
England:
The surname Camus first appeared in Provence where this distinguished family held a family seat from old times.
The very first recording spelling of the family was shown to be that of Stephen de Cameis, dated about 1200, in the "Northamptonshire Pipe Rolls." It was during the time of King John who was known to be the "Lackland," dated 1199 – 1216. The origin of surnames during this period became a necessity with the introduction of personal taxation. It came to be known as Poll Tax in England.
Ireland:
Many of the people with surname Camus had moved to Ireland during the 17th century.
United States of America:
Some of the people with the name Camus who arrived in the United States in the 18th century included Antoine Camus at the age of 41, settled in Louisiana in 1719. Antoine Camus, aged 41, landed in Louisiana in 1719.
Here is the population distribution of the last name Camus: France 17,230; Philippines 8,056; Chile 7,591; Peru 1,696; United States 1,051; Spain 998; Mexico 916; Argentina 866; Belgium 527; Morocco 470.
Notable People:
Aimée Antoinette Camus (1879–1965), was a French biologist and daughter of Edmond Gustave Camus.
Albert Camus (1913–1960), was a French writer, scholar, and journalist, often regarded simply as "Camus."
Armand-Gaston Camus (1740–1804), was a French Revolutionary leader.
Charles-Étienne-Louis Camus (1699–1768), was a French mathematician and mechanical engineer.
Chico Camus (born 1985), was a U.S. bantamweight mixed martial artist.
Edmond Gustave Camus (1852–1915), was a French pharmacologist and biologist. He was also the father of Aimée Antoinette Camus.
Elisabeth Camus (born ?), was a French cyclist.
Émile Le Camus (1839–1906), was a French Catholic priest, scholar, and scripture.
Étienne Le Camus (1632–1707), was a French cardinal.
Fabien Camus (born 1985), is a Tunisian football player.
François Joseph des Camus (1672–1732), was a French mechanic.
Giulio Camus (1847–1917), was a French biologist and entomologist.
Albert Camus often referred to as Camus, a French Nobel Prize–winning writer, commentator, and scholar.
Jean-Pierre Camus de Pontcarré (1584–1652), was a French priest and author.
Jules-Alexandre Duval Le Camus (1817–1878), was a French historical and scriptural artist, son of Pierre Duval Le Camus.
Louis-Camus Destouches (1668–1726), was a French ordnance officer.
Manuel Camus (1875–1949), was a Philippine advocate and leader.
Marcel Camus (1912–1982), was a French film director and Golden Palm winner.
Mario Camus (born 1935), was a Spanish composer and film director.
Matilde Camus (1919–2012), was a Spanish poet, writer, and researcher.
Nicolas Le Camus de Mézières (1721–1789), was a French builder and theoretician.
Philippe Camus (writer) (c. 15th-century), was a French author and biographer.
Pierre Duval Le Camus (1790–1854), was a French genre and portrait painter, father of Jules-Alexandre Duval Le Camus.
Blazons & Genealogy Notes
Gu. a pelican in her piety ar. on a chief az. a fleur-de-lis or.