Cannon Family Crest, Coat of Arms and Name History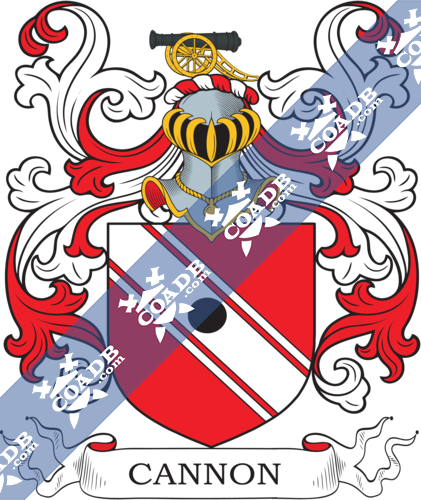 Cannon Coat of Arms Gallery
Don't know which Coat of Arms is yours?
We can do a genealogical research. Find out the exact history of your family!
Learn More
Cannon Origin:
England, Ireland
Origins of Name:
The surname of Cannon comes from an early medieval English origin, and surprisingly, has nothing to do with firearms. This surname of Cannon is believed to have been given as a nickname for someone who worked at a clergy house, or someone who gained the name from their dignified or clerical mannerisms, or by simply working for "The Canon" himself. Since the actual "Canon" was thought to have been celibate, thus this name cannot be patronymic, and can only be passed down through a nickname, occupational name, or the behaviors and mannerisms of someone else. This surname of Cannon originated from the word "canun" which comes from the Old French words of "canonie" and "canoine" the words were introduced following the Norman Conquest of the year 1066. This word merely absorbed the Old English Pre 7th Century form of "canonic," which at finally the words all have derived from the Old Greek "kanon" which is translated as meaning to "measure" to to "rule." In Latin "canon" can be translated to mean "rule" or to "discipline" meaning that the source of the Old English word is "canonicus."
Variations:
More common variations are:
Cannone, Cannion, Coannon, Cannoun, Cannony, Canon, Cuannon, Cannoni, Cannonn, Cannona, Caannon, Cannan
History:
England:
The first known recorded spelling of the Cannon surname was found to be in the country of England and in the year of 1177. This person, who was recorded as being named as one Reginald Canun, who was mentioned and appeared in the document referred to as the Cambridgeshire Pipe Rolls. This document was ordered, decreed, and written under the reign of one King Henry II, who was known as and commonly referred to as "The Builder of Churches." King Henry II, King of England, ruled from the year 1154 to the year 1189. Other mentions of the surname of Cannon appear in early church documents. One person by the name of John Cannon was christened at St. Giles, in Cripplegate, London, in the year 1569. Those who bear this surname and live in the country of England can be found in the counties of , Essex, Herefordshire, Yorkshire and Lancashire and the city of London.
Ireland:
In some cases, this surname of Cannon may have been Anglicized from the Irish Old Gaelic "O'Canain." This surname derived from the Gaelic "cana" which can be translated as meaning "wolf cub." This surname in Ireland could also have originated from the surname "MacCanannain" where "cana" again can be translated to mean "wolf cub." In Ireland the family line of Cannon is mainly centered in Tirconnell.
Scotland:
Those who bear the surname of Cannon can also be found throughout the country of Scotland. Those who carry this surname can be found in large populations and high concentrations in the counties of Midlothian, Kirkcudbrightshire, Renfrewshire and Lanarkshire.
United States:
The 1600's brought settlers to the United States of America during the European Migration. The first of these settlers to bear the surname of Cannon were Edward Cannon and Ann Cannon. They both arrived in the state of Virginia and settled there in the year 1646. Those who bear this surname can be found in the states South Carolina, Georgia, Tennessee, Illinois, New York, Texas, and Pennsylvania in a higher concentration.
Cannon Today:
United States 80,413
England 10,287
Australia 3,758
Canada 2,515
South Africa 2,393
Ireland 1,540
Scotland 1,313
Germany 1,009
Philippines 580
Wales 564
Notable People:
Mrs. P Von Cannon, who was a Delegate to the Republican National Convention from Idaho in the year 1924 and the year 1936, and who was a Republican politician from America
General John Kenneth Cannon (1892-1955) who was a Commanding General of the Tactical Air Command from Langley, AFB, Virginia from the year 1951 to the year 1954, and was from America
Major-General Peter Leo Cannon (1897-1962) who was an Adjutant General of Rhode Island from the year 1941 to the year 1945, and was from America
Lieutenant-General Robert Milchrist Cannon (1901-1976) who was a Deputy Commander in Chief of the US Army Pacific from the year 1959 to the year 1961, and was from America
Dyan Cannon (born in 1937) who was a film and TV actress, director, screenwriter, editor and producer, and was from America
Sarah Opehlia Colley Cannon (1912-1996) who was born with the name Minnie Pearl, and appeared at the Grand Ole Opry for more than fifty years as a country comedienne, from the year 1940 to the year 1991, and was from America
Blazons & Genealogy Notes
1) (co. Pembroke; granted February 1614). Gu. on a bend ar. double cottised or, a pellet. Crest—A cannon sa. mounted on a carriage or.
2) (Scotland). Gu. a two-handed sword in bend sinister, betw. three mullets ar. Crest—Out of a crescent ar. a buckle az.