Cardew Family Crest, Coat of Arms and Name History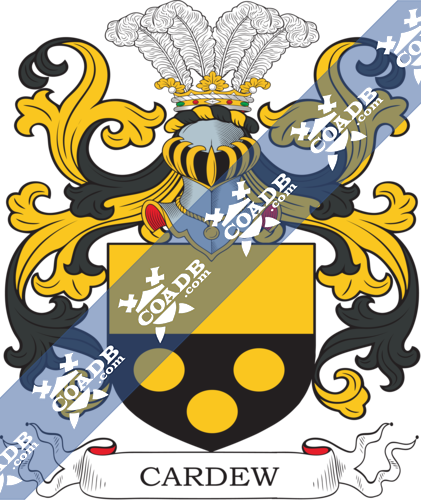 Cardew Coat of Arms Gallery
Don't know which Coat of Arms is yours?
We can do a genealogical research. Find out the exact history of your family!
Learn More
Cardew Origin:
England, France
Origins of Cardew:
Listed in many forms such as Cardew, Carthew, Cardy, and sometimes Cardow, Cardo and Cardoe, this is a complicated English surname. It is usually thought to be locational in origin from the hamlets called Cardew in the churches of Trevalga and Warbstow in Cornwall, although there is also a place called Cardew in Northumberland, which may have given rise to the surname. All these places have the similar meaning of the "Dark fort," from the pre 7th Celtic words "ker" which means a fort, and "Du," which means a dark place. It is also possible that the name is geographical from the Olde French words "carde" or the earlier Latin "carduus." These explained a special thistle used in the carding or exciting of wool, to clean it before the spinning process, and hence they explained a person who resided by or worked on these thistle beds. Finally, it is also possible that the name may have been an old nickname for somebody who was a sharp character, or given the robust humor of the Middle Ages, the complete reverse. Early examples of the surname records derived from the early remaining parish records of the parish of Greater London contain as Robert Cardo at St Mary's Bermondsey, in April 1559, and Robert Cardew, who married Ann Harte at St James Clerkenwell, in August 1602.
Variations:
More common variations are: Cardow, Cordew, Gardew, Crodew, Garedew, Creedew.
England:
The surname Cardew first appeared in Cumberland, where they held a family seat from old times.
Ireland:
Many of the people with surname Cardew had moved to Ireland during the 17th century.
United States of America:
Individuals with the surname Cardew landed in the United States in 18th century. Some of the people with the name Cardew who arrived in the United States in the 18th century included David Cardew, who came to Philadelphia in 1769.
Here is the population distribution of the last name Cardew: England 446; United States 188; Australia 89; Wales 56; Canada 30; Spain 8; Germany 3; France 3; Sweden 2; Scotland 2.
Notable People:
Cornelius Cardew (May 1936 –December 1981) was an English experimental music writer, and author (with Howard Skempton and Michael Parsons) of the Scratch Orchestra, an experimental performing group. He later rejected experimental music, explaining why he had "discontinued composing in an avant-garde idiom" in his program notes to his Piano Album 1973 in support of a politically motivated "people's liberation music."
Michael Cardew, CBE (1901–1983), was an English studio potter who worked in West Africa for twenty years.
Seth Cardew (1932 February 2016) was an English studio potter. He was the eldest son of fellow potter Michael Cardew and the brother of the composer Cornelius Cardew. He was born in Winchcombe, Gloucestershire. He started his education as a chorister at Canterbury Cathedral Choir School and Midhurst Grammar School, he then studied painting at Chelsea School of Art London and modeling at Camberwell School of Art. He then worked as a model maker at Pinewood, Elstree, and Sheperton Studios from 1960 to 1970, including work on the 1962 film Satan Never Sleeps and Cleopatra in 1963.
Blazons & Genealogy Notes
Per fesse or and sa. in base three bezants. Crest—Out of a ducal coronet a plume of four feathers.