Castle Family Crest, Coat of Arms and Name History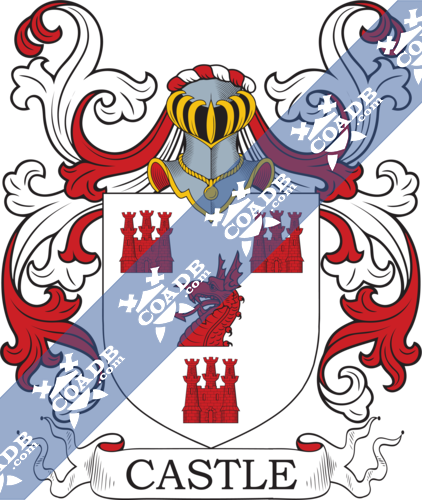 Castle Coat of Arms Gallery
Don't know which Coat of Arms is yours?
We can do a genealogical research. Find out the exact history of your family!
Learn More
Surname Name Meaning, Origin, and Etymology
This is last name is an Anglo-Norman-French topographic name meaning "at the castle" and was given to a person who resided in or near, or worked at, a castle as a keeper or server.  A castle is a fortified structure that was common in Europe and the Middle East during the Middle Ages and were constructed by European nobles and lords during the existence of feudalism. It derives from the Latin word castellum, and the Middle Englis and Old French h word was castel. The most prominent charge in the blazons or Castle "family crest" is obviously the castle. The family first rose to prominence in Sussex, England. In some cases, the name is an Anglicized form of the German surname Kassell and its spelling variations.
Spelling Variations

Common spelling variants or names with similar etymologies include Castell, Cassell, Hardcastle, Castlelock, Castleman, Castlegate, Chastel, and Castello.
Popularity & Geographic Distribution
The last name ranks Castle ranks 1,661st in popularity in terms in the United Status as of the 2000 Census, and. The name ranks particularly high in the following five states:  Kentucky, Ohio, West Virginia, Michigan, and Alaska. The name is more common in England where it ranks 890th. It ranks highest in the three following counties: Oxfordshire, Kent, and Hertfordshire. The name is common throughout the English speaking world:  Scotland (1,747th), Wales (805th), Ireland (3,314th), Canada (3,305th), New Zealand (972nd), Australia (866th), and South Africa (2,043rd).
Early Bearers of the Surname
The first known bearer of this last name was Richard Castel who was listed in the Records of Bec Abbey around the year 1150 AD. The Hundred Rolls of 1273 AD, a census of Wales and England, known in Latin as Rotuli Hundredorum, documents two people bearing this surname: Alan de Castell in London and Andrew de Castello in county Norfolk. The Poll Tax of Yorkshire in 1379 AD lists two people bearing this surname:  Thomas de Castel and Magota del Castell.Ranulp del Chastel C.R during the reign of King Edward I of England (1272-1307). The History of Northumberland by Reverend John Hodgson lists one Robert del Chastell in county Northumberland in 1340 AD. William atte Castle in county Somerset was recorded in Kirby's Quest as living during the reign of Edward III (1327-1377). Roger atte Castell was recorded in the Household Book of Queen Isabelle in 1358 AD. Early marriages involving this last name include Richard Castle to Elizabeth Newton at St. Michael Cornhill in London in 1652 AD and Frances Castell to Joseph Clarke at St. George's Hanover Square in London in 1795. An early baptism involving this surname was Katherine Castle in 1548 at St. Peter Cornhill in London.
History, Genealogy, and Ancestry
Henry Castle was born in 1613 in England and had two children: William and Mary. He passed away in Woodbury, Connecticut. His son William was born in 1669 in Connecticut and had a son named Jabez. Jabez was born in 1718 and he married Mary Ann William. They had the following issue together: Selah, William, Susanna, Mary, John, Tabiatha, and Triel. His son Selah married Abigail Jenkins and had many issue with her: Jabish, Zylpha, Abigail, Selah Jr, Philo Benson, Israel H., Wealthy, Benjamin, and Mary. His son Jabish Castle was born in Homer, NY. He married Polly Allen Cadwell and had issue with her: Betsy, Almira, Polly, Emaline, Electa, Horatio C., Mahala, Eleanor, Henry Harrison, Richard Montgomery, Dorie Ciname, Alexander Hamilton, and Phineas Cadwell. His son Horatio was born in 1812 and married three times: Emeline R. Harris, Mariah B. Barnum, and Elizabeth Tuttle. He had two children: Orin B. and Charles Haydon. His son Charles Castle was born in 1864 in Wellington, Ohio and married Hattie Elizabeth Louisa Welch in Huron County. He had children with her including Mammie Elizabeth, Ralph Vernon, Clarence Melvin, Charlie Cligton, and Doris Marjorie.
Yelles Kasel was born in 1590 in France. He married a woman named Mary and had issue with her, including a son named Johannes. Johannes Kassell was born in 1639 in North Rhine-Westphalia, Germany and also spelled the last name Castle. He married Mary op den Graeff and had issue with her, including Peter Cassel or Castle. Peter was born in 1673 in Germany. He married Catherine Elizabeth Hobart and prior to his 1748 death in Virginia, he had a son named Jacob Castle Sr. Jacon was born in 1717 in Lancaster, PA. He married Sowege Waupaathee Shawnee and had numerous children with her: Rachel (Vance), Cawakawachi, Elijah, Catherine (Fulk), Benjamin, Jacob Jr., Littleton, and Joseph. His son Joseph was born in 1755 in Castles Woods, VA. He had a son also named Joseph who was born in 1775. This Joseph married Eunice Unis Powers and had a daughter with her named Hannah, born in 1837, who married Jesse Willard Salyer in 1861.
Richard Castle or Castell was born in 1534 in Stratford-upon-Avon and married Elizabeth Smith in 1559 with whom he had a son also named Richard. His Richard was born in 1577 in the same town and married a woman named Alice, with whom he had a daughter named Mary, born in 1624 who married Richard Gale in 1640.
Early American and New World Settlers
Early colonial settlers in American who bore the surname Castle include Gregory (Maine 1624), Henry (Connecticut 1635), George (Virginia 1637), Dorothy (Virginia 1639), Johannes (Pennsylvania 1727), Christian (Pennsylvania 1738), and Mary (Maryland 1740). Early bearers in Canada include Anthony and Edward Castle (Nova Scotia 1749) and Baker Castle (Ottawa 1817).
There is a locale in Virginia named Castlewood, which was named after the person who the land once belonged to: Jacob Castle, who was a frontiersmen similar to Daniel Boone. He purchased the land from the Shawnee Indians and married a native American woman named Gliding Swan.
Mottoes
The Castle family motto is Haec manus ob patriam, meaning "This hand for my country".
Grantees
We have five coats of arms for the Rodgers surname depicted here. These five blazons are from Bernard Burke's book The General Armory of England, Ireland, and Scotland, which was published in 1848. The bottom of this page contains the blazons, and in many instances contains some historical, geographical, and genealogical about where coat of arms was found and who bore it.
Notables

Famous people with this last name include: 1) Guy W.S. Castle (1879-1919) who was an officer in the United States navy and recipient of the Medal of Honor, 2) Michael Newbold Castle (1939) who was a Governor of and congressmen from Delaware, 3) William Ernest Castle (1867-1962) who was an early American geneticist, and 4) Jo Ann Castle (1939) who was a pianist known for her appearances on the Lawrence Welk Show.
Blazons & Genealogy Notes
1) (London). Az. on a bend ar. three castles sa. Crest—A dexter arm couped and embowed fesseways ppr. vested gu. cuffed or, holding a pennon of the second charged with a bee volant of the third, staff of the first.
2) (Cleve Court, co. Somerset, formerly Hatherleigh, co. Devon). Arms and Crest same as the preceding. Motto—Haec manus ob patriam.
3) (Nicholas Castle, of Raveningham, Sheriff of Norfolk, 1433). Ar. three castles triple-towered gu. a dragon's head couped at the neck gu.
4) Ar. a tower triple-towered sa.
5) Ar. two chevronels betw. three castles gu.