Catley Family Crest, Coat of Arms and Name History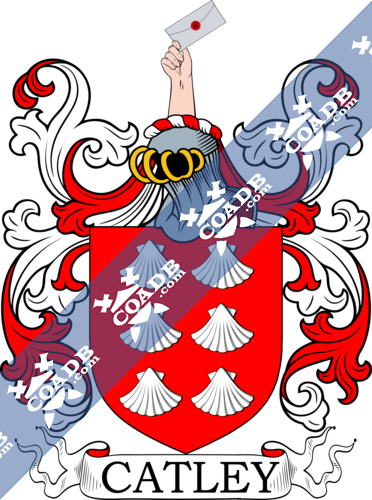 Catley Coat of Arms Gallery
Don't know which Coat of Arms is yours?
We can do a genealogical research. Find out the exact history of your family!
Learn More
Catley Origin:
England
Origins of Catley:
This interesting and unusual surname is of Anglo-Saxon origin and is a geographical name from a place thus called east of Hereford in Herefordshire, or from Catley in Lincolnshire. The earlier place was noted as "Catesley" in the 1242 Feet of Fines for Herefordshire, and as "Cattelegh" in the 1251 Charter Rolls, whereas the latter showed as "Catteleia" and "Kattele" in the Pipe Rolls of Lincolnshire, dated 1197 and 1230 respectively. Both places are so called from the Middle English "catte," from the Olde English pre 7th Century "catt," which means cat, with the Old English "leah," a meadow or clearing. So, either a clearing haunted wild cats, or "Cat's clearing," from the use of "Catt" as a byname. Geographical surnames advanced when the old residents of a place shifted to another area, frequently to search for work, and were best recognized by the name of their birthplace. In November 1562, Annys Catley and William Fulgam married in Westborough cum Doddington, Lincolnshire, and in January 1577 Elizabeth Catley married a William Unet in Bosbury, Herefordshire. Ann Catley (1745-1789), was a vocalist of fame and a greatly famous performer at Dublin, 1763-1770, and in London, 1770-1784.
Variations:
More common variations are: Cattley, Coatley, Cautley, Caitley, Cateley, Catleya, Cawtley, Catly, Catle, Cattleya.
England:
The surname Catley first appeared in Bedfordshire (Old English: Bedanfordscir), was found in Southeast-central England, an earlier part of the Anglo-Saxon kingdom of Mercia, where they held a family seat from very ancient times. Some say well before the Norman Invasion and the arrival of Duke William at Hastings in 1066 AD.
The very first recording spelling of the family was shown to be that of John Catley, dated about the year 1540, in the "Castle Donnington, Leicestershire." It was during the time of King Henry V111, who was known to be the "Bluff King Hal" dated 1509-1547. The origin of surnames during this period became a necessity with the introduction of personal taxation. It came to be known as Poll Tax in England.
Ireland:
Many of the people with surname Catley had moved to Ireland during the 17th century.
Canada:
People with the surname Catley who settled in Canada in the 18th century included Jos Catley, who came to Canada in 1817.
Australia:
Some of the individuals with the surname Catley who landed in Australia in the 19th century included Clark Catley arrived in Adelaide, Australia aboard the ship "Ganges" in the same year 1839. Catherine Catley, Hannah Catley and Sophia Catley, also arrived in Adelaide, Australia aboard the ship "Ganges" in 1839. Joseph Catley at the age of 38, arrived in South Australia in 1852 aboard the ship "Eparninondas."
New-Zealand:
Some of the individuals with the surname Catley who landed in New-Zealand in the 19th century included Sarah Catley, Zachariah Catley, Clara Catley, aged 4, and John Catley, all arrived in Wellington, New Zealand aboard the ship "Bolton" in 1840.
Here is the population distribution of the last name Catley: England 834; New Zealand 282; Australia 251; United States 226; Canada 98; Wales 79; Scotland 33; France 2; India 1; Nigeria 1.
Notable People:
Ann Catley (1745–1789), was an English singer and actress.
Bob Catley (born 1947), is an English singer and composer.
Bob Catley (politician) (born 1942), is an Australian Labor leader.
Christine Cole Catley (1922– 2011), was a New Zealand scholar, journalist, and writer.
Glenn Catley (born 1972), is a British retired professional fighter.
Gwen Catley (1906–1996), English coloratura soprano
Has Catley (1915–1975), was a New Zealand rugby union player.
Matthew Catley (born 1975), is an English cricket player.
Russell Catley (born 1973), is an English cricket player.
Steph Catley (born 1994), is an Australian football player.
Timothy Catley (born 1977), is an English cricket player.
Blazons & Genealogy Notes
Gu. six escallops ar. Crest—A hand erect holding a sealed letter ppr.