Charleton Family Crest, Coat of Arms and Name History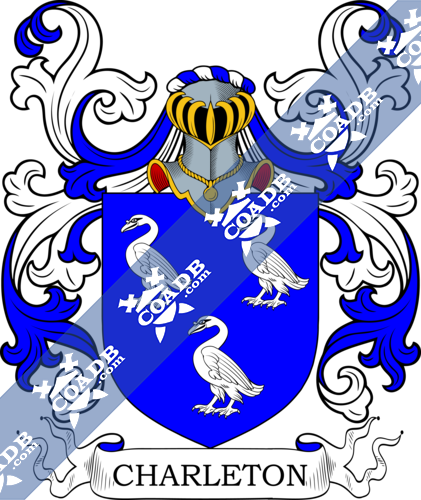 Charleton Coat of Arms Gallery
Don't know which Coat of Arms is yours?
We can do a genealogical research. Find out the exact history of your family!
Learn More
Charleton Origin:
Wales
Origins of Charleton:
From the old Celtic culture that lived-in Wales came the surname Charleton. The first holders of this name picked it when they lived in any of such places as Carlton in Bedfordshire, Cambridge, Durham, Lincolnshire, Leicestershire, Nottinghamshire, Northumberland, Suffolk, or the East Riding of Yorkshire, or in one of the places called Carleton in Cumberland Lancashire, Norfolk, or the West Riding of Yorkshire. One of the reasons for the many entries of the place name is that the name means "farmstead or land of the freemen."
Variations:
More common variations are: Chearleton, Charletton, Charlton, Charelton, Charalton, Charliton, Sharleton, Charloton, Charltoin, Charilton.
England:
The surname Charleton first appeared in Herefordshire, but one family appeared at Whitton in Shropshire in early times. "Here is a farmhouse formerly a seat of the Charltons, where James II. visited: a chamber in it contains some superior tapestry of that period."
Ireland:
Many of the people with surname Charleton had moved to Ireland during the 17th century.
Canada:
People with the surname Charleton settled in Canada in the 19th century. Some of the people with the surname Charleton who came to Canada in the 19th century included Bridget Charleton at the age of 4, arrived in Saint John, New Brunswick aboard the ship "Edward Reid" in 1833. Thomas Charleton at the age of 1, arrived in Saint John, New Brunswick aboard the ship "Edward Reid" in 1833.
Australia:
Some of the individuals with the surname Charleton who landed in Australia in the 19th century included Robert Charleton arrived in Adelaide, Australia aboard the ship "Santipore" in 1850.
Here is the population distribution of the last name Charleton: United States 274; England 237; Ireland 60; New Zealand 54; Canada 53; France 49; Australia 33; Scotland 26; Northern Ireland 3; Brazil 3.
Notable People:
Walter Charleton (February 1619 –April 1707) was a natural philosopher and English author. According to Jon Parkin, he was "the main conduit for the transmission of Epicurean ideas to England". He was the son of the rector of Shepton Mallett in Somerset, where he was born February 1619. He got his early education from his father, and when sixteen entered Magdalen Hall, Oxford, under the tuition of John Wilkins. At the very young age of 22 (1641), he got the degree of M.D. and in the same year was selected as physician to Charles I, who was then at Oxford. In 1650, Charleton settled in London, and in April admitted a candidate of the College of Physicians. A royalist, he was selected as physician to the exiled King Charles II but remained in London writing, in Russell Street, Covent Garden.
Robert Charleton (1809–1872) was a Quaker, Recorded Minister and an important citizen of Bristol, England. He was a patron and ran a pin-making factory which was recorded for its good employment practices. He was an advocate of total avoidance and peaceful relations between nations. He was the son of James and Elizabeth Charleton of Bristol. James died at Ashley Hill, Bristol, in 1847. After a business training under H. F. Cotterell, a land surveyor at Bath, became the proprietor of a pin manufactory at Kingswood, near Bristol, in 1833, and continued that business until his retirement in 1852. He married, in Dec 1849, Catherine Brewster, the eldest daughter of Thomas Fox of Ipswich. He died at his residence, Ashley Down, near Bristol, in Dec 1872.
Brent Charleton (born April 1982) is a Canadian-New Zealand, professional basketball player. He played for the New Zealand Breakers in the Australian National Basketball League. He joined Carson Graham Secondary and then Simon Fraser University where he passed the school's all-time scoring record set by Jay Triano. (Triano set the record over four seasons while Charleton's mark set over five.)
Blazons & Genealogy Notes
1) (Guissons, co. Sussex). Erm. on a bend sa. three pheons ar. Crest—An arm embowed habited couped at the elbow gu. cuffed erm. holding in the hand ppr. a broad arrow.
2) Az. three swans ar.
3) Ar. a chev. engr. betw. three griffins' heads erased sa.
4) Az. a chev. or, betw. three swans ar.
5) (Hesleyside, co. Northumberland; descended from Adam de Charleton, lord of the manor of Charlton, in Tyndale, co Northumberland, a.d. 1303; Sir Edward Charleton, of Hesleyside, great-great-grandson of Edward Charleton, of Charleton Tower, in Tyndale, and of Helseyside, near Bellingham, was created a baronet in 1645). Or, a lion ramp. gu.