Chauncy Family Crest, Coat of Arms and Name History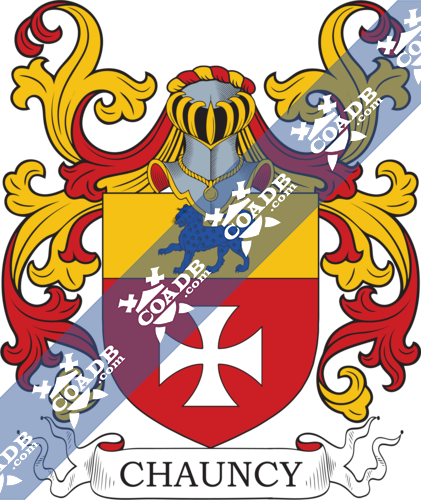 Chauncy Coat of Arms Gallery
Don't know which Coat of Arms is yours?
We can do a genealogical research. Find out the exact history of your family!
Learn More
Surname, meaning, origin and etymology
In the aftermath of the Norman conquest in 1066, the "Chauncy" family marked their arrival for the first time on the shores of England. The family settled in Essex. The name itself is a toponymic surname and derives its usage from the fact that prior to settling in Essex in England, the "Chauncy" family used to reside in Chauncy, Normandy. Alternatively, according to "A Dictionary of English and Welsh Surnames" and "Patronymica Brittanica", the etymology of the surname relates to a locality known as "De Chauncy" which is believed to have been an estate near Amiens. The early mentions of "Chauncy" family allude to their invaluable assistance in the Battle of Hastings in 1066 A.D consequently leading to lands being bestowed by Duke William of Normandy. The "Chauncy" family held a family seat in Essex for a protracted period of time. Like other names of Anglo-Norman origin, the name "Chauncy" too, is associated with several spelling variations of itself. The spelling variations stemmed from the lack of any standardized rules which dictated the spelling and pronunciation rules as far as surnames were concerned. The amalgamation of the ever evolving and dynamic milieu led to names being spelled on the basis of their pronunciation rather than a described set of spelling rules. In historical documents, the "Chauncy" surname is recorded in a myriad number of spelling variations. Some of those spelling variations include Chance, Chancey, Chaunceur, Channsy, Channsey, Chauncey, Chancy among numerous others.
Early Bearers of the surname
Some of the names and personalities who stand out among pre 1700 individuals who shared the surname "Chauncy" include Sir Phillip de Chauncy and Charles Chauncy. Both of these individuals were English-born clergy man (American) and educators hailing from Yardleburry (Ardeley).
Early American and New World Settlers
The "Chauncy" families migrated to the United states in the 19th century in great numbers. Some of the names of the early settlers associated with the surname " Chauncy" include; E. Chauncy who chose San Francisco to settle in America in 1850. C. Chauncy arrived on the shores of America and proceeded to settle in San Francisco, California in 1850 E W Chauncy who landed in San Francisco, California in 1851. J and J M Chauncy, both of whom settled in San Francisco in 1851.
Blazons & Genealogy Notes
1) (William de Chauncy, Baron of Shiopenbeke, temp. Richard II.). Gu. a cross pattee ar. on a chief or, a leopard pass. az.
2) (Northamptonshire). Or, three chev. engr. gu.
3) Az. three wolves pass, in pale betw. two flaunches or, each charged with an anchor sa.
4) Ar. a chev. gu. within a bordure sa. bezantee.
5) Or, two chev. gu. within a bordure sa. bezantee.
6) (Green End, Little Munden, co. Hertford). Gu. a cross patonce ar. on a chief or, a lion pass. az. quartering Chancy, ancient. Crest—Out of a ducal coronet or, a griffin's head gu. charged with a pale vert betw. two wings of the same, the inside gu.
7) Gu. a cross patonce ar. on a chief or, a lion pass. guard. az. Crest—A dexter hand striking with a dagger all ppr.