Chester Family Crest, Coat of Arms and Name History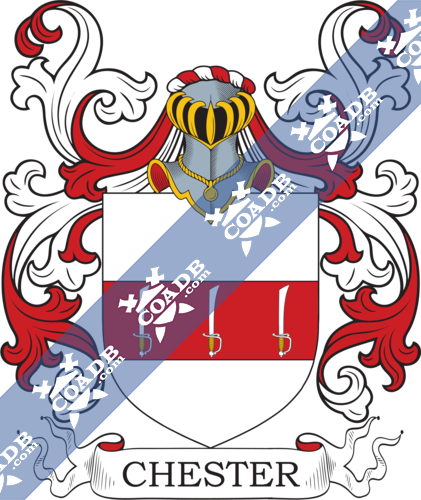 Chester Coat of Arms Gallery
Don't know which Coat of Arms is yours?
We can do a genealogical research. Find out the exact history of your family!
Learn More
Surname Name Meaning, Origin, and Etymology
This surname is a locational name meaning "of Chester", the capital town of Cheshire county in England. The city became a formal city in 1541, but was founded as a castrum, the Latin word for a Roman fort, with the name Deva Victrix, in 79 AD during the reign of Emperor Vespasian. It derives from the Saxon word ceaster (fort, camp, or castle). Chester serves as the termination of many English towns (ex. Colchester, Doncaster, Lancaster, etc.) for this reason. There are also locales named Chester in Durham, Northumberland, and Derby. Another author states it was from Little Chester, in Derby county, and the Chesters of Coekenhateh assumed the name.
Spelling Variations
Common spelling variations of this last name include: Chesters, Cheaster, Chesere, Chister, and Chestare. It Romance (Spanish, Portuguese, Italian) equivalent is Castro.
Early Bearers of the Surname
The earliest known person with this last name was Richard de Cestre, who was recorded in the Pipe Rolls of Lincolnshire in 1200 AD. The Hundred Rolls of 1273 AD, a census of Wales and England, known in Latin as Rotuli Hundredorum, documents two people bearing this surname: Petrus de Cestr in county York and William de Cestre in county Besford. A Symon de Chestrie was documented in the Placita de Quo Warranto during the reign of King Edward I of England. A William de Chestere was recorded in county Somerset during the reign of Edward III in Kirby's Quest. The Poll Tax of Yorkshire of 1379 AD records Elisabet de Chester and Christiana de Chester. Early marriages involving this surname include Anne Chester to John Gardener in London in 1561.
History, Genealogy, and Ancestry
Bernard Burke's book "The Landed Gentry" discusses two branches of this family. The first is Chester of Chicheley Hall. It starts with a discussion of Charles Montagu Chester, Esq. of Chicheley Hall in county Bucks, who was a Lieutenant Colonel in the army, Captain of the 90th Regiment, and a Major Royal Sussex Artillery. He was born in 1815 and succeeded his cousin in 1858. In 1843, he married Maria, the daughter of Major Sandham of Rowdell, Sussex and with her left children: Charles Anthony, Henry, Algernon Stewart McKenzie, Fanny Maria, Mary Isabella, Margaret Isabel, George Paget, John Greville, Louisa Grace, and Catherine. Burke traces the lineage to Charles Bagot, the second son of Sir Walter Wagstaffe Bagot who was born in 1730. He assumed the surname and arms of Chester, per the will of his first cousin: Sir Charles Bagot Chester. In 1765, he married Catherine, the daughter of Heneage Legg, Baron of the Exchequer, prior to dying in 1792, left several issue including: Charles, Anthony, William, John, George, Barbara, Frances, Mary, and Harriet. The eldest son Charles was his heir. Charles died in 1838 and was succeeded by his nephew, Reverend Anthony Chester who was born in 1800. In 1834, Anthony married Henrietta, daughter of William Brown of Lisbon. Together they had one daughter: Henrietta Mary. Anthony died in 1858 and was succeeded by his cousin, Charles Montagu, previously discussed.
The second branch discussed is Chester of Poyle Park. Frederick James Chester, Esq. of Poyle Park, was Lord of the Manors and was born in Surrey in 1813. In 1847, he married his cousin Charlotte Ellen, the daughter of Charles Chester. Together they had the following children: Frederick Charles (1850), Henry Morris (1852), Ellen Charlotte (1869), Alice Woodroffe, and Frances Walter. Burke traces the lineage of this family branch back to a very remote period when the Chesters possessed large lands in Derbyshire and represented the town of Derby in Parliament during the reigns of King Edward II and III of England. Burke states "During the wars of York and Lancaster, they were severe sufferers, and the representative of the family at last alienated his estates to aid the enterprise of the Earl of Richmond, who, when Henry VII., appointed him one of the Gentlemen of the Privy Chamber, at that time an office of great trust and honour". The only son of this strong Lancastrian was Sir Ronert Chester. He was the Gentlemen of the Privy Chamber to King Henry VIII of England, and from him, received lands and manors in Hertford and Cambridge counties. The family became entrenched at Royston and Cochkenhatch. He was knighted in 1552 by King Edward VI and he married Katherine Trockmorton, and with her had children, including his son and successor Edward Chester. Edward married Katherine Granado (who descened from the family of the Duchy of Brabant) and with her a daughter named Mary and a son named Robert. Robert served as High Sheriff in Hereforshire. He enterrained King James I of Scotland, and he was knighted at Whitehall in 1603. He married Anne, the daughter of Sir Arthur Capel,  and had a son named Robert. Robert was Rector of Stevenage, who died in 1664, but with his wife Ann, left issue: Robert, Haseldine, Edward, Mary, and Elizabeth. Haseldine, Esq. of Westham, Essex, married Jane Hawkins. Together they had issue: Robert, Henry, Edward, Haseldine, Jane, Elizabeth, Ann, Theodosia, Mary, and Martha. He died and was succeeded by his son Robert. Robert, born 1675, was of Briggin's Park and Hunsdone, and he stocked both places with deer and greatly improved the area, and he also built the Mansion House. He died in 1735 and was succeeded by his brother Henry. Henry married Mary (surname unknown) and left issue with her: Henry, Robert, Maximilian, Thomas, Jane, Mary, and Theodosia. He was succeeded by his son and heir, Henry Chester, Esq. who was born in Briggins in 1738. Henry married Hetty de Billinghurst and left issue with her: Henry, Mary, and Ann.  He was succeeded by his son Henry, who in turn was succeeded by his son Henry, born in 1762. Henry married Ann Higham and had numerous issue with her: Henry, William Robert, Samuel, Charles, Edward, Mary Ann, Hetty, Sophia, and Harriot. He was succeed by his son Henry, born in 1783. In 1810, Henry married Charlotte Morris, daughter of James, at St. Martin's in Westminster. They left two issue: Henry and Frederick James. Henry, born in 1811, was his heir. Henry married Julia Ann, the daughter of Edward Browne. Henry died in Switzerland and was succeeded by his brother, Frederick James, previously discussed.
Regarding the second branch, when the family left Derbyshire, one branch settled in London, and another went to Bristol, but both went extinct. A family of Chester, deriving from a common ancestor with the Hertfordshire House was seated Chicheley, in county Buckingham, but expired in the male line in 1755, with the estates passing by a female heir to the family of Bagot.
The Chesters of Almondsbury flourished in the 17th and 18th centuries, but this gentle family became rare or extinct.
Samuel Chester was born in 1670 in Boston. He had two children: John and Jonathan, before he died in 1708 in Groton, Connecicut. His son John was born in 1692 in New London. He married Mary Starr in 1716 and with her had issue: Simeon, Benajah, James, and Simeon Sr. He died in 1774.
Early American and New World Settlers
The book "Genealogical Guide to the Early Settlers" mentions two bearers of this last name. The first is Leonard Chester, of Waterton, Massachusetts, the son of John and Dorothy Hooker. He had the following issue: John (1635), Dorcas (1637), Prudence (1643), and Eunice (1645). He died in 1448 at the age of 38. The second person mentioned if Samuel Chester of New London, Connecticut, who was a surveyor and mariner. With his first wife Mary, he had the following children: John, Susanna, Samuel, and Mercy. With his second wife Hannah, he had Hannah (1695) and Jonathan (1697). His will also mentions a son named Abraham. A one Pearhouse Chester came to Virginia aboard the Rebecca in July of 1679. Others include Simon Chester (1798 Ohio) and Robert Chester (1852 Pennsylvania).
A Thomas Chester was buried on June 30, 1678 in the Parish of Christ Church in Barbados. A one Henry Chester, son of William, was baptized on December 8, 1678 in the Parish of St. James in Barbados.
Mottoes
The family motto of Chester of Royston is vincit qui patitur, meaning "he conquers who endures". The motto of the city of Chester is antiqui coolant antiquum dierum, which means "let me of the ancient virtues worship the Ancient of Days".
Notables
Famous people with this last name include: 1) Bob Chester (1908-1977) who was an American bandleader and jazz musician, 2) Frank Chester (1901-1966) a Canadian political from Manitoba who served on the Winnipeg City Council, and 3) Joseph Lemuel Chester (1821-1822 who was an American genealogist born in Norwich, CT.
Blazons & Genealogy Notes
1) (Royston, co. Cambridge, and Cockenhatch, co. Herts, originally, at a very remote period, settled in Derbyshire; Sir Robert Chester, one of the gentlemen of the Privy Chamber to Henry VIII. obtained a grant of the Monastery of Royston from that monarch). (Bush Hall, co. Hertford; a branch of the Chesters of Cockenhatch, of which was Sir Robert Chester, Knt., Master of the Ceremonies to the Queen). Erm. on a chief sa. a griffin pass. ar. Crest—A demi griffin ramp. erm. beak, talons, and eyes ppr. Motto—Vincit qui patitur.
2) (Blabie, co. Leicester, descended from an uncle of the first Sir Robert Chester, of Royston. Visit. Leicester, 1619) Same Arms. Crest—A dragon pass. ar.
3) (Sir William Chester, Lord Mayor of London, 1560. Visit. London). (Chicheley, Bucks, bart., created 1619; extinct 1769; descended from Sir William Chester, Lord Mayor of London, 1560). Per pale ar. and sa. a chev. engr. betw. three rams' heads erased, horned or. all counterchanged within a bordure engr. ga. bezantee. Crest—A ram's head couped ar. armed or.
4) (Chicheley, Bucks; exemplified to Charles Bagot, Esq., on his taking the name and arms of Chester in compliance of the will of his first cousin, Sir Charles Bagot Chester, Bart.). Same Arms, quartering Bagot.
5) Gu. a chev. ar. betw. three buckles lozengy or.
6) (Earls Palatine; Hugh Lupus): Az. a wolf's head erased ar.
7) (Richard, his son): Gu. a wolf's head erased ar. within an orle of cross crosslets or.
8) (Gernons): Or, a lion ramp. gu.
9) (Meschines): Az. six garbs or, three, two, and one (another, az. three garbs or).
10) (Lee, co. Essex; granted Feb., 1639). Ar. on a fesse gu. three cutlasses erect of the first, hilts or.
11) (Upley, co. Essex). Or, on a fesse gu. three cutlasses ar. pommelled of the field. Crest—A cutlass ar. hilt and pomel or, environed with two branches of laurel vert.
12) (Amesbury, co. Gloucester). Gu. a lion pass. erm. betw. three hawks' lures ar. Crest—A lion's paw erased supporting a broken sword.
13) (quartered by Harington, Lords Harrington, and Harrington, Bart., of Ridlington, co. Rutland. Visit. Rutland). Az. three garbs or.