Chipman Family Crest, Coat of Arms and Name History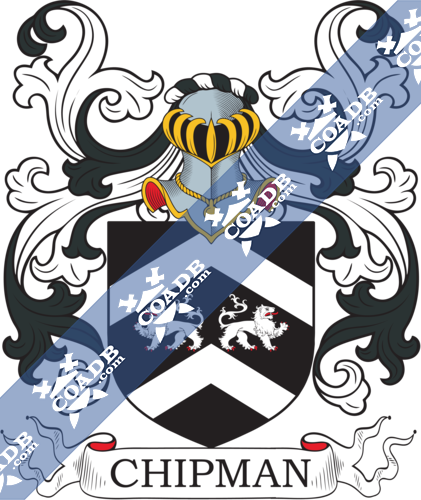 Chipman Coat of Arms Gallery
Don't know which Coat of Arms is yours?
We can do a genealogical research. Find out the exact history of your family!
Learn More
Chipman Origin:
England
Origin of Chipman:
The Chipman surname originally evolved from Anglo-Saxon origins. It is a professional name for a businessman or trade person, acquired from the Middle English (1200 – 1500) word "chapman", from the Olde English word pre 7th Century "ceapmann", a combination of "ceap", trade, transaction price or property and "mann", meaning man. It is regarded that some of the first Chapman's were stateless, although others were traveling merchants, who sold a wide variety of different kind of goods. The surname since the year 1206 contains the following recordings: Alice Chepman (1207, Derbyshire), Thomas le Chapman (1266, Staffordshire), Nicholas le Chipman, (1320, Somerset) and Henry le Chupman (1327, Hampshire). The present surname can found as Chapman, Chipman, Chapper, Chipper and Cheeper. Chipman is a West Saxon spelling of the name. One Henry Chapman, at the age of 19 years old, was an early settler in America, emigrating from London on the "Primrose", set for "Virginea" in July 1635. Between the documentation in London, Richard Chapman married Hester Bonne on December 1645 at St. Botolph's, Bishopgate.
Variations:
Some common variations are: Schipman, Chippman, Chipmanw, Chpman, Schipmann, Schippman, Chipamani, Scheipman. Schiipman, Chapman.
England:
The surname Chipman was found in Somerset where they held a family seat from very ancient times. Few say before the Norman Invasion and the entrance of Duke William at Hastings in 1066 A.D.
The very first recorded spelling of the family was shown to be that of Hugh Chapman, dated 1206, In the "Curia Regis Rolls of Yorkshire". It was during the time of King John who was known to be the "Lackland," 1199 – 1216. The origin of surnames during this period became a necessity with the introduction of personal taxation. It came to be known as the Poll Tax in England. Surnames all over the country began to develop, with unique and shocking spelling varieties of the original one.
United States of America:
Individuals with the surname Chipman settled in the United States in three different centuries respectively in 17th, 18th, and 19th. Some of the people with the name Chipman who settled in the United States in the 17th century included Thomas Chipman who arrived in New England in 1630. John Chipman who sailed from Barnstable in Devon in England who sailed aboard the "White Angel" in 1650. He married Elizabeth, daughter of John Howland who came over on the "Mayflower". John Chipman was a member of the General Court of the first colony. Dorothy Chipman, who came in Maryland in 1676.
People with the name Chipman who settled in the United States in the 18th century included John Chipman settled in Boston in 1769.
People with the name Chipman who settled in the United States in the 19th century included John Chipman arrived in Philadelphia in 1803. A Chipman, W Chipman, and J Chipman these all people landed in San Francisco, in California in 1855. John Chipman, who arrived in Allegany (Allegheny) Division, Pennsylvania in1873.
Canada:
People with the name Chipman who settled in Canada in the 18th century included Mr. Ward Chipman U.E. born in Massachusetts, the USA who landed in Saint John; New Brunswick 1783 graduated from Harvard in 1770.
Here is the population distribution of the last name Chipman: United States 6,151; England 237; Israel 130; The Bahamas 56; New Zealand 31; China 4; Zambia 4; Namibia 3; Australia 212; Canada 966
Notable People:
Daniel Chipman (1765–1850), was an American lawyer from Vermont. He was born in Salisbury, Connecticut to Samuel and Hannah Austin Chipman. He got an education from Dartmouth College in 1788. He started the practice of law in Rutland, Vermont.
James Chipman Fletcher (1919–1991), was an executive at the National Aeronautics and Space Administration (NASA).
John Chipman (Nova Scotia politician) (1744–1836), was a judge and lawmaker in Nova Scotia.
John Logan Chipman (1830–1893), was a congressman from Michigan.
John Smith Chipman (1800–1869), was a lawmaker and also U.S. congressman from Michigan.
Mark Chipman was a Canadian businessman and sports manager.
Nathaniel Chipman (1752–1843), was an American politician from Vermont.
Norton P. Chipman was an American Army officer (1861–1865) and District of Columbia lawyer and politician.
Thomas Chipman McRae (1851–1929), was an American businessman and Governor of Arkansas.
Blazons & Genealogy Notes
1) Notes: (Bristol). Blazon: Argent a bend between six estoiles gules. Crest—A leopard sejant argent murally crowned gules.
2) Notes: None. Blazon: Sa. two lions pass. and counterpass. betw. as many chev. ar.