Christensen Family Crest, Coat of Arms and Name History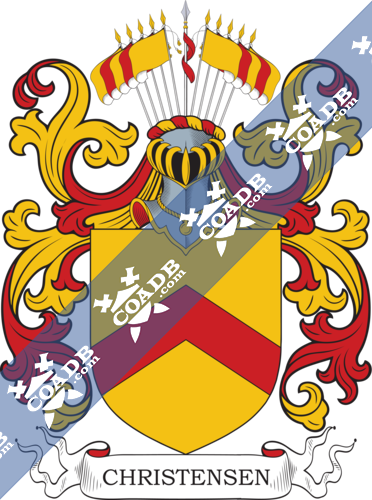 Christensen Coat of Arms Gallery
Don't know which Coat of Arms is yours?
We can do a genealogical research. Find out the exact history of your family!
Learn More
Meaning, Origin, Etymology
This is a surname that is of Ancient Greek origin through the later Roman "Cristianus".  Cristianus means "the leader" and is said to have been brought to England by the Breton settlers after the Norman Conquest of 1066.  The surname Christensen was first found in Denmark, Christensen Danish pronunciation: [ˈkʁɛsdn̩sn̩], is a Danish (and Norwegian) patronymic surname, literally meaning son of Christen, a sideform of Christian. The spelling variant Kristensen has identical pronunciation the name contributed greatly to the development of an emerging nation which would later play a large role in the conflicts of the area. In later years the name branched into many houses, each playing a significant role.  There are several place names in Denmark that are connected to Christensen. The Christensen surname is a patronymic created from the personal name Christen, which comes ultimately from the Latin Christianus "follower of Christ". (Danish) The son of Christian (follower of Christ). (Scandinavian) forms of Christ- ianson, q.v. in Dict.
Spelling Variations
Christenson, Kristenson, Christenson, Christensen, Christiansen, Christinsen, Cristensen, Cristenson, Christian, Christin, and Christine (England), Crestien, Chretien, and Christine (France), Kriesten, Kirstin, and Kirchstein (German)
Popularity & Geographic Distribution
The last name Christensen ranks 2,329th in popularity worldwide as of the 2014 Census and approximately 239,518 people carry the Christensen surname worldwide. The name ranks particularly high in the following six states: PUtah, California, Minnesota, Washington, Iowa, and Wisconsin.  It ranks highest in the following countries: United States (102,721), Denmark (102,030), Norway (7,147), Canada (6,404), Australia (5,443), Sweden (3,145).
Early Bearers of Surname
William Christian on the 14th April 1543 at Christ Church, Greyfriars
Abraham Christian, on the 6th October 1593 at St. Helen's, Bishopsgate
Robert Crestien is recorded in the register of the bishopric of Ely, Cambridge, in 1163
Christianus and Roger C., his son, Thomas, William C., of Normandy, 1180-1195
Walter Christianus, of Notts, 1199
Robert Crestien, Bricius, Ranulph, Robert Christian or Cristin and others in England 1272
Early Marriages for Christensen
Sarah Christensen married William Henry Martin on Sep. 10, 1838 in Cowes, Hampshire, England
Peter Christensen married Caroline Lowe on Mar. 20, 1896 in St. Catherines, Edge-Hill, Lancashire, England
Charlotte Christensen married Henry Ward on Nov. 15, 1887 in Hull, York, England
Thomas Christian Christensen married Rasmus Christensen in 1888 in Hoddesdon, Hertford, England
Carl Christian Christensen married Alvilde Dahlberg on Apr. 4, 1883 in Seamans Congregation, Newcastle Upon Tyne, Northumberland, England
Thomas Christian Christensen married Minnie Taylor on Nov. 25, 1888 in Heddesdon, Hertford, England
Robert Christensen married Ann Elizabeth Barnard on Nov. 30, 1890 in Coltishall, Norfolk, England
Peter Christensen married Caroline Lowe on Mar. 20, 1896 in Saint Catherine, Edge Hill, Lancashire, England
History, Genealogy & Ancestry
AXEL H. CHRISTENSEN, M.D.
Axel H. Christensen, M.D. a practicing physician of Joliet, was born in Hove, Sjalland, Denmark, Jun 13, 1867, a son of Jens and Susanna Maria (Brammar) Christensen.  On his mother's side he descends from an old and noble family of Denmark. His maternal grandfather, who was a prominent apothecary of Christianhaven, was a brother of Bishop Brammar, Bishop of Jutland, and the last of those that had power.  Jens Christensen who was the son of a large landed proprietor of Jutland, was professor of schools for years, retiring when seventy years of age, and dying ten years later. In religion he was a Lutheran. He was a man of honorable character and upright life.  His wife was sixty-five at the time of her death. Of their nineteen children eleven attained years of maturity. Most of the sons became soldiers in the army, but one was an architect and another a professor. A sister married Zacharias Niedson, the most prominent Danish poet of today.   Dr. Christensen, who was one of the youngest of the children, represents the thirteenth generation in descent from Hans Tausen; archbishop to King Frederick II. He graduated from the high school of his native town in 1883; after which he attended the Soro Academy until his graduation in 1888.  Meantime he had begun the study of medicine under private proprietorship, and afterward attended lectures in Copenhagen. In 1892 he came to America and spent some time in Kenosha, Wis., where he attended the high school and also studied medicine. Later he took the course of lectures in Hahnemanu Medical College, Chicago, from which he graduated in March 1897, with the degree of M.D.  During the same time he completed the course in the Northern Indiana Normal School at Valparaiso. In 1897, through his appointment as interne at Silver Cross Hospital, Dr. Christensen came to Joliet. After one year in the hospital he began to practice medicine and surgery and has since built up a valuable patronage among the people of the city. He has his office in the Cutting building.  He is a member of the Desplaines Medical Society. Everything pertaining to his profession receives his warm interest. He keeps abreast with all the developments in therapeutics, and is justly recognized as a skillful physician, whose position in his profession has been secured by intense application and constant study.
MARTIN CHRISTENSEN
Martin Christensen, one of the old settlers of Nebraska, occupies a prominent position in Cherry County, and enjoys the respect and esteem of his associates.  Mr. Christensen was born in Copenhagen, Denmark in 1865 and his father Gottlieb Christensen, was a prominent citizen engaged in the stock buying business. Our subject was raised and educated in the town of his birth, and after leaving school learned the painter's trade, which occupation he followed in his native country until 1883, when he took passage for America, landing in Castle Garden, New York.  After working at his trade in Chicago and Omaha for a time he came to Cherry County, Nebraska, spending several months here, then going to Omaha where he remained until the following year. In 1884 he returned to Fort Niobrara, where he secured a painting contract at the fort. The excellence of his work secured him further contracts at Forts Robinson, Sidney and Niobrara and was employed by the government in various parts of Nebraska until 1890, at which time he settled in Valentine.  He he followed his trade constantly, and has erected a fine residence, and owns one of the finest equipped paint shops in Valentine, dealing in wall paper, paints, oils, varnishes, etc., and is doing a flourishing business. Mr. Christensen was nominated by the Democratic party for county treasurer in 1892. He has held the office of chairman of the county central committee for the past ten years, and was one of the delegates who nominated William J. Bryan for president at the national convention in 1896.  In 1890 he was married to Miss Clara Evarts, who father, Burt Evarts was one of the first settlers in Valentine, taking up his homestead in that part of Valentine, where the flourishing mill and water power plant are now located. Four children have been born to Mr. and Mrs. Christensen, who are named as follows: Marie, Albert, Carl, and Genevieve. Mrs. Christensen nee Evarts, died in 1898. He was married in 1899 to Miss Mary White, daughter of Bartlett White, a farmer and stock raiser near Valentine and they have three children as follows: Leo, Martin and Francis.
PETER K. CHRISTENSEN
Peter K. Christensen, a leading old timer of Western Nebraska, has been an important factor in the development and growth of that part of the country since its early settlement.  He came to this region in 1888, has accumulated a competence by his industry and perseverance, now owning a fine farm and is regarded as one of the well-to-do men of Box Butte, County, highly esteemed by everyone who knows him.  Mr. Christensen is a native of Denmark, born in 1866. His father was a miller by trade who spent his entire life in his native land, and died there when our subject was a boy two and a half years old. Peter grew up on the home farm and secured employment on other farms in the vicinity of his home when old enough and remained there up to 1887, when he, with his mother and the rest of the family, emigrated to America.  They landed in Baltimore, and came west to the eastern part of North Dakota, where they spent one year, then moved to Washington County, Nebraska, where they remained for one year. On coming here the mother first settled in Box Butte County, and the following year Peter left Washington County and secured work on a farm near his mother's place, remaining there up to 1889. He then settled on his present farm as a homestead, putting up a sod house twelve by twenty-two feet, doing all the work of building it alone.  He had no team and obliged to carry all the sod used for the house in his arms a distance of about twenty-five or thirty yards. Just as soon he had his farm nicely started the droughts began to strike his locality and he suffered the loss of several crops, losing some also through the hail storms which swept the section, and these failures put him back considerably. He purchased a team of two small black horses and a colt, for which he paid $190.00, and with these broke up land and tried hard to get along. In 1891 he decided to start in the cattle business, so purchased a few head, and from that small beginning kept on increasing his herd, and buying more land as he became able, until he now owns a ranch of nine hundred and sixty acres.  He farms one hundred acres of this, and keeps the balance for hay and pasture for his stock. He has his ranch all fenced and improved with good building, a comfortable house and commodious barns, and has plenty of good water supplied from wells and pumped with windmills. Mr. Christensen was married here in 1890 to Miss Mattie Christine Rasmussen, also a native of Denmark, and they are the parents of seven children, named as follows: Mattie, Hilga and Elinora (twins), Esther (now deceased), Ina, Olga and Bryan, all born and reared on the home farm. Mr. Christensen has always taken a commendable interest in public affairs of his locality, and has held the office of road overseer for six years. He has also been a member of the school board and served as treasurer for three years.  Politically he is an Independent voter.
Early American Immigration and New World Settlers
Hans Christensen, aged 14, who arrived in New York, NY in 1840
Neil Christensen, aged 13, who landed in Boston, Massachusetts in 1848
Elling Christensen, aged 43, who arrived in Boston, Massachusetts in 1850
Anna Christensen, who arrived in Minnesota in 1867
Chr Nicholi Christensen, who arrived in New York, NY in 1869
Peter Christian Christensen, aged 31, who arrived in Wellington, New Zealand aboard the ship "Halcione" in 1870
Johanna Christensen, aged 27, who arrived in Wellington, New Zealand aboard the ship "Halcione" in 1870
Niels C. Christensen, aged 29, who arrived in Wellington, New Zealand aboard the ship "Halcione" in 1870
Magdalena Christensen, aged 33, who arrived in Wellington, New Zealand aboard the ship "Halcione" in 1870
Mads Peter Christensen, aged 6, who arrived in Wellington, New Zealand aboard the ship "Halcione" in 1870
Mottoes
"Tu es Christus Filius Dei Vivi" – "You are the Christ, Son of the Living God."
Grantees
Most Reverend Peter F. Christensen, M.A., D.D., Born:  December 24, 1952; Ordained Priest: May 25, 1985; Ordained a Bishop:  September 14, 2007; Appointed Bishop of Boise: November 4, 2014; Education:  St. John Vianney College Seminary, St. Paul, Minn., Bachelor of Arts St. Paul Seminary, St. Paul, Minn., Master of Divinity, Master of Applied Spirituality, Ministry and Administration:  USCCB Subcommittee on Catholic Home Mission, Chairman; USCCB Subcommittee on Native American Affairs, Member; USCCB Committee on National Collections, Member; USCCB Committee on Catholic Education, Member Installed as the Eighth Bishop of Boise: December 17, 2014 ; Coat of Arms:  Bishop Christensen's crest was designed by James-Charles Noonan, Jr., a well-known church historian and ecclesial heraldist from Gwynedd Valley, Pennsylvania. Linda Nicholson, a craft painter of the Society of Heraldic Arts in England, painted the arms designed by Noonan. The Left Half of the Crest A portion of the Coat of Arms of the Diocese of Superior, the three Latin crosses represent the Blessed Trinity. They are topped by fleurs-de-lis and pointed like stakes at the bottom to honor the French missionaries who first brought the faith to the area that would become the Diocese of Superior.  The blue wave-like lines evoke the waters of the Great Lake Superior. The color blue (used on both sides of the shield) also gives tribute to the Blessed Virgin Mary. The Right Half of the Crest The right half of the crest is Bishop Peter F. Christensen's personal arms which pays homage to St. Peter, the first bishop of Rome, and to a lesser degree, St. Francis de Sales. The barque (boat) on the coat of arms was based on a design by Bishop Christensen, who has a background in the graphic arts. Above a depiction of a wave in silver, is the barque of Peter in gold. Gold represents the first of the heavenly attributes, as well as divine wisdom and the Petrine office.  The mast of the boat is in the form of a cross in gold, representing the heroic sacrifice of Christ. This image is particularly significant, since Bishop Christensen was ordained to the episcopacy on the feast of the Exaltation of the Holy Cross. The sail of the boat is silver, its fullness representing the fullness of truth that the apostle Peter carried to Rome. The star on the sail is the Star of Mary, with red rays representing the graces that flow from her. Its position near the base of the mast recalls Mary's steadfast presence at the foot of the cross. On the top, in gold rectangle, is a circlet representing a halo of holiness to which all in the church are called. It consists of eight thorns (black for human sinfulness) tipped in red, the color of Christ's redeeming blood. Here is a reference to the sorrows that pierced the heart of St. Francis de Sales, a saint with whom Bishop Christensen shares a deep spiritual kinship.  The Episcopal Cross Behind the Crest Behind the coat of arms is the episcopal cross, with one transverse arm. The crozier on the cross represents St. Peter and the sword St. Paul. The ruby is reminiscent of the martyrdom each saint suffered in witness to Christ. External Elements of the Crest The external elements of the shield are composed of the green pilgrim's hat with its six tassels on each side, in three rows. These are the heraldic insignia of a bishop. For his motto, Bishop Christensen selected a text from the Gospel of Matthew 16:16: Motto: "Tu es Christus Filius Dei Vivi" – "You are the Christ, Son of the Living God."
Notables
Alex Christensen (born 1967), German musician
Alfred Christensen (1905-1974), Danish chess player
Andreas Christensen (born 1996), Danish footballer
Andrew Christensen, American psychologist
Anita Christensen (born 1971), Danish professional boxer
Arthur Christensen (1875-1945), Danish orientalist and historian
Bekim Christensen (born 1973), Danish cycle racer
Benjamin Christensen (1879–1959), Danish actor and director
Bent Christensen Arensøe (born 1967), Danish football player
Bo Christensen (born 1937), Danish film producer
Bruce Christensen (born 1948), American baseball player
Carina Christensen (born 1972), Danish politician
Carl Frederik Albert Christensen (1872–1942), Danish botanist
Carl Christian Anton Christensen (1831–1912), Danish-American artist
Carl C. Christensen (1891-1956), American politician
Carl Peter Hermann Christensen (1869–1936), last executioner in office for the government of Denmark
Carlos Hugo Christensen (1914–1999), Argentina film director and producer
Casper Christensen (born 1968), Danish comedian
Charlie Christensen (born 1958), Swedish cartoonist, best known for the strip Arne Anka
Christen Christensen (politician) (1826–1900), Norwegian military officer and politician
Christen Christensen (shipowner) (1845–1923), Norwegian ship owner
Clayton M. Christensen (born 1952), American academic
Conrad Christensen (1882–1951), Norwegian Olympic gymnast
Corine Christensen (1955–1986), American murder victim
Cuckoo Christensen, born Walter Niels Christensen (1889–1984), American baseball player
Dan Christensen (1942–2007), American artist
Diana Christensen, fictional character in the film Network (1976)
Don R. Christensen (1916–2006), American animator and cartoonist
Donna Christian-Christensen (born 1945), U. S. Virgin Islands physician, journalist and politician
Eigil Friis-Christensen, Danish physicist
Else Christensen (1913–2005), Danish paganist
Emil Christensen (born 1984), Swedish computer game player
Eric Christensen (1923-1990), Secretary General and Head of The Civil Service, The Republic of the Zambia
Erik Christensen (born 1983), Canadian ice hockey player
Erika Christensen (born 1982), American actress
Flemming Christensen (born 1958), Danish football player
Frank Christensen (1910–2001), American businessman and college athlete
Frank J. Christensen (born 1961), American Labor Leader
Fred J. Christensen (1921–2006), American fighter pilot and Air Force officer
George Christensen (1909–1968), American football player
George Christensen (born 1978), Australian politician
Harold Christensen (1904–1989), American ballet personality
Hayden Christensen (born 1981), Canadian actor
Heather Christensen (born 1979), American model
Helena Christensen (born 1968), Danish supermodel
Hjalmar Christensen (1869–1925), Norwegian writer
Inger Christensen (1935–2009), Danish writer
Ione Christensen (born 1933), Canadian politician
James C. Christensen (1942–2017), American artist
Jesper Christensen (born 1948), Danish actor
Jon Christensen (born 1943), Norwegian jazz musician
Jon Lynn Christensen (born 1963), American businessman and politician
Jørn Christensen (born 1959), Norwegian music figure
Julie Christensen, American singer
Julie Christensen, fictional character in the film Final Destination 3 (2006)
Kayte Christensen (born 1980), American basketball player
Kerry Christensen (born 1954), American yodeler
Kim Christensen (born 1979), Danish football player
Kim Christensen (born 1980), Danish football player
Lars Christensen, Norwegian shipowner and whaling magnate
Lars Lindberg Christensen, Danish academic
Lars Saabye Christensen (born 1953), Norwegian author
LaVar Christensen, American politician
Leif Christensen (1950–1988), Danish musician
Leo Christensen (born 1980), Adult actor
Lew Christensen (1909–1984), American ballet personality
Martin Christensen (born 1987), Danish football player
McKay Christensen (born 1975), American baseball player
Morten Christensen (tennis) (born 1955), Danish tennis player
Morten Stig Christensen (born 1958), Danish handball player and sports broadcaster
Mose Christensen (1871–1920), American musician
Niels Christensen (1855–1952), Danish-American inventor
Ole Christensen (born 1955), Danish politician
Ove Christensen (born 1950), Danish football coach
Parley Parker Christensen (1869–1954), American politician
Pernille Fischer Christensen (born 1969), Danish film director
Peter Christensen (born 1975), Danish politician
Peter Forsyth Christensen (born 1952), Roman Catholic bishop
Phil Christensen (born 1953), American geologist
Søren Christensen (born 1986), Danish football player
Søren Peter Christensen (1884–1927), Danish Olympic gymnast
Steen Christensen (born 1964), Danish criminal
Theodor Christensen (1905–1988), Schutzstaffel official
Thomas Guldborg Christensen (born 1984), Danish football player
Tim Christensen (born 1974), Danish musician
Todd Christensen (1956–2013), American football player and sports broadcaster
Tonja Christensen (born 1971), American model
Tom Christensen, Canadian politician
Trevor Christensen (born 1993), American DJ
Ulla Christensen(born 1965), Danish international footballer
Ute Christensen (born 1955), German actress
Villy Christensen, Canadian fisheries scientist
Ward Christensen, founder of the first online bulletin board system
Willam Christensen (1902–2001), American ballet personality
Wendy Christensen, fictional character in the film Final Destination 3 (2006)
American Revolution Veterans
Swnus Christiansen, New York, Rank of Private
John Christeson, New York, Rank of Private
Jno Christison, New York, Rank of Private
Civil War Veterans
Andrew Christensen, 1st Regiment, Wisconsin Cavalry, Union, Wisconsin
Casper Christensend, 66th Regiment, New York Infantry, Union, New York
Charles Christensen, 8th Regiment, Wisconsin Infantry, Union, Wisconsin
Christian Christensen, 4th Regiment, US Reserve Corps, Missouri Infantry, Union, Missouri
Frans Christensen, 10th Regiment, Minnesota Infantry, Union, Minnesota
George Christensen, 127th Regiment, New York Infantry, Union, New York
Hans G. Christensen, 2nd Regiment, Massachusetts Infantry, Union, Massachusetts
Hogan Christensen, 1st Regiment, Minnesota Heavy Artillery, Union, Minnesota
John Christensen, 14th Regiment, Connecticut Infantry, Union, Connecticut
Jorgen Christensen, 16th Regiment, Kansas Cavalry, Union, Kansas
Julian Christensen, 14th Regiment, US Infantry (Regular Army), Union, Union Regular Army
Lars P. Christensen, 15th Regiment, Wisconsin Infantry, Union, Wisconsin
Neal Christensen, Adjutant General's Office (Regular Army), Union, Union Regular Army
Nehem Christensen, 52nd Regiment, Wisconsin Infantry, Union, Wisconsin
Nels Christensen, 38th Regiment, Iowa Infantry, Union, Iowa
Nelson Christensen, 6th Regiment, New Jersey Infantry, Union, New Jersey
Niels Christensen, 44th Regiment, United States Colored Infantry, Union, U.S. Colored Troops
Ole Christensen, 15th Regiment, Wisconsin Infantry, Union, Wisconsin
Peter Christensen, 41st Regiment, New York Infantry, Union, New York
Thomas Christensen, 35th Regiment, Wisconsin Infantry, Wisconsin
Blazons & Genealogy Notes
1) Danemark – (M. ét.) – D'or à la fasce d'azur au croissant tourné de gueules brochant sur le tout Cimier deux haches d'armes d'argent emmanchées d'azur passées en sautoir. English: Or a fess azure a crescent reversed gules covering overall Crest: two axe of arms argent handle azure placed saltirewise.
2) Danemark – (M. ét.) – De gueules à neuf coquilles d'or Cimier une coquille d'or entre un vol banneret d'or et de gueules. English: Gules with nine escallops or Crest: an escallop or between a pair of wings small flag or and gules.