Christmas Family Crest, Coat of Arms and Name History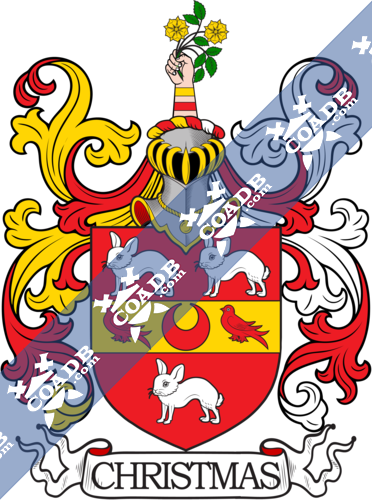 Christmas Coat of Arms Gallery
Don't know which Coat of Arms is yours?
We can do a genealogical research. Find out the exact history of your family!
Learn More
Christmas Origin:
England, German
Origin of Christmas:
The old Calendar depended on the basic religious saints days to give entertainment and fun to people who followed the religion, which for the most part was a dull and boring life. The most popular and famous of these festivals was that which is known as Christmas, a time where religious importance and feasting was almost equally important. The surname of Christmas may be a descriptive surname for a person who organized the annual event or it could also refer to someone who was born on Christmas day. The first documentation would seem to be that of a citizen at a monestary, but who was not a monk himself. To add effectiveness to the claim that it was a descriptive surname for this occupation of someone who organized Christmas festivities is the early recording Gerard Christmas, who from 1619 to 1632 was the official coordinator of the King Mayor of London's yearly event. He was a prominent wood artist, especially popular for burial monuments. Other early documentation include Ralph Christemasse, of Suffolk, in 1191, Richard Cristemes, of Cambridge, in 1308 and in 1626 Thomas Christmas married Dorothie Leesie in London.
Variations:
Some common variations are: Christmass, Chistimass, Christomas, Christamas, Christemas, Cristmas, Cristmas, Cristmass, Christoms, Christmus, Khristmas.
England:
The very first recorded spelling of the family name was shown to be that of Alan de Roger Cristemesse, dated 1185, in the "Rotuli Dominus Rolls Of Essex". It was during the time of King Henry III who was known to be the "Builder of Churches" dated 1154 – 1189. The origin of surnames during this period became a necessity with the introduction of personal taxation. It came to be known as Poll Tax in England. Surnames all over the country began to develop, with unique and shocking spelling varieties of the original one.
United States of America:
Individuals with the surname Christmas settled in the United States in two different centuries respectively in 17th and 19th. Some of the people with the name Christmas who settled in the United States in the 17th century included Dictoris Christmas, who arrived in Virginia in 1635. Isobel Christmas who settled in Virginia in 1642 and Richard Christmas settled in Virginia in the year 1647.
Some of the people with the name Christmas who settled in the United States in the 19th century included H. Christmas arrived with his wife and two children in New York in 1820 during the 19th century.
Australia:
Some of the people with the name Christmas who settled in Australia in the 19th century included John Christmas and Maria Christmas at the age of 16, a home servant who both arrived in South Australia aboard the ship "Punjab" in the same year in 1855. John Christmas who was a farm laborer at the age of 18 arrived in South Australia in 1857 aboard the ship "Carnatic".
New-Zealand:
Some of the people with the name Christmas who settled in New-Zealand in the 19th century included W Christmas who landed in Kaipoia, New Zealand in 1840. Frederick Christmas at the age of 38 who was a carpenter, Elizabeth Ann Christmas, aged 38, Samuel Frederick Christmas, aged 14 and Harry Christmas, at the age of 12, all of these people arrived in Auckland, New Zealand aboard the ship "Reiherstieg" in the same year 1840.
Here is the population distribution of the last name Christmas: United States 6,318; England 2,167; Philipines 451; Australia 457; Turkey 245; Canada 629; South Africa 676; New Zealand 175; Tanzania 134; Zimbabwe 132.
Notable People:
Art Christmas (1905–1961), was a Canadian jazz saxophonist.
Cecil Christmas (1886–1916), was an English football player.
David Christmas (born 1969), was an English player in cricket.
Dionte Christmas (born 1986), was an American professional basketball player.
Edward A. Christmas (1903–1969), was an American horse coach.
Eric Christmas (1916–2000), was a British artist and entertainer.
Ernst William Christmas (1863–1918), was an Australian painter.
George R. Christmas (born 1940), was an American Marine troops commander.
Jarred Christmas, was a New Zealand entertainer.
John Christmas (born 1969), is an American banker and author.
Julie Christmas was an American instrumental musician.
Karima Christmas (born 1989), is an American female professional basketball player.
Keith Christmas (born 1946), is an English script writer and musician.
Mary Christmas is an American magazine writer.
Blazons & Genealogy Notes
Notes: None. Blazon: Gules on a fesse or, between three hares argent a crescent between two martlets of the first. Crest—An arm charged with two bars, one or, the other gules, holding in the hand proper a double branch of roses flowered of the second leaved vert.