Claus Family Crest, Coat of Arms and Name History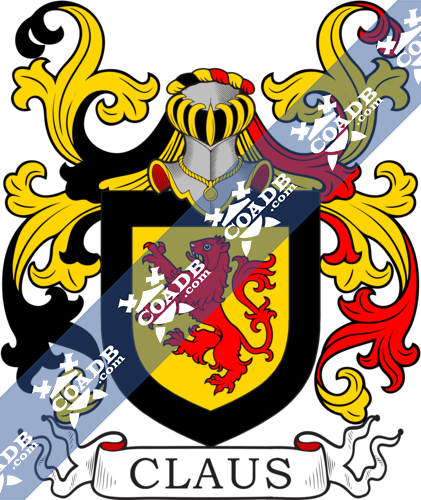 Claus Coat of Arms Gallery
Don't know which Coat of Arms is yours?
We can do a genealogical research. Find out the exact history of your family!
Learn More
Claus Origin:
German
Origin of Claus:
One of the most popular of all surnames of Germanic origins, and is listed in some fifty spelling variations from Klaus, Kloss, and Koilas, to Kollatsch, Kulik, and Clausen. It is a shortened nickname. It acquires from the old Greek name "Nikolaos," which as a surname is probably even more famous than Klaus. Either way, the name means "The conquering people," a written subject matter which undoubtedly contributes to its considerable fame. The Great Crusades to Jerusalem, which was to free the Holy Land from the Saracens, in the 11th and 12th century, lead to popularize the Klaus surname and its variations even more. It was the in style of the returning crusaders and pilgrims to name their offspring by previous religious or Judaist names, or names relating to Ancient Greece. It was from Greece that most of the crusades started. There were twelve in all, and none were successful, but it did not end the popularity for the names. With this name, the earliest of all documentations appeared in German charters and records of the medieval times. These contain examples like Henricus Claus of Eblingen in the year 1323, Wolframus Klusner of Goddelau in the year 1398, and Tobias Clausnitzer of Thun, named there in 1619. The previous all recordings may be that of Uzo Claus of Eblingen, Germany, in the documents of that city for the year 1294.
Variations:
More common variations of this surname are: Clauss, Clause, Clausi, Clauws, Clauhs, Clauso, Clausa, Clauas, Cleaus, Clausy.
England:
The surname Claus first appeared in Bavaria, where the family donated chiefly to the advancement of an emerging nation and after that play a major role in the political conflicts of the country. The family was divided into many houses, many of which acquired lands and castles all over the surrounding areas, where they played important roles in the social and political parts of the different areas.
United States of America:
Individuals with the surname Claus settled in the United States in two different centuries respectively in 18th and 19th. Some of the people with the name Claus who settled in the United States in the 18th century included Frederick Claus, who arrived in Pennsylvania in 1733. Matheis Claus, who arrived in Pennsylvania in 1739. Conrath Claus, who came to Pennsylvania in 1748. Christina Claus who settled in America in 1750. Johann Jost Claus, who landed in America in 1750-1753.
Some of the people with the name Claus who settled in the United States in the 19th century included Joh Joseph Claus, who landed in Philadelphia, Pennsylvania in 1804. Joh Gerh Claus and Adam Claus, both arrived in America in the same year in 1834. Frederick Claus, who arrived in Missouri in 1840. Valentine Claus at the age of 28 came to Missouri in 1845.
Canada:
Some of the people with the name Claus who settled in Canada in the 18th century included Col. Daniel Claus U.E. who came to Home region, [Niagara], Lincoln Division, Ontario near the year 1783. Mr. Gasper Claus U.E. who arrived in Prince Edward division, Ontario c. 1783. Mr. John Claus U.E. who settled in Canada c. 1783. Capt. William Claus U.E. who arrived in Cornwall, Ontario about the year 1783. Mr. William Claus U.E. who arrived in Canada in the year 1783.
Here is the population distribution of the last name Claus: United States 4,606; Belgium 4,053; Brazil 2,464; France 1,727, Philippines 1,289; Netherlands 1,116; Argentina 896; Canada 538; Switzerland 351.
Notable People:
Carl Friedrich Claus (1827-1900), was an outstanding chemist.
Carl Friedrich Wilhelm Claus (1835–1899), was a biologist.
Daniel Claus (1727-1787), was an administrator of Indian settlements and a soldier during the American Revolution.
Emile Claus (1849–1924), was a Belgian painter and creator of the Luminism style of expressive painting.
Hildrun Claus (born 1939), was an old German sportsman.
Hugo Claus (1929–2008), was a Flemish novel writer, poet, composer, painter and film producer.
Karl Ernst Claus or Carl Ernst Claus (1796–1864), was a Livonian chemist and biologist, inventor of the element ruthenium.
Roland Claus (born 1954), is a German politician.
Jonathan Claus (born 1987), is an operator from Sigtuna/Bromma Sweden.
Blazons & Genealogy Notes
1) Notes: None. Blazon: Azure a chief ermine. Crest—On the point of a sword in pale a cross pattee.
2) Notes: Hollande Blazon: De sable à un écusson d'or en abîme ch d'un lion de gueules.