Clay Family Crest, Coat of Arms and Name History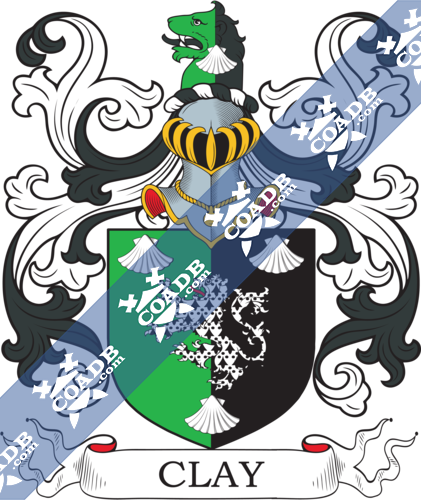 Clay Coat of Arms Gallery
Don't know which Coat of Arms is yours?
We can do a genealogical research. Find out the exact history of your family!
Learn More
Clay Origin:
England
Origins of Name:
The surname of Clay is of an Anglo-Saxon origin with more than one possible source. The first source for the surname of Clay is that the surname may be topographical, or locational to name someone who lived in an area where there was clay soil. This source derived from the Old English pre 7th Century "claeg" which translated to mean "clay." These types of surnames are among the oldest and the earliest ones created, because they were used to distinguish people in the small communities that sprung up in the Middle Ages. It is also possible that this surname was derived from a nickname for someone who worked in a clay pit, or someone who worked with clay, such as a potter, or someone who built things with wattle and daub. Occupational surnames were created to denote the actual occupation of the original name bearer, and became hereditary as surnames became mandatory due to the Poll Taxes that were enacted in various countries.
Variations:
More common variations are:
Clayo, Cleay, Claaey, Cloay, Colay, Calay, Claya, Claey, Claay, Culaay, Cllaay, Culay, Claye, Cllay
History:
England:
The first recorded spelling of the surname of Clay was dated for the year 1172, and appeared in the Pipe Rolls of Suffolk. One Ralph de Clai was recorded and mentioned in these rolls, which were decreed and ordered under the reign of King Henry II, who was known throughout history, and commonly referred to as "The Builder of Churches" and ruled from the year 1154 to the year 1189. Other mentions of the surname of Clay appeared in other survey documents and church registers throughout history. One Reginald de Claie is recorded in the Pipe Rolls of Essex in the year 1200, while Nicholas de Clay is listed in the Subsidy Rolls of Yorkshire in the year 1302. Those who bear the surname of Clay are found in the northeast regions of England, and can be most commonly found in high concentrations in the counties of Yorkshire, Lincolnshire, Lancashire, Nottinghamshire, and the County Derbyshire.
Scotland:
In Scotland, the surname of Clay is not a popular surname, and can only be found in small pockets throughout the entire country. These small families who bear the surname of Clay include Midlothian County.
Australia
The Clay name first arrived in Australia s convicts. In the 1820s two Clays were sent to Australia from Nottingham. In 1835, William Clay from Warwick was sent to work in Hunter Valley.
United States of America:
Throughout the 17th Century, a period of time known as the European Migration began throughout Europe, though mostly centered in England. This migration was when the settlers determined that they no longer were happy with their homeland, and sought out a new place to live, one promising new freedoms and capabilities that were not afforded to them in the land of their birth. The United States of America, which at that time was called The New World or The Colonies, promised these freedoms to new settlers, and thus was a popular destination during this time for those settlers. The first person who was recorded to bear the surname of Clay and to set foot on American soil was one Anne Clay, who arrived in the state of Virginia in the year 1623. In the United States of America, the surname of Clay is very common. Those who bear this surname are often found in the states of Texas, Louisiana, Missouri, Arkansas, Mississippi, Georgia, Alabama, Kentucky, and Ohio, and the state of Pennsylvania.
Clay Today:
United States 52, 433
England 8,410
Australia 1,914
Brazil 1,558
Canada 1,128
South Africa 968
Germany 807
France 710
Ghana 559
Philippines 516
Notable People:
Otis Clay (1942-2016) who was an American Rhythm and Blues, and soul singer who was inducted into the Blues Hall of Fame in the year 2013
Miss Elizabeth Alice Clay (died in 1915) who was a Second Class Passenger from San Francisco, California, who sailed aboard the RMS Lusitania and died in the sinking, her remains were recovered and identified
Cassius Marcellus Clay Sr. (1912-1990) who was an American painter and musician, who was the father of professional boxer and champion Muhammad Ali
Cassius Marcellus Clay Jr. (born in 1942) who was an American World Heavyweight Champion who would win the title three times, named "Sportsman of the Century" by Sports Illustrated in the year 1999, and legally changed his name to Muhammad Ali
Kenneth Earl Clay (born in 1954) who was a former Major League Baseball right-handed pitcher
Clement Comer Clay (1789-1866) who was an American politician, and was the 8th Governor of the U.S. State of Alabama from the years 1835 – 1837
To receive a complete surname meaning report by PDF you can order our SURNAME MEANING PACKAGE for $129.   This report is great to share with family and friends.  It includes everything you see above plus any other information we can find on the specified surname.  It does take approximately 10 to 15 days for us to complete this custom report.
To receive a direct lineage & coat of arms search for your specific line(s) you can order one of our GENEALOGY PACKAGES ranging in price from $249 to $999.   All research is completed by a professional genealogist with over 30 years' experience.  All reports and coat of arms files are sent by email in PDF and JPG format.
Blazons & Genealogy Notes
1) (London). Per pale vert and sa. a lion ramp. erm. betw. three escallops ar. Crest—A lion's head per pale vert and sa. charged with an escallop ar.
2) Ar. three wolves sa. two in chief combatant, one in base pass.
3) (Fulwell Lodge, co. Middlesex, bart.). Motto—Per orbem. Ar. a chev. engr. paly sa. and or, betw. three trefoils of the second. Crest—Two wings ar. each charged with a chev. engr. betw. three trefoils slipped sa.
4) (Piercefield, co. Monmouth). Motto—Clarior virtus honoribus. Ar. a chev. engr. sa. betw. three trefoils of the second. Crest—Two wings ar. displ.