Coates Family Crest, Coat of Arms and Name History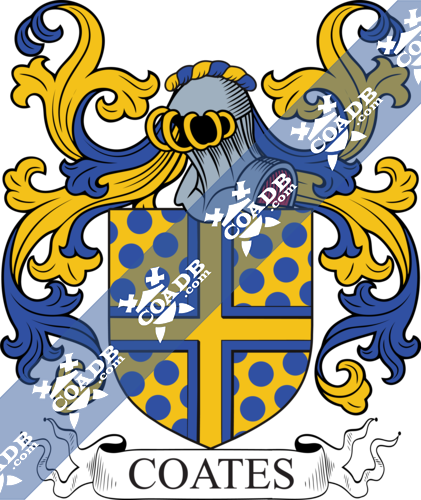 Coates Coat of Arms Gallery
Don't know which Coat of Arms is yours?
We can do a genealogical research. Find out the exact history of your family!
Learn More
Surname Name Meaning, Origin, and Etymology
This Anglo-Saxon last name has seventh origin theories or meanings. First, it may be a topographic name for a person who lived in a humble dwelling, i.e. a cottage, from the Middle English or Old English cote, cote, cott. The term cottager referred to a person who lived in such a place. Second, it may be a locational/habitational name for a person who came from a local so named (ex. Cotes in Leicestershire, Coates in Cambridgeshire, and Cotes in Eccleshall, Stafford) Third, it could be a varied spelling of the Scottish surname Coutts. Fourth, it could be an Americanized spelling of the German/Jewish name Kotz or the German name Koths, which in turn derives from the medieval male given name Godo. Fifth, it could be a locational name for a person who lived on a shore, coast, or border, as asserted by William Arthur in his book An Etymological Dictionary of Family and Christian Names published in 1857. Sixth, it may be related to a coat of many or mixed colors worn as a fashion statement in medieval times of the Middle Ages (as somewhat suggested in Mark Antony Lower's book English Surnames). Seventh, related to the sixth, it might be related to a sheepcote, could be related to a shepherd, who wore such coats.
Spelling Variations
Common spelling variants or names with similar etymologies include Coats, Coate, Coutts, Kotz, Koths, Coat, Cott, and Cotter.
Popularity & Geographic Distribution
The last name Coates ranks 1,523th in popularity in terms in the United Status as of the 2000 Census. The name ranks particularly high in the following seven states: Maryland, Virginia, Louisiana, South Carolina, Utah, Idaho, and Delaware.
The surname Coates frequency/commonness ranks as follows in the British Isles: England (431st), Scotland (1,062nd), Wales (424th), Ireland (1,588th) and Northern Ireland (652nd). In England, it ranks highest in Durham and Yorkshire. In Scotland, it ranks highest in Kirkudbrightshire. In Wales, it ranks highest in Denbighshire. In Ireland, it ranks highest in Wicklow.
The name is also present throughout the remainder English speaking world:  Canada (954th), New Zealand (780th), Australia (600th), and South Africa (3,037th).
Early Bearers of the Surname
The earliest known bearer of this surname was William de Cotes who was documented in the Pipe Rolls of Lincolnshire in 1190 AD. The Hundred Rolls of 1273 AD, a census of Wales and England, known in Latin as Rotuli Hundredorum lists three bearers of this surname: Egidius de Cotes in county Norfolk, Robert de Cotes in county Buckinghamshire, and Geoffrey de Cotes in county Lincolnshire. The Poll Tax of Yorkshire in 1379 AD lists three bearers of this last name: Thomas del Cotes, Johannes del Cotes, and Henricus del Cote. A Willelmus atte Cotes was documented in the same year in the Poll Tax of Howdenshire. A one Ralph atte Cote lived in county Somerset during the reign of King Edward III of England (1327-1369) according to Kirby's Quest. An early marriage involving this last name was Susanna Coates to William Turner in London in 1625. A one Joane Coates was buried at St. Peter, Cornhill in London in 1561, as was one John Cotes in the same church in 1563. An early baptism was Miles, son of John and Ann Cottis, at St. Boloph in 1631.
History, Genealogy, and Ancestry
Sir Thomas de Coate was born in the hamlet of Cotes in Staffordshire in 1140 AD. He married Alice Fisher and had a son with her named Thomas. His son Thomas was born in 1167 and he had a son named Peter. Peter de Coate was born in Lincolnshire, England in 1200. He had a son named John. John was born in 1260 AD. He had a son named Thomas. Thomas was born in Leicester in 1301 AD. He had a son named Moses Caate DeCoate or Coates. He married Susannah Coppock and had the following issue with her: Benjamin, Peter, Glenwood, Prudence, Sarah, Samuel, Esther, Thomas, Margaret, Eliza, Glenwood, and Sarah. His on Benjamin Coates was born around 1370 and he married Eliza Argyel. He had the following issue: Thomas Jr., Eveline, Mary, William, Eveline, Benjamin, John, Mary, Henry, and Ann. His son Thomas Coate or Coates Jr. was born around 1426 and he married Catherine Renfreushier. They had the following issue together: Peter I, Josiah, Peter, Johnathan, James Jonas, Sarah, Josiah, Lavina, Martha, and Thomas. His son Peter I was born around 1479 in England. He had issue: John Peter, Samuel, and Henry. His son Peter Coates was born in 1514 and he married Susan Metcalf, with whom he had two sons: Marmaduke and Peter. His son Peter was born in 1554 and he married Martha Rebecca Maxwelton. They had a son together named John Peter. This John Peter Coates was born in 1589 and he married Emily Jane Buckingham and had two sons: Marmaduke and Thomas. His son Thomas was born in Carlow, Ireland around 1633. He married Sarah Ann Wilkins and he had two issue with her: Moses and Elizabeth (Palmer). His son Moses was born in the same town in 1687 and he went to the United States. He married Susanna Weldon and had issue with her: Susannah, Thomas, Samuel, Moses, Elizabeth (Mendenhall), Benjamin, William, Jonathan, and Aaron. He died in Pikeland, Pennsylvania in 1761. His son Thomas Coates was born in 1716 in Ireland and he married Sarah Miller and had issue with her: Henry, Susanna (Gladden), Jonathan, Samuel, and Elizabeth. His son Samuel Coates was born in 1749 in Pennsylvania. He married twice: Hannah Lee Boone and Abigail Thatcher. He had the following children: Warwick, Levi, Richard, Samuel, Thomas, George, Sarah, and Joseph. His son Warrick was born in 1780 and he married twice: Hannah Darlington and Eleanor Pusey. He had the following issue: Ellis, Samuel, Hartt Grandum, Susanna, Warrick Jr.,  Sarah, Abigail, Philena, Pusey, Lewis, and Philena.
A one Jeremiah Coates was born in Virginia in 1817. He married Lilliam May Denney and had three children with her: Charles Thomas, John James, and Ora Lillian (Noon). His son Charles Thomas was born in Putnam, VA in 1846.
Francis Coates was born in Deighton, Yorkshire in 1811. He married Eunice Eliza Harvey in Sherbourne, Quebec, Canada in 1832. He had the following issue prior to his death in Osborne Kansas: William Harvey, Henry Francis, Alonzo, Harriet Blanche, John Thurber, Charles C., Maria Abigail, Adalide Adelia, George Amander Coates, and Lucius Octavius.
The famous genealogist Bernard Burke's book "The Landed Gentry" discusses one branch of this family: Coates of Combe House. It begins with a mention of Edward Coates, Esquire of Combe House in county Radnor who was Justice of the Peace and High Sheriff in 1866. He was born in 1810 and in 1862, he married Mary Anne, daughter of J.S. Bannister of Weston, and had five daughters with her: Mary Victoria, Clara Anne Margaret, Constance Gwendolen, Harriet Helen Mabel, and Charlotte Virginia. Burke traces the Coates genealogy back to a family who settled in Yorkshire. Edward was the son of James Coats, Esq. who also had other children (John, James, Mary, and Charlotte). The Coates Family Crest is blazoned as follows in heraldry: Gules, a greyhound statant within an orle of roses argent, with the crest being: Upon a mount vert a greyhound couchant argent collared and lined or, resting the dexter paw on a rose gules.
Burke's other book, Peerage and Baronetage, discusses two branches of this family: Coates of Haypark and Milnes-Coates of Helperby Hall. The first begins with a mention of Sir Frederick Gregory Lindsay Coates, the 2nd Baronet, of Haypark, of the city of Belfast, who was a Major in the Royal Tank Regiment in World War II. He was born in 1916 and he succeeded his father in 1932. In 1940, he married Joan Nugent, daughter of Major General Sir Charlton Spinks, and had three issue with her: son whose name is not known, 2) Elizabeth Anne (born 1941), and 2) Moria Louise (born 1945). Burke traces the Coates genealogy of pedigree back to Israel Coats, of the Falls, Belfast who married Grace, daughter and co-heir of Edward Harris of Belfast, who had issue. One of his issue was a son named Victor Coats who was born in 1760. He was a son names William Coates who was born in 1798 and was Justice of the Peace. He married Mary, daughter of Maurice Lindsay of Ashfield, and he had a son named David. David Lindsay Coates of Clonallon, Strandtown, Belfast who was Justice of the Peace born in 1840. In 1864, he married Sara, daughter of George Mulligan of Banbridge in county Down, and they had three children together: Sir William Frederick (1st Baronet), Harold Vivian Edmund (1874), and Annie. His son Sir William Frederick Coates, 1st Baronet was born in 1866 and he was Justice of the Peace in county Antrim, as well as Deputy Lieutenant in Belfast. He was also Lord Mayor of the city several times. In 1907, he married Elsie Millicent, daughter of Colonel F.W. Gregory, Essex Regiment, and had issue with her including Frederick Gregory Lindsay (mentioned at the beginning of the paragraph). The Coates Coat of Arms has the following heraldic blazon: Gules, a chevron cotised argent, on a chief ermine two bells or. Crest: A cock statant, wings closed, gules.
Early American and New World Settlers
The book Genealogical Guide to the Early Settlers, mentions two people bearing this surname: 1) Thomas Coates of Philadelphia, son of Henry of England, who was baptized in Sproxton, England in 1659, who came to Philadelphia in 1682 and purchases land there. He was a Quaker and in 1694, he married Beaulah, daughter of Thomas and Elizabeth, and had a child with her names Samuel and 2) Thomas Coates of Lynn, Massachusetts who had sons John, Thomas, and James. Other early colonial Americans bearing this surname include John Coates (Virginia 1650), Hugh Coates (Virginia 1658), Samuel Coates (Virginia 1706), Thomas Coates (Virginia 1714), and John W. Coates (New York 1796).
One of the earliest settlers in Canada was Thomas Coates, a merchant aged 28 years old, who came in 1834 aboard the Joseph Anderson of London and landed in Saint John, New Brunswick. One of the earliest bearers in Australia was Thomas Alfred Coates, who landed in the city of Adelaide in 1848 aboard the Hooghly. In 1840, two members of this family, James Coates and S.A. Coates, arrived in the city of Auckland, New Zealand.
Mottoes
We have identified four Coates family mottoes: Est voluntas Dei, meaning "It is the will of God" and Vigilans et audax, meaning "By valour and exertion", Be firm (Coates of Glasgow), and Watchful and bold (Coates of Haypark).
Grantees
We have four coats of arms for the Coates surname depicted here. These four blazons are from Bernard Burke's book The General Armory of England, Ireland, and Scotland, which was published in 1848. The bottom of this page contains the blazons, and in many instances contains some historical, geographical, and genealogical about where coat of arms was found and who bore it.
Notables
There are hundreds of notable people with the Coates surname. This page will mention a handful. Famous people with this last name include: 1) Albert Coates (1882-1953) who was an English conductor and composer born in St. Petersburgh, Russia who was appointed chief conductor of the London Symphony Orchestra in 1919, 2) Sir Albert Ernest Coates (1895-1977) who was an Australian solider and surgeon who derives in World War I in Gallopoli (in Turkey) and  World War II (in Malaya), 3) Ben Terrence Coates (1969) who was a professional footballer player in the NFL who played tight end for the New England Patriots for most of his career, 4) Eric Coates (1886-1957) who was an English composer of light music from Hucknall, Nottinghamshire, 5) Florence Van Leer Earle Nicholson Coates (1850-1927) is an American poet from Philadelphia, Pennsylvania, 6) Joseph Gordon Coates (1878-1943) who was the 21st Prime Minister of New Zealand in the 1920s, 7) Sir William Coates (1866-1932) who was the 1st Baronet and an Irish stockbroker and political from the city of Belfast, 8) Melissa Coates (1971) who is a Canadian professional wrestler, bodybuilder, and actress from Thunder Bay, Ontario, who is best known for her appearances on the TV show Extreme Dodgeball, and 9) Wayne Coates who is a former member of the Ohio House of Representatives, who represented Cincinnati, Ohio area.
Blazons & Genealogy Notes
1) Or, a cross az. voided of the field, bezantee.

2) Gu. three boars pass. ar. Crest—A swan's head betw. two wings ar.
3) (Whitton, co. Radnor). Gu. a greyhound statant within an orle of roses ar. Crest—Upon a mount vert a greyhound couchant ar. collared and lined or, resting the dexter paw on a rose gu. Motto—Est voluntas Dei.
4) (confirmed 1859 to James Coates, Esq., of Eastwood, co. Down, son of Rev. Edward Coates, and grandson of James Coates, of Abbey Shrule, co. Longford). Quarterly, 1st and 4th, erm.; 2nd and 3rd, paly of six ar. and az. in the centre chief point a mullet gu. Crest—On a mount vert a cock ppr. combed, wattled, and legged gu. and charged with a mullet of the last. Motto—Vigilans et audax.
5) Coates of Haypark – Gules a chevron cotised argent, on a chief ermine two bells or. Crest: A cock statant, wings closed, gules. Motto: Watchful and bold.