Coker Family Crest, Coat of Arms and Name History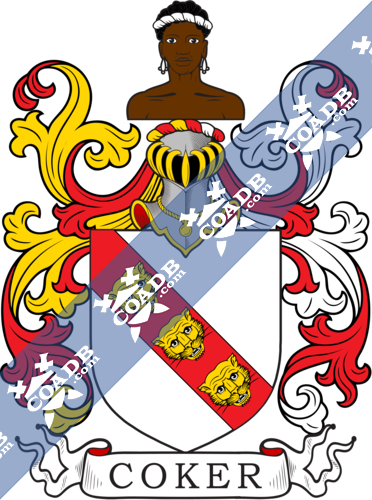 Coker Coat of Arms Gallery
Don't know which Coat of Arms is yours?
We can do a genealogical research. Find out the exact history of your family!
Learn More
COKER
The surname Coker is thought to have derived from one of two sources. The first states the name or any variation of its spelling possibly came about from the Old English word "cocc", a descriptive phrase or word whose origins meant "son" or "a son". Due to the significance of a male child, the context of the word also came to used to mean "fighter" or "warrior" as it was assumed a son would be responsible for the defense of his family and their honor. Over time, the word became less and less associated with the meaning of "son" until it was no longer used in this context and only referred to a "warrior" or "soldier". The second source of origin theorizes the surname comes from the Medieval English word "cocks", an occupational name for a person who made hay ricks or stacks.
This was considered one of the most important professions of its day, it was of vital importance that feed be properly preserved during the winter months to ensure the survival of livestock.
Variations of this name include; Coker, Cocker, Cockere, Coaker, Cokers, and Kokkere, among others. The variation in spelling of names during this time period can be attributed to a lack of continuity regarding guidelines for spelling which was compounded by the diversity of languages in use in European countries at this time.
The first records of any variation of the name Coker can be found in public records dated 1198, where Henri Cockere's name appears in the County of Kent Pipe Rolls which were comprised on order by England's King Richard 1st.. Public records from Berkshire dated 1237 list an individual with an alternate spelling of the surname, Geoffrey Cockere. In addition there are listings in public records from Staffordshire dated 1327 for Adam Le Kokkere, St. Giles Cripplegate, London dated 1583 for James Cocker, Manchester dated 1584 for William Cocker, and Yorkshire dated 1582 for Johes Cocker.
The first recorded immigrant to America bearing the surname Coker or any variation of the spelling was John Coker who landed and settled in Virginia in 1623. Robert Coker who sailed on the "Mary and John", landed and settled in Massachusetts in 1632. Jo Coker landed in 1635 and settled in Virginia as did John Coker who arrived in 1636.
Worldwide, the highest concentration of people with the surname Coker live in New Zealand, the United States, the United Kingdom, Australia, and Ireland. By state, the largest percentile of those with the surname Coker live in South Carolina.
One of the earliest people of note who bear the surname or any variation of its spelling appears in the 12th century where there are records and documents listing and bearing the signature of Geoffery de Cocre. de Cocre is a descendant of Geoffrey De Mandeville who came to Britain in 1066 with William the Conqueror, his name is among those listed in the Domesday Book. De Mandeville was rewarded for his fealty and service during the Norman conquest of Britain by being titled, Earl of Essex. De Mandeville was also given a barony which gave him ownership of the area of East Coker and the majority of North Coker. Records and documents from the 12th century list or bear the signature of Geoffrey de Cocre, De Mandeville's grandson, showing that he eschewed the use of the surname De Mandeville in lieu of the name de Cocre. Records also reflect that Robert Coker who sailed to America in 1632 on the "Mary and John" is descended from this line.
There are many other persons of note who bear the surname Coker. Alexander Coker of the United Kingdom received a PhD. D from King's College London. Dr. Coker was appointed by the United Nations as Chief Inspector of the Chemical Weapons team in Iraq. It was under his direction that any chemical weapons found were properly and safely destroyed.
James Lide Coker of South Carolina was a businessman and philanthropist. Included in his many business ventures, he founded the Southern Novelty Company which later went on to be known as Sonoco Products Company, what is now one of the world's largest manufacturer of packing and packaging supplies. Coker also went on to found the school that would become known as Coker College for Women. The endowment given by Coker when the school opened in 1908 has helped to ensure its continued operation. The original structure, Davidson Hall, which was built by funding from Coker and served as the college's main building, still stands on the campus today and as of 1983 was listed on National Register of Historic Places.
Blazons & Genealogy Notes
Notes: (Hapowder, co. Dorset). Blazon: Argent on a bend gules three leopards' faces or (another adds a bordure engrailed sable) Crest—A Moor's head couped at the shoulders fullfaced proper wreathed about the temples.